Denmark joins the Nordic EMBL Partnership for Molecular Medicine
Nordic-EMBL research alliance to continue, and grow with inauguration of Danish node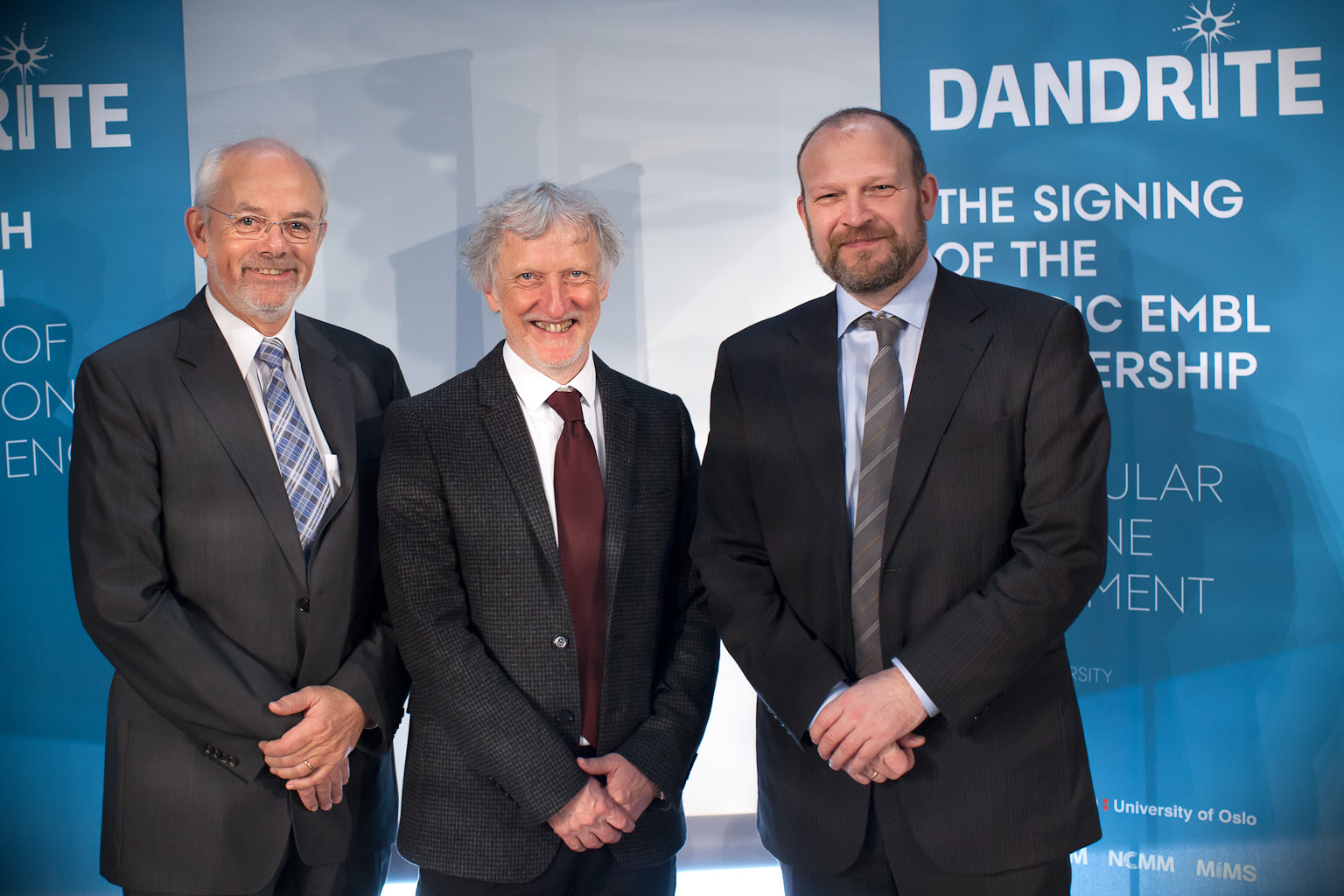 Today, the Nordic EMBL Partnership for Molecular Medicine celebrates two important milestones: the renewal of the partnership agreement for an extended period of 10 years, and the expansion of the Nordic EMBL network with the official opening of the Danish Research Institute of Translational Neuroscience (DANDRITE) at Aarhus University, which will become its Danish node.
The Nordic EMBL Partnership for Molecular Medicine was initiated in 2007 between the University of Oslo, Umeå University, University of Helsinki and EMBL. As a result, three nodes were established in Norway, Sweden and Finland, each of which complements the research expertise of the other partners and, working closely with EMBL, aims to rise to challenges in biomedicine and to foster industry collaborations. In the five years since the launch of the partnership, the network has emerged as a strategic player in the molecular understanding of disease mechanisms in Europe, its impact and success recognised with today's signing of a renewed partnership agreement for an extended period of 10 years.
The research alliance is further strengthened by the growth of the partnership through the creation and inauguration of a Danish node. Complementing the research profile of the three existing nodes, DANDRITE will focus on conducting state-of-the-art research in the field of neuroscience. "We're excited to welcome Denmark as the fourth partner in the Nordic EMBL Partnership for Molecular Medicine. In a competitive national process, Aarhus University was selected to host the Danish node. The decision was made on the basis of the university's scientific expertise in the neurosciences and its research environment, which offer an excellent base for building a world-class collaborative institute like DANDRITE," says Iain Mattaj, Director General of EMBL.
The establishment of the Danish node was made possible through the Lundbeck Foundation, one of the largest private contributors to natural science research in Denmark, which funds the new centre jointly with Aarhus University. "The partnership with EMBL has arisen from the independent research approach, and DANDRITE has high ambitions, plenty of funding, independence and excellent infrastructure. Our ambition is to be the first with the latest ideas, rather than having to stand on the shoulders of others," says Poul Nissen, Director of DANDRITE and Professor of Protein Biochemistry at Aarhus University.
DANDRITE joins the Institute for Molecular Medicine Finland (FIMM, University of Helsinki), Centre for Molecular Medicine Norway (NCMM, University of Oslo), the Laboratory for Molecular Infection Medicine Sweden (MIMS, Umeå University) and EMBL. All nodes benefit from continuous scientific and administrative support from EMBL, as well as from adopting aspects of the EMBL operational model, such as international recruitment, staff-turnover and the external review system.
---