Press contact
EMBL Press OfficeMeyerhofstraße 1, 69117 Heidelberg, Germany
media@embl.org+49 6221 387-8726
Croatia becomes EMBL's 19th Member State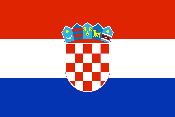 Croatia has officially joined the European Molecular Biology Laboratory (EMBL) as the organisation's 19th Member State. The Croatian parliament ratified its membership after EMBL's council had accepted the country's application.
"Joining EMBL is a very important step for science and research in Croatia", says Dragan Primorac, Croatia's Minister for Science, Education and Sport. "Participating in such a world-class European research organisation will give the rapidly growing field of molecular biology in Croatia a boost and will help integrating Croatia's scientific elite even better in the European research community. Croatia plans to take a very active role in EMBL and hopes to contribute to European Molecular Biology in many positive ways."
The delegate representing Croatia in EMBL's council will be Professor Kresimir Pavelic, the Director of the Division of Molecular Biology of Croatia's renowned Ruder Boskovic Institute.
Since its foundation in 1974, EMBL has continuously expanded its membership and now encompasses virtually all of Western Europe and Israel. The joining of Croatia is an important first step to expand EMBL's membership into the East of Europe. In the past years Croatia has increased its scientific productivity by 150% and has developed considerable expertise in disciplines such as functional genomics and forensic medicine.
"We are very pleased to welcome Croatia as a new member to EMBL's international community", says Iain Mattaj, EMBL's Director General. "Molecular Biology in Croatia has progressed tremendously over the last years and EMBL will without doubt benefit from the unique skills and competences the new member provides."
Through its membership Croatia is going to contribute to the diverse activities at EMBL and the many services it provides for its Member States. As a European Centre of Excellence for Molecular Biology EMBL plays an important role in leading progress in molecular life science into new directions. It provides scientists across Europe with the infrastructure and services needed to conduct research on the highest level and continually welcomes visitors to participate in collaborative projects and cutting-edge meetings. Through its renowned PhD Programme and commitment to advanced training for scientists at various levels EMBL creates highly trained staff that is exported throughout Europe. 88% of EMBL alumni have assumed positions in academia or industry in one of EMBL's member states.
EMBL operates from 5 different sites in Europe: the headquarters in Heidelberg (Germany) and the four outstations in Grenoble (France), Hamburg (Germany), Hinxton (UK) and Monterotondo (Italy). Its widespread networks of affiliated scientists, alumni and institutional partners make EMBL a central player in Molecular Biology across Europe and worldwide.
Related links