PDBe launches new website
In their quest to make structural biology more accessible, the Protein Data Bank in Europe has launched a new, interactive website with a powerful search and sophisticated tools for analysis.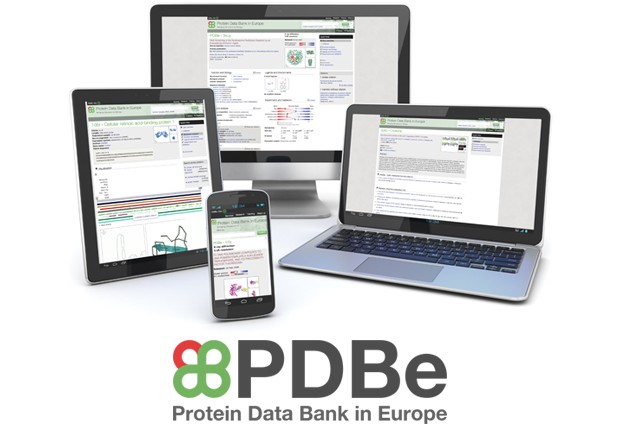 Driven by user experience research, PDBe's responsive, interactive website helps expert and non-experts explore macromolecular data with integrated views showing sequence, topology and structure information
Improved validation information makes it easier for users to select the best-quality structure
New service mines the scientific literature to provide PDBe entries with figures and captions from open-access publications, highlighting the impact of the structure on research
---
The Protein Data Bank in Europe (PDBe) has launched a new website that makes it easier to explore macromolecular structures in the Protein Data Bank, Electron Microscopy Data Bank and EMPIAR. The responsive, interactive service provides more precise, value-added information to help experts select the best-quality structures, and offers integrated views of these complex datasets.
We present everything in context, so you don't have to spend a lot of time piecing together different views on the same structure.
Original molecular-structure data is represented by mathematical coordinates, which are translated into 3D shapes using community-standard methods. These shapes provide insights into a protein's function, and accordingly into how that function could be disrupted by small molecules such as drugs. That makes public archives invaluable for researchers looking for the right biological target for a drug, pesticide or even stain remover.
PDBe is the European arm of the worldwide Protein Data Bank, joining partners in the US (RSCB and BMRB) and Japan in curating the 3D molecular structures deposited into the public domain by structural biologists throughout the world. PDBe offers sophisticated tools for analysis and easy navigation, helping researchers use the archives to turn data into knowledge.
"We present everything in context, so you don't have to spend a lot of time piecing together different views on the same structure," says Sameer Velankar, team leader for Molecular Structure and PDBe Development at EMBL-EBI. "You can go straight to the best-quality entries and see sequence, topology and structure information together – and where they overlap. You also get figures and captions from open-access literature, which means more in-depth information."
In addition to interface improvements such as faceted searching, PDBe now lets users sort by validation score, method of determination and other criteria. It integrates knowledge from sources such as UniProt, InterPro, the Gene Ontology and Europe PMC, and shows how macromolecules are put together biologically, for example by showing Pfam and CATH domains in proteins. Users can also see clearly the location of every unique molecule in a structure.
"The new PDBe website is much more than window dressing," says Gerard Kleywegt, head of PDBe at EMBL-EBI. "It lets researchers cut to the chase and ask high-level questions, for example, which small molecules interact with a given set of proteins? Or, how many sequence families are covered and what is the best structure for each in the set of result? That is ultimately going to save a lot of time and resource."
Built for usability
Over 40 users from different scientific backgrounds (for example, structural biology, genetics, microbiology, biochemistry) generously gave their time to participate in PDBe's usability research. Their input informed the new information architecture and workflows, and helped prioritise issues such as data standardisation.
"The people using these datasets are not all structural biologists, so their needs are very diverse," explains Gerard Kleywegt. "For example, clinical researchers need a more accessible search, so we built an auto-complete feature that draws on all synonyms for protein names. Bioinformaticians were more concerned with having direct access to PDB and EMDB, so we've produced an API which allows programs like Jmol/JsMol and JalView to integrate our data."
How do you find the new PDBe website? We're always happy to hear your feedback, and to help with your queries. You can contact our PDBe outreach team at pdbehelp@ebi.ac.uk, and learn more about how to use the service on EMBL-EBI's Train online.
This post was originally published on EMBL-EBI News.