Back to school
What does it mean to be a researcher? Practising scientists know very well that research is not an off-the-rack career: it is multifaceted, exciting, challenging and rewarding. Helping the next generation recognise that a scientist is more 'role model' than 'mad professor' is the task of a growing team of EMBL School Ambassadors.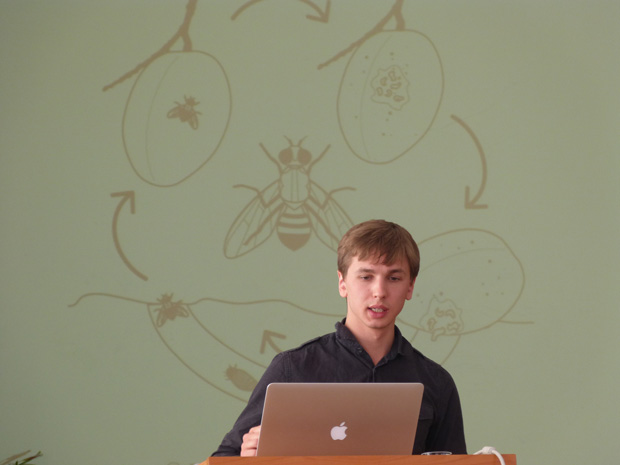 Led by the European Learning Laboratory for the Life Sciences (ELLS), the ambassador scheme is a platform for EMBL scientists to share their experience of living and loving research, and rekindle school students' enthusiasm for enquiry and discovery. Going into classrooms – real and virtual – across Europe and beyond, the ambassadors' diaries show how much fun they are having in the process.
---
Verena Tischler, PhD student
October 2013, ELLS Design Thinking Workshop, Heidelberg, Germany
I'd never heard of 'design thinking' – a creative, team-based process to solve given challenges by developing and testing new ideas. Beforehand, I undertook training to learn more and go through the process myself. I was soon standing before a crowd of kids talking about 'big data challenges in the life sciences'. Instructed by an expert from software giant SAP, I assisted the teams as they addressed related issues. It was amazing how enthusiastically they engaged in the process, and how well they presented their own solutions!
It was amazing how enthusiastically the pupils engaged in the process
Vasily Sysoev, PhD student
December 2013, Moscow, Russia
Home for Christmas, I used the opportunity to talk to high school students about my work: DNA sequencing and the discoveries it has made possible. My first audience – an extracurricular biology club at my former school – easily grasped the presentation and together we delved into more advanced details. The following talks were to younger, broader audiences, who were no less interested in the topic. I learnt that these talks had sparked interest in biosciences: the teacher answered many more related questions in subsequent lessons.
I learnt that these talks had sparked interest in biosciences
Jose Viosca, Postdoc
March 2014, Rome, Italy
A friend, a teacher in Rome, showed great interest in bringing his students into contact with EMBL. Connecting with the school via the ELLS Science Chat web platform, Federico Rossi in Heidelberg and me in Monterotondo gave live talks about ourselves and our work. Without doubt, the best part was the students' questions: so many current scientific challenges were broached, unprompted, by the class. The experience was as stimulating for me as it was for them.
The best part was the students' questions: so many current scientific challenges were broached, unprompted
Related links