Science meets politics
Science, policy and politics came together at EMBL Heidelberg on 2–3 July at a special meeting to mark the 50-, 45-, and 40-year histories of EMBO, EMBC and EMBL.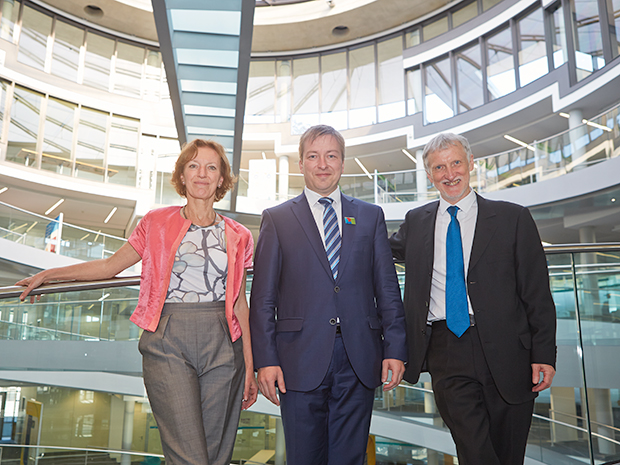 The joint EMBO|EMBL Anniversary Science and Policy Meeting, which drew more than 250 researchers and policy makers from across Europe, provided an opportunity for participants to reflect on past successes as well as discuss major opportunities and challenges ahead.
In an engaging opening session, Maria Leptin, director of EMBO, and Iain Mattaj, director general of EMBL, greeted the packed auditorium, pointing to the crucial role of the organisations in the European research ecosystem. Georg Schütte, State Secretary of Germany's Federal Ministry of Education and Research, described EMBL and EMBO as "trend setters" with a strong history of "building bridges" between disciplines, organisations and countries. "[They] played a huge role in recognising that molecular biology represented a major part of the future of the life sciences," he explained.
EMBO and EMBL have shown that when Europe combines its forces, it can lead the world in science and innovation.
Robert-Jan Smits, Director General of the DG for Research and Innovation at the European Commission, said that this role continues today – especially in adapting to challenges such as the rise of modelling approaches and big data: "EMBO and EMBL have shown that when Europe combines its forces by bringing together its best talents, it can lead the world in science and innovation," he said. "There are crucial research infrastructures being developed that would otherwise not have seen the light of day," he added.
Exciting developments
Newly appointed group leader Elizabeth Murchison of the University of Cambridge discussed her research into the only two known types of transmissible cancers: Tasmanian Devil Facial Tumour Disease (DFTD) and Canine Transmissible Venereal Tumors (CTVT). Normal cancers are able to evade detection by the host organism because the proteins on their cells are the same as those on the host's cells. For a cancer to be transmitted from one dog or devil to another, it must not only be able to survive the process of jumping hosts, but also have some kind of "invisibility cloak" to shield it from the new host's immune system, she explained to the audience. Murchison hopes that comparing similarities and differences between these two cancers will shed light on the evolution of these diseases and offer insights to help understand cancer in humans.
The afternoon session concluded with a panel discussion with ministers and state secretaries from France, Luxembourg, Malta, Spain and Switzerland. Each country's contribution to and benefits from EMBO and EMBL were emphasised, together with glimpses into future possibilities. Amongst the high profile panel, Carmen Vela, Spanish State Secretary for Research, Development and Innovation, said: "The take-off of molecular biology in Spain began with our joining EMBL in 1988 – today we can be very proud of our community."
Science policy has two faces: it must invest in knowledge, and in people
Mauro Dell'Ambrogio, the Swiss State Secretary for Education, Research and Innovation, added, "Science policy has two faces: it must invest in knowledge, and in people," pointing to the success of EMBL's fixed term contract system that ensures the skills scientists acquire in the Laboratory are then exported to EMBL's member states.
The second day turned to issues of excellence and inclusion in science, with Michele Garfinkel, Manager of the Science Policy Programme at EMBO, and Silke Schumacher, Director of International Relations at EMBL, reflecting on the organisations' role in promoting these objectives. This was followed by a talk by Bruno Strasser, science historian and professor at the University of Geneva, who gave an informative and entertaining overview of the birth of EMBO and its funding organisation, the EMBC, in the mid-20th century.
Molecular biology at the time was considered a 'little science', it had no links to military interests – unlike CERN – it was not very high on any political agendas, it was new (the structure of DNA had been determined barely a decade earlier), and it did not demand a large input of expensive machinery, he explained. Ironically, these characteristics made it the perfect candidate for a way to diffuse national interests and foster international collaboration without any accusation of ulterior motives, Strasser said. Although there were different visions among the founding member states regarding the creation of the Lab, their ultimate cooperation led to the original 'bottom-up' model of science policy, which has inspired various other international initiatives since, he added.
Excellence across disciplines
The science of the hour then shifted from the micro- or nano-scale to the cosmic scale, as Marc Heppener from the European Space Agency outlined how ESA – another international science organisation – functions. ESA facilitates the transfer of technology between space and non-space fields, coordinates the efforts of scientists from disparate countries and secures funding for research. "Our job is to make sure that the space sector exists in Europe, and that it is important [to all the countries involved]," said Heppener.
The meeting concluded with a discussion led by Helga Nowotny of the European Research Association (ERA) Council Forum, on 'reflections on excellence and inclusion'. It sparked a lively debate about what defines "excellence" in the scientific arena, and what can be done to ensure that EMBO and EMBL are supporting the highest-quality science while remaining a place where young scientists are free to experiment with unconventional methods and techniques.
---