EMBL Women's Night in Heidelberg
Women from academia, industry and politics met at EMBL in Heidelberg to fuel career growth and opportunities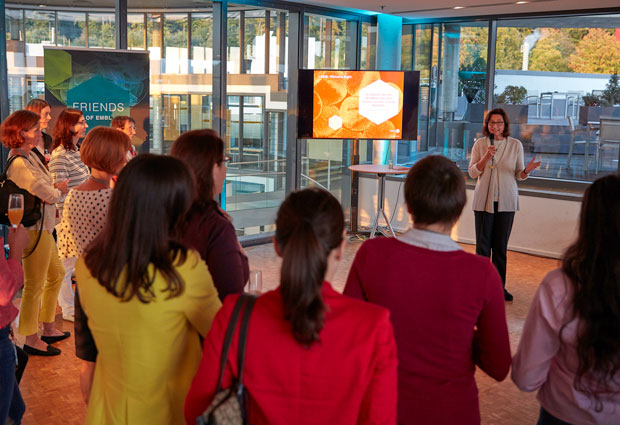 On 29 September EMBL hosted an after-work meeting for women in science and business called 'Celebrating Cultures.' More than 60 women came together to share their experiences and discuss how to implement a business culture that nurtures female talent. Towering over the EMBL campus and providing a stunning view across the Rhine Valley, the EMBL Advanced Training Centre rooftop lounge was the perfect stage for the networking event that encouraged women to aim higher.
Margret Suckale, former member of executive boards at BASF, kicked off the event. In 2013 Suckale was nominated Vice-President of the Confederation of German Employers' Associations. Her stand against a forced quota for women in management, stirred discussion in the media. Instead of quotas, Suckale promotes a change of heart in business culture. "Female talents have to be identified early and nurtured within the business," she said.
Surround yourself with people that challenge you because that is where you grow most: outside the comfort zone
Ida Beerhalter's talk focused on self-made business. Beerhalter is Board Member of Astia Angels, a nonprofit organisation built on a community of several thousand experts and investors dedicated to support female entrepreneurs. Beerhalter emphasised the importance of networking. "Surround yourself with people that challenge you because that is where you grow most: outside the comfort zone," she said.
Unravelling mysteries of cell cooperation
In line with the event's theme, EMBL postdocs Sonja Blasche and Laura Panavaite introduced the audience to research into networking in communities of cells.
Blasche studies the interactions between diverse microbes in kefir grains, that turn milk into kefir, a probiotic fermented drink. Blasche's research proves in cell cultures what Suckale and Beerhalter both stressed: diversity is key to success. To give the audience a taste of successful diversity, the bartender served strawberry kefir cocktails.
Panavaite concluded the session by presenting her doctoral thesis in which she established a method for cultivating mouse embryos in a distinct phase of early development. This will likely shed light on the sensitive mechanisms by which an intricate embryo forms from a spherical mass of cells. This knowledge could provide the basis for better understanding infertility due to failures in early embryonic development.
Vivid discussions, cocktails and finger food
The talks sparked intense debates and – grouped around the many tables and lined up at the Mediterranean buffet – the guests took the opportunity to network. The youngest participants were among the last to leave: four pupils from EMBL's Teenager programme EMBL Teens enjoyed their first networking event, lingering until late in the evening. "Every day EMBL celebrates cooperativity and internationality and thus provides an environment in which ideas and young talents thrive," said Astrid von Soosten, Head of Resource Development, at the EMBL Women's Night. "Supporting networking among women from different fields and at different stages of their careers is inspiring and fuels female career development and is another culture we are happy to foster and strengthen here at EMBL."
---
If you are interested in participating in the EMBL Women's Night as guest or speaker, please contact Barbara Solich of Friends of EMBL at friends@embl.de. For more information on EMBL research, events and the Friends of EMBL Programme please visit our Discovery Pages.
Related links