Behind the scenes: Audiovisual
Meet the secret timekeepers of EMBL events: AV technicians Sean Nightingale and Jan Abda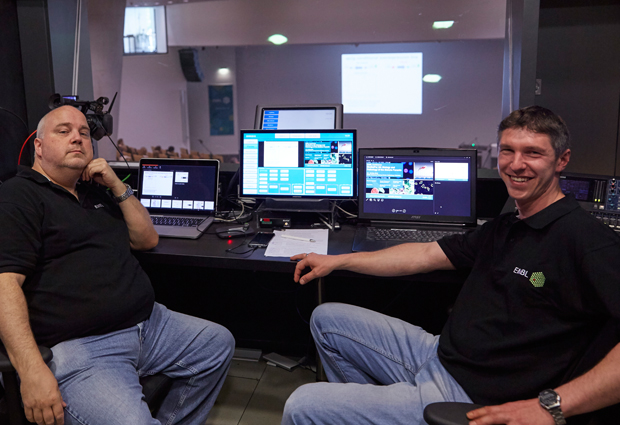 Picture yourself in a job where no two days are the same: you are always problem-solving on the fly, usually under pressure with hundreds of people waiting; other times, you get to play with all kinds of cool kit, like top-of-the-line video equipment, drones and 3D printers.
This is the life of an EMBL Audiovisual (AV) technician, whose main goal – as Sean Nightingale of the EMBL Photolab jokingly puts it – is to "keep scientists out of trouble". On a less playful note, he says: "Our primary role is to support conferences, meetings, workshops and livestreams, while our secondary roles are to maintain all the equipment and advise people on best operating practices."
Basically we listen for silence. If they stop talking, something is wrong.
With more than 70 EMBL events in the Courses and Conference Programme, and countless seminars, the AV technicians are kept on their toes: helping speakers upload talks to in-house computers, ensuring videos play, checking that all images and fonts are correct and clear – these are just a few of the reasons why speakers are asked to bring their talk ahead of the session for checking!
Also part of the Photolab team – which provides all imaging and audiovisual support at EMBL – Jan Abda is trained in all things staging, lighting, and audio."We have to put the microphones on speakers because some people don't know how to position it: they clip it on their shoulder or stomach," he says, "Our microphones are very sensitive, so it is important that this is right, especially for live streaming."
During the talks, the boys in the little back room are constantly troubleshooting: "Basically we listen for silence. If they stop talking, something is wrong," says Nightingale. As technology advances, problems are becoming less frequent, and the AV team regularly tests and invests in new equipment: the team has just retrofitted the entire EMBL Advanced Training Centre with new equipment, and are now looking into 4K resolution as a replacement for HD.
Whether it is a case of future-proofing equipment, speakers going off script or using computers with out-of-date software, or microphone dropouts due to fiber optic cables eaten by mice, the AV technicians are always on hand to help.
In case you have a presentation coming up, here are three handy tips from the team:
Trust the technicians! They know what they are talking about and are there to make your presentation go as smoothly as possible.
Be prepared: have your talk finished before you come – last-minute changes can lead to error.
Be on time! The session can't start without you and your talk!