Enlightening experiments
From making fully-functional paper microscopes to observing zebrafish embryos, the 20 000 people who visited the Science Days in Rust, Germany, this October were offered a unique twist on the event's theme, 'Fascination Light', at the EMBL stand.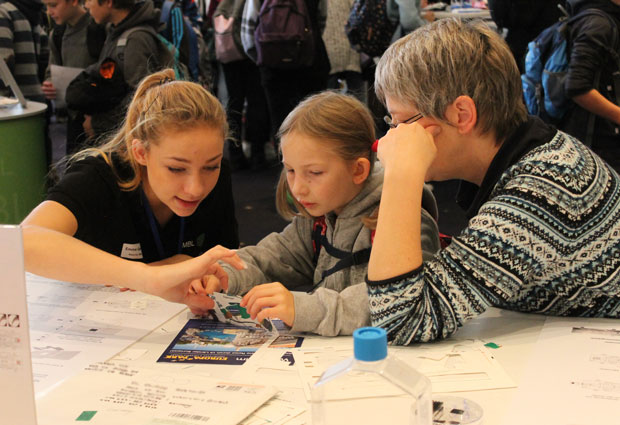 Developed by the European Learning Laboratory for the Life Sciences (ELLS), activities at the stand were united by the motto 'Using light to learn about life', and showcased the many different wavelengths EMBL scientists use to shed light on biological questions. Crafty visitors could build a foldscope – a fully functional microscope made by folding paper and adding a simple glass lens. Designed by Manu Prakash and colleagues at Stanford University, who kindly granted the ELLS team permission to use it, this deceptively simple microscope enabled visitors to zoom in on small specimens such as single-celled organisms swimming in a water droplet. More complex microscopes were on hand for observing zebrafish in which specific organs had been dyed with fluorescent labels. Visitors could also discover how X-rays are used to 'see' a molecule's structure, or get hands-on in an experiment demonstrating the effects of cigarette smoke on cells. And anyone with an eye for a prize could complete a quiz involving several of the stand's challenges – to earn the right to spin a wheel of fortune for a chance at an EMBL mug or USB stick.
A particular highlight came when Anna Steyer, a PhD student in the Schwab team, established a live connection to the microscope she uses at EMBL's Electron Microscopy Core Facility, enabling visitors to obtain detailed images of a cancer cell. Steyer then demonstrated how researchers put those microscopy images together to build a three-dimensional model of the cell.
School groups and families left with a gleam in their eyes, renewed curiosity about the natural world and, in some cases, digital mementos: "we could really see how gripped our visitors were by the activities," says Philipp Gebhardt, Head of ELLS: "a father even emailed me the pictures his son took through the foldscope!"