EMBL in France: where science meets the sea
September's alumni event in Marseille will coincide with a Tara stopover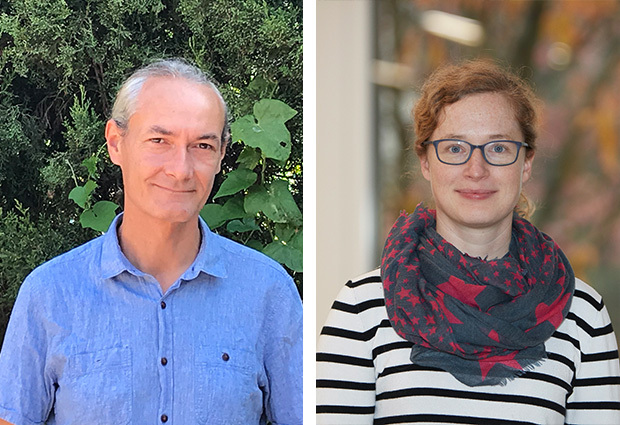 EMBL alumni and friends will gather in Marseille on 29–30 September for a meeting with a difference. In addition to an intellectually inspiring programme of talks from scientists at some of France's leading research institutes, the participants will have the opportunity to go aboard the Tara research vessel on the final day of its Marseille stopover. They will also take to the seas onboard the Green Calanques for a trip around the Frioul Islands, dinner and cocktails, and some relaxed networking. Two of the organisers – Eva Kowalinski, group leader at EMBL Grenoble, and EMBL alumnus Juan Reguera – talk about their aspirations for the Marseille event.
Eva Kowalinski, group leader, EMBL Grenoble
What is your group working on at EMBL?
We're interested in mechanics – not on the scale of large machines but small molecular machines that carry out functions within cells. The grand hypothesis in biology is that DNA is copied to RNA and translated into protein. So the DNA is copied, gene by gene, to produce RNA, but there are molecular machines that can rewrite the RNA molecule and change the code. We're interested in how this is done. We do structural biology – looking in molecular detail at how this cellular machinery works. We're looking at proteins and processes that are much too small for a light microscope, so we use X-rays and electrons to study them.
What can attendees expect from the EMBL in France event?
There's a whole package of activities. The event coincides with the Tara stopover in Marseille, and this was a deliberate decision. Besides the EMBL in France event on the Monday – which will include fantastic scientific talks – participants can arrive at the weekend and visit Tara on Saturday afternoon. Then there's a trip on a tourist boat to some beautiful islands, with dinner on the boat. It will be a beautiful evening, with plenty of time to network in a relaxed environment, and even take a swim!
Will the talks be accessible to non-scientists?
They will be scientific, but open to a broad community of scientists working in different fields. We have some great speakers, and local scientists are welcome to attend the talks along with EMBL alumni and friends, to experience the scientific spirit of EMBL.
Why do you think EMBL alumni feel such a strong connection to EMBL?
The connection is indeed strong – I was a PhD student at EMBL and came back here seven years later as a group leader. It's because it's so open, and everyone follows their ideas. People come together to do science at its best.
What advice would you give to a young scientist starting out in their research career?
Listen to advice, but don't take it too seriously.
Juan Reguera, group leader, AFMB Inserm, Marseille
What's your connection to EMBL?
I started as a postdoc at EMBL Grenoble in 2009, in Stephen Cusack's lab, and some time later I became a staff scientist. We started a project from scratch – on the replication of certain viruses related to influenza – and it became bigger and bigger. It's still part of my research now. I left EMBL in 2016, but I still have many connections here.
Tell us about your current role.
I've been a group leader at AFMB Inserm in Marseille since leaving EMBL. It's been hard work recruiting and building up my team, but I'm very happy to have it up and running now. We're a group of eight people – technicians, PhD students and postdocs. We're studying viral replication machineries, and we're now starting to see the first results. It's very rewarding.
What was it like to make the transition from EMBL to another institute?
I went from EMBL Grenoble to a French institute. Physically, they're very close, but the philosophy changed completely – from people's mentality, to how science is perceived, to the differentiation between scientific and technical objectives. There was a rearrangement in the interpretation of these things. I've been trying to keep the EMBL philosophy: to address great challenges in science; to address things that can change our way of thinking on a particular subject. For me, this is the most exciting thing at work, and I try to hold on to it.
How did you become involved in organising this alumni event in Marseille?
There was an alignment of the planets! The Tara expedition was scheduled to stop in Marseille in September. At the same time, we wanted to do an EMBL alumni event to bring together people from all over France and beyond, to start networking. All these things connected in Marseille, where I had just started my group. Stephen Cusack, the Head of EMBL Grenoble, called and asked me if I would be willing to help organise the event, and I saw the opportunity to bring together EMBL alumni working in diverse subject areas in this very nice set-up. You also have this interesting cultural aspect: the sea, the city, and Tara. It's going to be a cross-generational, cross-thematic event in a fantastic place – I'm really excited about it!
What are the benefits of this type of event?
Even if our scientific subjects are very diverse, there are links between different fields. These links emerge at these interdisciplinary meetings. You listen to talks on a diverse range of subjects, and realise there may be opportunities for future scientific collaborations. It's also important for EMBL alumni to maintain the EMBL philosophy when they make the transition to other institutes, and to transmit this philosophy to those around them. I've tried to do that, and it works.
Is there a strong alumni network in France?
I think the response we've had from the invited speakers answers that question. It was very positive, and most accepted immediately. It's great that the EMBL Director General, Edith Heard, is going to be with us, as well as Stephen Cusack and many others from EMBL Grenoble. Their presence is important for the alumni, and underlines the importance of the alumni network. There are a lot of people from EMBL working in French research institutes, and there's potential for the network to grow. This is what we're working on.
What's the best piece of advice you've received in your scientific career?
Whenever you're making decisions about your career, what to do with your lab, or your line of research, there are many aspects to take into account – personal, economic, political – but the aspect that really matters is science. If you keep science as the focus of what you're doing, all the rest will fall into place. This is something I learned at EMBL.