Who gets your vote?
All members of the EMBL Alumni Association (EAA) are entitled to vote in the upcoming board elections, online from 15-31 May 2015. Eleven candidates are vying for your vote to fill five available positions as regular board members, and four are standing as legal representatives – view their election statements below.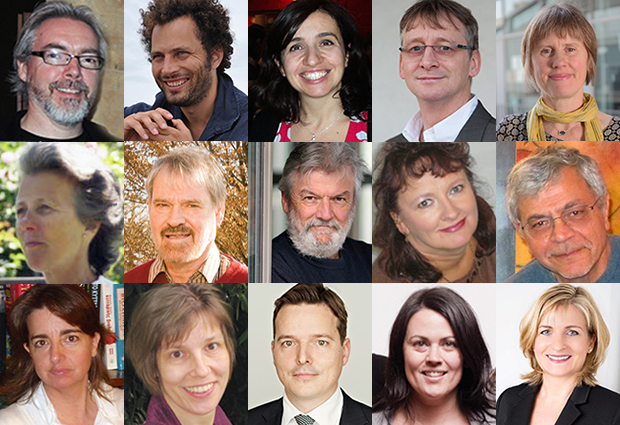 Regular candidates
Board members represent the alumni community, conduct the business of the Association at twice-yearly meetings and through regular contact with the Alumni Relations Office, decide on policies and actions, and promote and help organise alumni activities, events and networks. EAA board members serve a four-year term.
Ciaran Behan
Now: Co-founder and Manager, Course Resource UG, Heidelberg
At EMBL: Senior Technical Officer, 2004–2013, Core Facilities and Services
"I got involved with the Heidelberg alumni chapter, inspired by alumni speakers at the 2013 EMBL Summer Party, who acknowledged the great opportunities and support – both professional and personal – that the alumni network provides. Looking for a way to contribute, I helped establish the Rhein-Neckar-Kreis Alumni Stammtisch in 2013 and continue to sponsor and organise these together with the Alumni Relations Office. I would like to take this sponsorship model further, by exploring ways to fund the EAA locally and globally through event and award sponsorship programmes.
Julius Brennecke
Now: Senior Group Leader, Institute for Molecular Biotechnology of the Austrian Academy of Sciences (IMBA), Vienna
At EMBL: Predoc, 2001–2005, Developmental Biology
"On multiple levels EMBL has served as a role model for molecular biology research in Europe and worldwide. Many challenges remain and new ones are emerging. The interaction between EMBL and the member states via an active Alumni Association is a great addition to other ongoing efforts. My own motivation in the Association will be to help improve the career outlook for young scientists. Science depends on brilliant minds – to keep attracting those, we need to reverse the trend that the scientific career is increasingly losing its perspective for the future talents."
Alessia Buscaino
Now: Lecturer and Group Leader, University of Kent, Canterbury
At EMBL: Predoc, 2001–2005, Genome Biology
"Due to the current funding landscape, new investigators are facing important challenges when trying to establish their labs: the need for interdisciplinary, collaborative research programmes is almost a must. As an EAA board member, I would like to promote the organisation of events 'EMBL-style', where a mix of science and informal gatherings provide the natural environment for establishing fruitful collaborations among EMBL alumni."
Christian Engel
Now: Research Scientist, Sanofi, Frankfurt
At EMBL: Predoc, 1993–1997, Structural and Computational Biology Unit
"In recent years, academic labs as well as industry have increasingly realised the importance of collaborations to promote basic science and translate it into applied research and practical medical progress. This is exactly the spirit of collaboration that I experienced during my time at EMBL. To strengthen and foster such collaborations, I'd like to set up a network of EMBL alumni working in industry and the life science business, serving as contacts for future collaborative efforts and as source of information for EMBL associates about non-academic institutions."
Fatima Gebauer
Now: Group Leader at the Centre for Genomic Regulation (CRG), Barcelona
At EMBL: Postdoc and Staff Scientist, 1996–2002, Genome Biology
"Ever since I left EMBL thirteen years ago, I have not stopped communicating with current and past staff. From scientific collaborations to meetings, from using EMBL Core Facilities and panel expertise to just simple advice or friendship, EMBL and its alumni have always been there for me. I would like to contribute and extend this feeling of belonging, to spread the many benefits of networking, and to improve connections between alumni and EMBL, especially at this time when a new EMBL partnership lab is being created in Barcelona."
Des Higgins
Now: Professor of Bioinformatics, Conway Institute, Dublin
At EMBL: Group Leader, 1990–1996, EMBL-EBI
"As a result of my time at EMBL, I now have a fantastic network of colleagues, friends and collaborators in almost every European country. People who have not spent time working at EMBL are often badly informed as to the extent or value of this. I think the EAA has a key role in advertising and promoting the importance of EMBL in the member states to ensure continued participation by national governments, and supporting active participation by individuals in all the programmes."
Mervi Lampinen
Now: Head of IT, European Southern Observatory (ESO), Munich
At EMBL: IT Manager, 2004–2008, Core Facilities and Scientific Services
"The EAA gives me an opportunity to renew many of my EMBL (alumni) contacts, which I established not only while working as IT Manager, but also during my time as Head of the EMBL Staff Association. I would like to utilise my knowledge and experience in IT, the Internet and e-commerce, to build a digital platform that will enable the Association to better use digital communication, social media, Internet publishing and other modern media."
Zoi Lygerou
Now: Professor, University of Patras Medical School, Greece
At EMBL: Predoc, 1991–1995, Genome Biology
"Working at EMBL is a unique experience that affects how one approaches science, collaboration and having fun while doing serious stuff. The Alumni Association is pivotal for spreading the word on EMBL opportunities, facilitating access to EMBL, and supporting visits especially for younger scientists. I would like to help the Association expand opportunities for summer training, diploma research or short-term projects, and to work together with national associations to advertise and promote these activities."
Joep Muijrers
Now: Partner, Life Sciences Partners (LSP), Amsterdam
At EMBL: Predoc, 1997–2001, Genome Biology
"The key task of the EAA is to promote the spirit of excellence that characterises EMBL, and to foster collaboration amongst its alumni, many of whom are at the forefront of today's rapidly changing life sciences sector. As an active investor in companies focused on the life sciences, and based on my experience and knowledge in raising funds for European- and US-based life science companies, I believe I may have a synergistic perspective on how to promote fruitful collaboration between academia and business."
Britta Schläger
Now: Head of kobris – company specialising in project management, Sandhausen
At EMBL: Research Technician 1989–1998, Genome Biology
"I believe that the general public would appreciate a better understanding of the excellence of EMBL's research and the uniqueness of the institute, and I would like to support this by contributing to a communication agenda. Here, staff and alumni could present their work in a fashion that is understandable for the interested public, very much in line with the Sunday matinees introduced at EMBL Heidelberg during the anniversary year. This would include increased engagement from the non-scientific experts of the EMBL community, of which there are many, from the service community, IT, management and administration to public relations at all EMBL sites."
Sarah Sherwood
Now: Head of Communications and External Relations, Institute for Research in Biomedicine Barcelona (IRBB)
At EMBL: OIPA Officer, 1999–2007, OIPA
"Interactions with the EMBL community have come in many forms for me – meeting up with ex-colleagues at events, collaborating on projects, or simply a quick phone call to ask for advice. For me, this typifies the value of the EMBL Alumni Association. It provides a real and practical framework to stay connected to an incredible network of talented and resourceful people. It also allows us to give back to that community. Having spent many years of my time at EMBL helping establish the Association, and the past 4 years contributing as a member of the Board, I hope to continue to serve the ever-growing EMBL alumni community."
Legal representatives
Four candidates are standing for the four positions as legal representatives – that is, Chair, Vice-Chairs and Treasurer:
Gareth Griffiths, Chair
Now: Associate Professor, Institute of Molecular Biosciences, Oslo
At EMBL: Group Leader, 1977–2009, Cell Biology and Biophysics
"The role of the EAA is to provide support to the Laboratory. EMBL alumni are an important network of former staff, strongly connected to the member states. Many member countries are significantly under-represented in terms of staff at EMBL – despite its reputation, too few people in the member states are aware of the possibilities offered at EMBL. The alumni network is the best avenue to communicate this. On my part, I have been effectively highlighting opportunities at EMBL, and plan to continue building on these and more."
Jacqueline Mermoud, Vice-Chair
Now: Group Leader, Institute of Molecular Biology and Tumor Research, Marburg
At EMBL: Predoc, 1990–1994, Genome Biology
"I am looking forward to the possibility of serving a second term on the EMBL Alumni Association Board, this time as Vice-Chair. During my first term, I helped raise funds for alumni-centred activities, enabling alumni to maximise the benefits of being part of this far-reaching EMBL network. I also aim to contribute to building a wider awareness of our activities and of the role of EMBL as a remarkable centre of training and research excellence."
Roberto di Lauro, Vice-Chair
Now: Scientific Attaché, Italian Embassy, London
At EMBL: Group Leader, 1986–1991, Genome Biology
"The period spent at EMBL significantly marked all alumni. We shared a passion for science and were infused with the culture of excellence. We also established a network of friends and colleagues that has accompanied us in our personal and professional lives ever since. The EAA should maintain and export these values and, in doing so, provide support to EMBL."
Annabel Goulding, Treasurer
Now: Treasurer to the Meridian Society; Company Secretary to Tangent Films Ltd, London
At EMBL: Head of Pay and Benefits, 2002–2011, Administration
"I am interested in the role of EMBL alumni as holders of the Laboratory's collective history and as ambassadors for the Laboratory's future. In the past two years I have enjoyed interesting discussions about what the Association can do to benefit the alumni community and some challenging questions about the management of its financial affairs. Our 40th anniversary year was a particularly busy and exciting time, and I am pleased to have played a small part in that. Finance is not a popular discipline with everyone, so this niche gives me an opportunity to make a contribution, which I am looking forward to continue."