Pathways & Branches: Out of the darkness
The Rosetta Mission's comet landing leads to amazing and unexpected destinations in the field of science communication.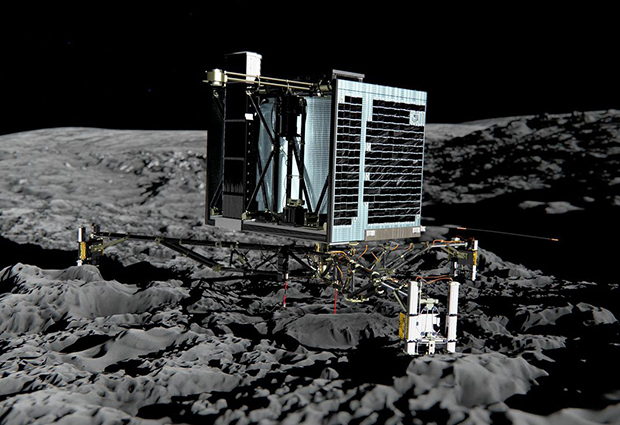 By Julia Roberti
It was one of those rare moments that made headlines worldwide, summed up in 140 characters:
The fingers hurriedly tapping on the keys, and tweeting the message in 10 languages, are those of EMBL alumna Karin Ranero, who is now editor for the German Aerospace Center (DLR) web portal. She was part of a team tasked with running the Twitter account for one of the global stars of the year – not a footballer, an actor, or a singer, but a tiny robotic probe named Philae, that went where nobody and nothing had gone before: the surface of a comet.
In November, people around the world held their breath as a live web stream showed the pinnacle of the European Space Agency's (ESA) Rosetta Mission as it carried the Philae lander to its final destination – Comet 67P – after a ten year journey across the Solar System. Five hundred million kilometers away from Earth, orbiter and lander communicated with each other and to researchers here on Earth, too. But unlike the first Moon landing, which crackled onto black and white television screens, many stayed tuned in via a very modern channel.
Ranero is one of the people in the team that gives Philae his voice and soul. "My job combines a bit of everything I have learned", explains Ranero, who was an intern for the EMBL-based journal for science teachers Science in School. "I studied Astrophysics, but I realised that communicating science was what I enjoyed the most.I wanted to learn how to better connect with people, so I also pursued further studies in psychology and museum studies, as well as taking on communication internships. If you explain something and people can relate to it, that draws their attention and makes them want to know more – with Philae, it helped that we were able to tell this story in a fun way."
And that is exactly why @Philae2014 exploded on Twitter, reaching nearly 400,000 followers, gathering retweets from the White House and providing a source of narrative for headline stories around the world.
The story was enriched by interactions with the Rosetta spacecraft's own Twitter account, run by a team at ESA. Ranero explains that tweets between Philae and Rosetta resemble friends chatting on a great adventure – not pieces of metal in cold outer space, but beings full of emotion. "We have a great time working with the Rosetta team and the scientists at the DLR Lander Control Center. We try to think of conversations beforehand, but that can change in a minute."
Indeed, being Philae gives Ranero a direct line to DLR's Lander Control Centre. "In such moments of tension, it is important to wait for word from the experts that first have to figure out what is happening," she says. When Philae's harpoon system failed to anchor the lander on the comet, for example, Philae bounced and landed in a rugged region a few kilometers away from his target, something she points out was good luck guised as bad luck. Philae imaged structures and examined an area that might never have been seen otherwise.
Before exhausting his batteries, Philae sent a bounty of data to keep researchers here on Earth busy – and there could even be another twist in the tale. "Philae's landing site will protect him from excessive radiation," Ranero adds. "Scientists are hopeful that when Comet 67P gets closer to the Sun, Philae will have enough energy to wake up – and we will be waiting for him. I will never forget the atmosphere in the Control Center during the landing. It was a spectacular, once-in-a-lifetime event that will be written about in history books, and it was a privilege to be part of it." And thanks to her and her team, thousands of people feel the same way. Mission accomplished.
---
Alumna Karin Ranero worked on the project for DLR on behalf of EJR-Quartz BV, together with technical project manager for the Philae Lander, Koen Geurts, and a team from the Crossmedia Department at DLR Corporate Communications.