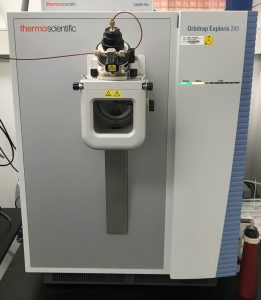 high-resolution mass spectrometer (HRMS)
Advanced hybrid quadrupole-Orbitrap mass spectrometer with high resolution up to 240,000, fast scan speed, enhanced robustness and mass accuracy (<1ppm), and HCD fragmentation. This HRMS system can be coupled either to UHPLC or to direct infusion for applications such as detection, identification, and quantification of small molecules, metabolites, and lipids (Services).
This high performance system combines high sensitivity, excellent accuracy, reproducible precision and the latest workflow developments (i.e. AcquireX) for untargeted analysis of metabolites and lipids in the discovery phase.