Cytek® Aurora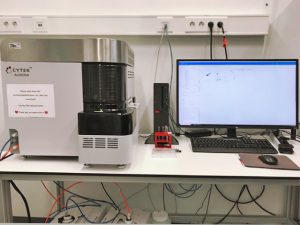 Unlike conventional cytometers, that use filter sets with defined wavelength ranges to identify single fluorochromes in individual detectors, the Aurora full spectral analyzer has the unique capability of measuring the entire emission spectra of the fluorescent dyes excited by the multiple lasers installed on the instrument.
The Aurora system has four lasers (405, 488, 561, and 640 nm excitation wavelengths), three scattering channels, and 48 fluorescent detectors. The capture of the full spectrum enables the resolution of cells with high autofluorescence or low levels of expression of key biomarkers, regardless of assay complexity.
The instrument is equipped with a plater loader for 96-well plates with ease of use, low carryover, and minimal dead volume.
Want a try this new technology? Let us know!