Written by event reporter Patricia Bondia
The VIZBI congress is a one-of-a-kind event that highlights the power of visualisation in comprehending complex scientific data. Experts from a wide range of disciplines — from genomics to ecosystems and art — come together to share their latest research and cutting-edge tools in a way that's understandable to a broad audience. The transdisciplinary nature of VIZBI makes it especially thrilling, creating a unique atmosphere to exchange ideas and learn from each other. Attendees have the opportunity to explore other research areas, build new collaborations and acquire insights that will enhance their ability to visualise and analyse their work.
This year's congress featured three exceptional keynote speakers:
Stefan Bruckner (University of Rostock, Germany) is an expert on interactive exploratory visual analysis of large and heterogeneous datasets. He shared valuable strategies for dealing with complex and multidimensional data, particularly in the context of physiology.
Arzu Çöltekin (University of Applied Sciences and Arts Northwestern Switzerland, Switzerland) presented intriguing studies about human perception and its applications in human-computer interaction. Her studies are helpful and applicable to general scientific communication.
Martin Dohrn (Ammonite, UK) is an Emmy award-winning film producer who has significantly contributed to our understanding of the natural world. He is the author of amazing documentaries, such as 'Night of the Lion' or 'My Garden of a Thousand Bees.' Furthermore, we were captivated by the stories he shared about the process of filming and capturing these awe-inspiring images.
VIZBI 2023 was structured around six sessions, each focused on a specific field of expertise: DNA, RNA, Proteins, Cells, Tissues, and Ecosystems. The congress also featured two special events, The Biology & Art session and the Showcase evening. Furthermore, it was possible to participate online for those unable to attend in person, enriching the event and overcoming geographical constraints.
Throughout the different sessions, speakers talked about cutting-edge techniques for visualizing complex data and how to apply them to improve data analysis and scientific understanding in several fields. Attendees shared their impressions and photos in real-time on Twitter using the #vizbi hashtag. Moreover, there were four poster sessions and 'Meet the Speakers' time, providing a valuable opportunity to interact with the participants and gain deeper insights into their research. One particularly exciting aspect was learning about the practical tools presented by some of the scientists. These included QIIME 2 (Lina Kim, ETHZ, Switzerland), which helps to analyse and visualise microbiome data; Nextstrain (Richard Neher, University of Basel, Switzerland) for tracking pathogen evolution; Ribocrypt(Michał Świrski, Institute of Genetics and Biotechnology, University of Warsaw, Poland) a multi-level browser for the exploration of ribosomal occupancy; and Schol-AR (Tyler Ard (University of Southern California, USA)) for enhancing scientific communication in journals using augmented reality.
Attending this congress made me realise that the limit of scientific communication is only bound by our imagination. Some of the presenters showcased an array of innovative ways of visualising science, such as high-accuracy 3D printed models (Emmanuel G. Reynaud, UC Dublin, Ireland), glass-modeled cells (Alex Ritter, Altos Labs, USA), virtual reality applications (Fabio Cortes Rodriguez, School of Life Sciences, EPFL, Switzerland), scientific collages and oleo painting (Ayelen Valko, independent artist), amazing digital animations (Guillermo Marin, BSC-CNS, Spain) and scientific video games such as Microscopya (Beata Edyta Mierzwa, LICR and UCSD, USA) and NanoCarRaceII(Melek Villanueva and Patricia Bondia, freelancers). These projects represent only a small fraction of the incredible work presented during the congress. To learn more about these and other projects, you can visit: https://www.vizbi.org/Posters/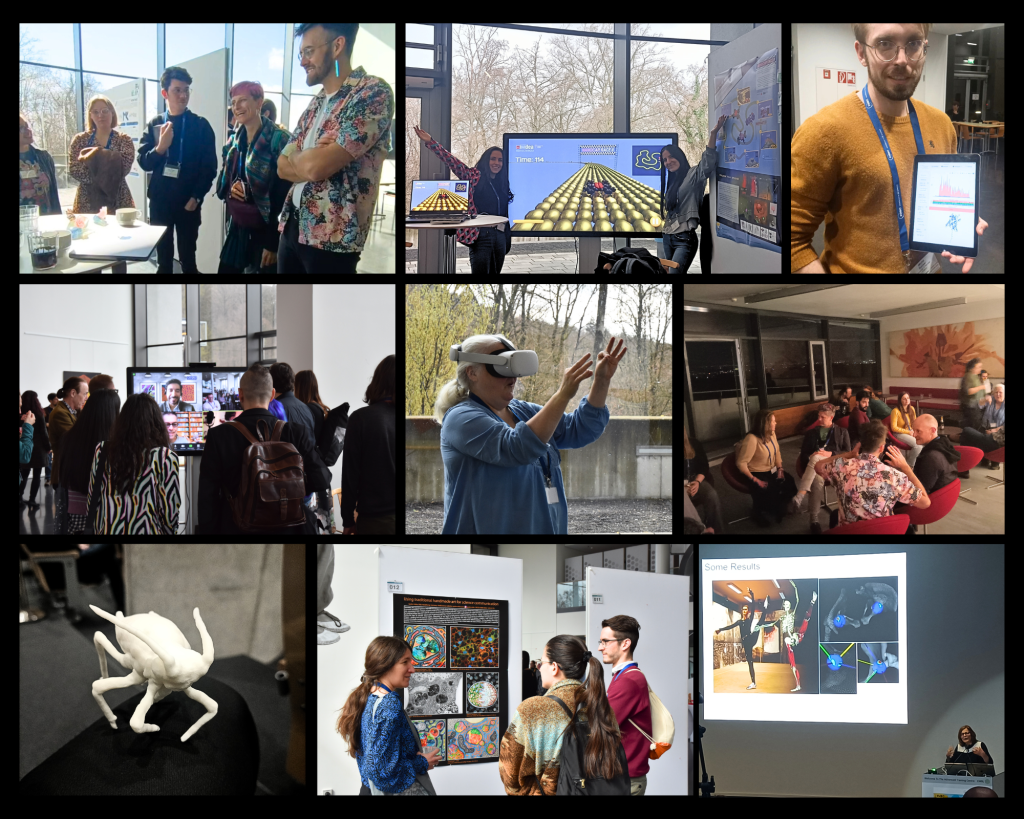 The quality of the posters presented at the congress was truly impressive. Especially noteworthy was the poster of Mol Mir: 'Metaphor and novelty in science education visuals', which received the Best Poster Award, and 'Visualizing brain tissue with super-resolution light microscopy' by Julia Lyudchik, recognized as the runner-up poster. A very well-deserved recognition for their work!
Best poster award: Metaphor and novelty in science education visuals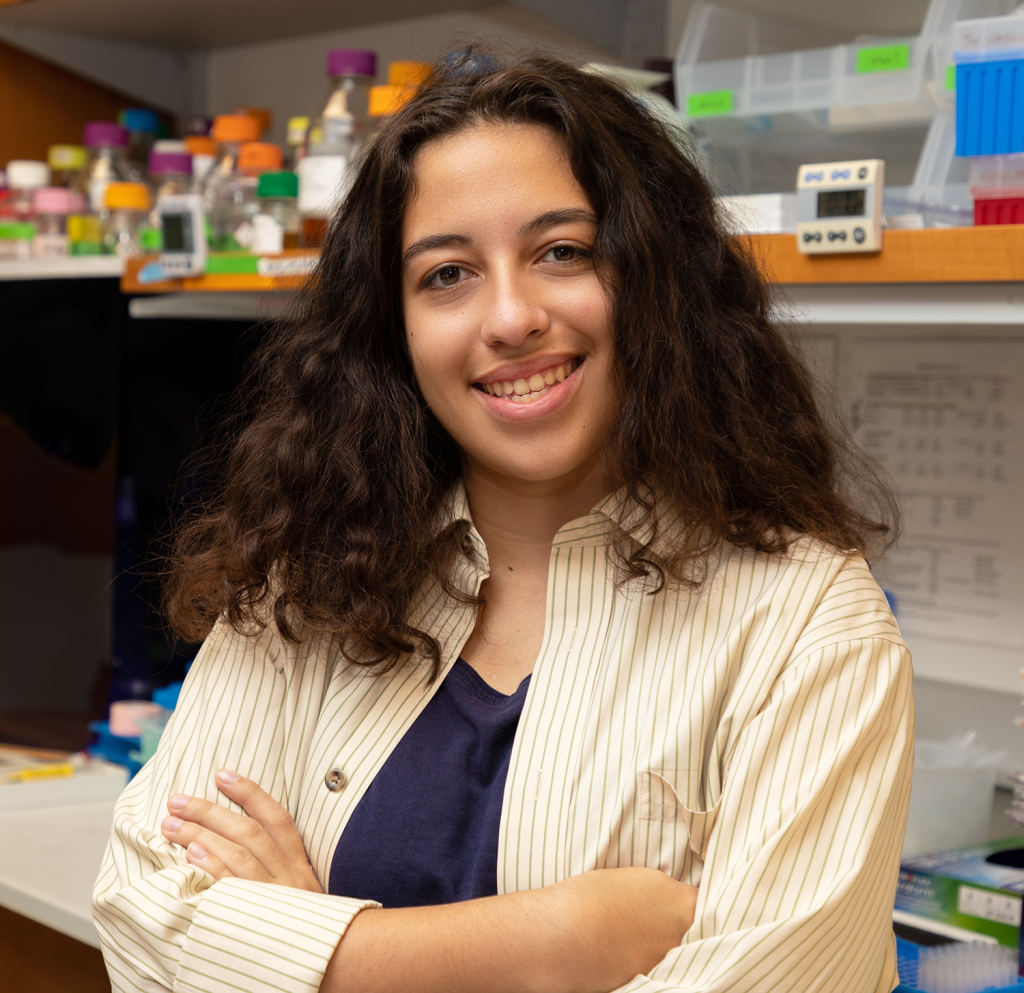 Presenter: Mol Mir, Stowers Institute for Medical Research, USA
Abstract: By using creative visuals for education, we can reduce the initial cognitive load by referencing everyday objects and experiences, as well as setting people up for more in-depth learning in the future.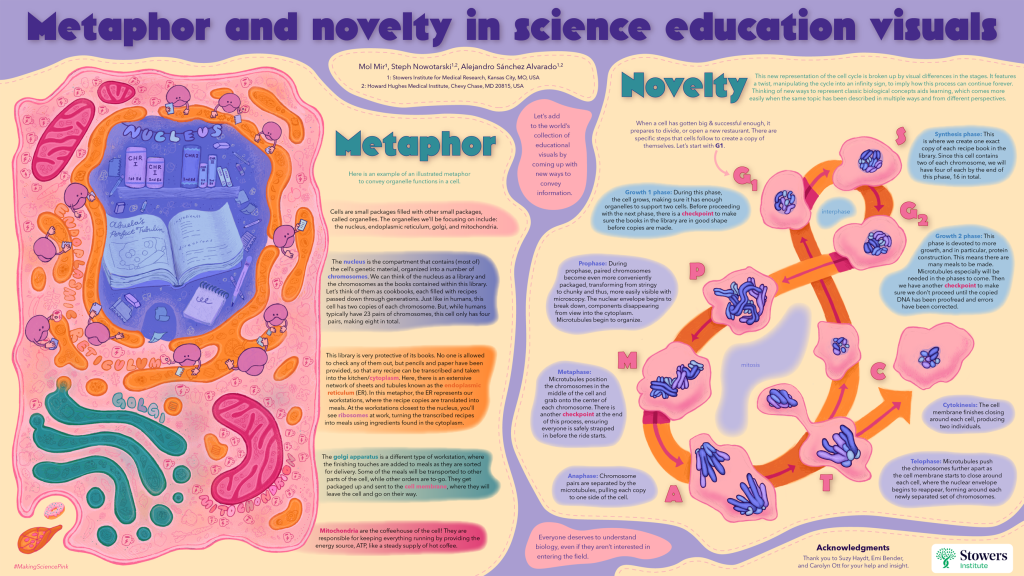 Runner-up: Visualizing brain tissue with super-resolution light microscopy
Presenter: Julia Lyudchik, Institute of Science and Technology Austria, Klosterneuburg, Austria
Abstract: Mapping the complex and dense arrangement of cells and their connectivity in brain tissue demands nanoscale spatial resolution imaging. Super-resolution optical microscopy excels at visualizing specific molecules and individual cells but fails to provide tissue context. Here we developed Comprehensive Analysis of Tissues across Scales (CATS), an integrated labelling, optical imaging, and analysis platform to decode brain tissue architecture, subcellular morphologies, and molecular arrangements within their structural context. We engineered CATS to visualize all cellular structures in fixed tissue by extracellular labelling with (super-resolution) fluorescence microscopy. Applying CATS to the hippocampal mossy fibre circuitry, we demonstrate its power to reveal the system's molecularly informed ultrastructure across spatial scales and assess local connectivity by reconstructing and quantifying the synaptic input and output structure of identified neurons.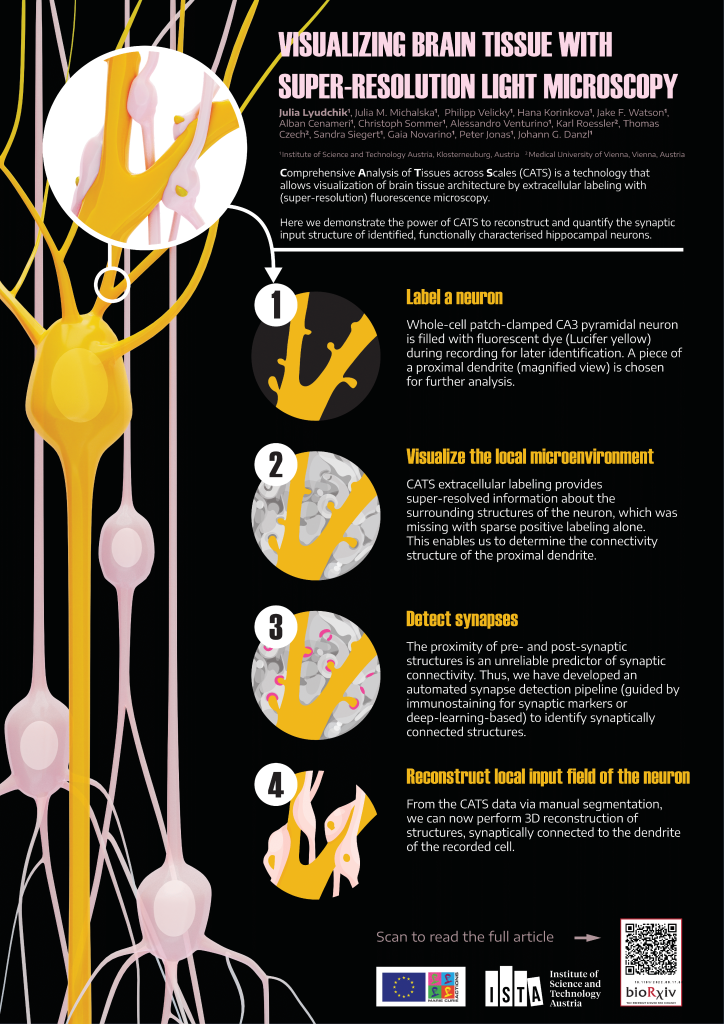 One of the most exciting moments of the event was the unveiling of the Art & Biology exhibition, where science was expressed in captivating and creative ways. We witnessed the presentation of some impressive digital illustrations featured in the Art & Biology category of https://www.vizbi.org/Posters/. Attendees had the opportunity to vote for their favourite piece and the best artwork of VIZBI 2023 was given to the stunning image presented by Marzia Munafò, 'Shining light onto chromosomal instability'. The runner-up artwork was awarded to Beata Edyta Mierzwa for her image, 'Model Organism Star Map'.
Best artwork: Shining light onto chromosomal instability
By Marzia Munafò, EMBL Rome, Italy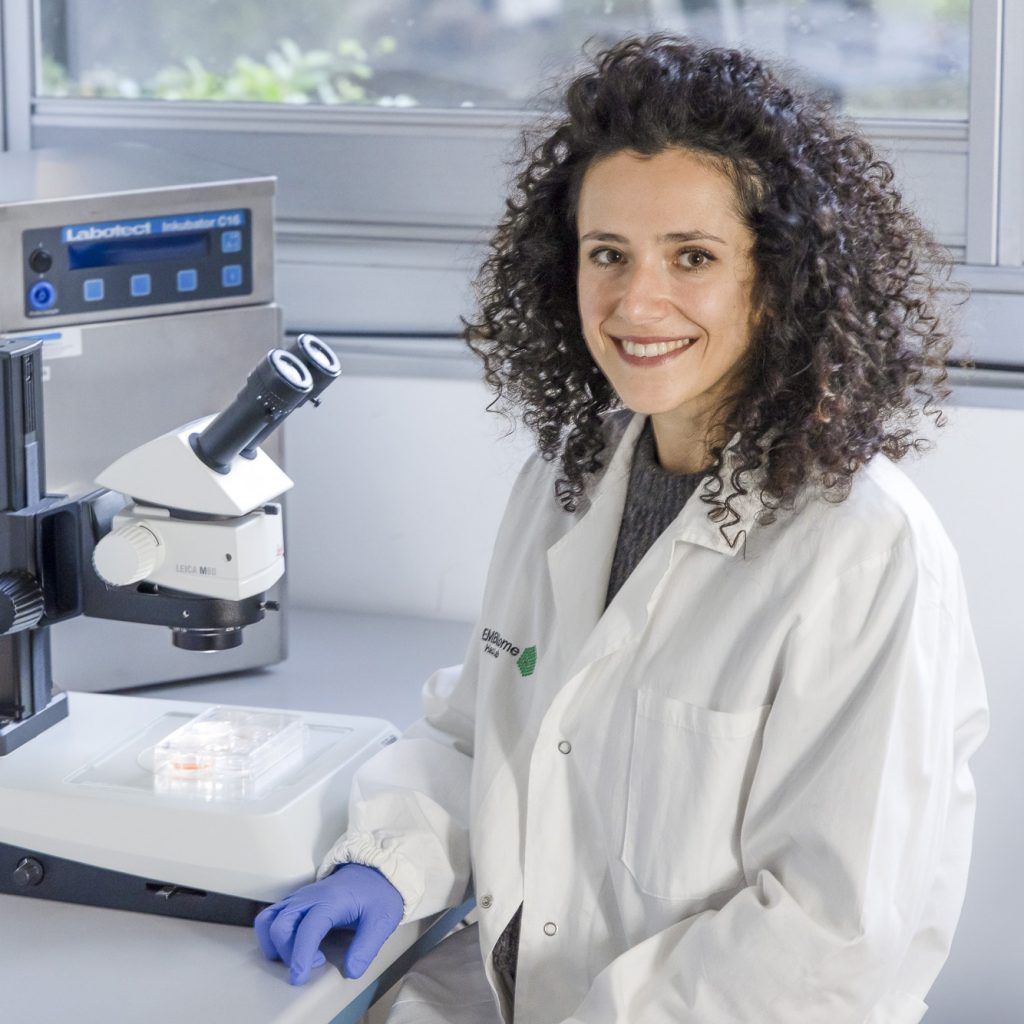 Abstract: Cancer genomes can be very chaotic and making sense of Chromosomal INstability (CIN) signatures, which can have diverse causes and consequences, is no trivial task. By analysing thousands of tumour samples, a recent study (Drews et al, 2022; Nature) was able to decode messy cancer copy number profiles into 17 signatures that characterize specific types of CIN. These signatures provide insights into the putative causes of CIN, predict drug response and identify new drug targets. This illustration is a creative representation of this pivotal work that shines light onto CIN signatures. Each window pane is a copy number profile but only when light comes through the glass you can see a clear picture emerging from the reflection. Starting from the back, windows that do not get much light cast chaotic and uncoordinated shadows. In the middle, a little more light passes through and some sense begins to emerge from the shadows. Finally, fully illuminated windows cast a clear picture of a broken DNA helix – exemplifying DNA damage, one of the identified molecular processes.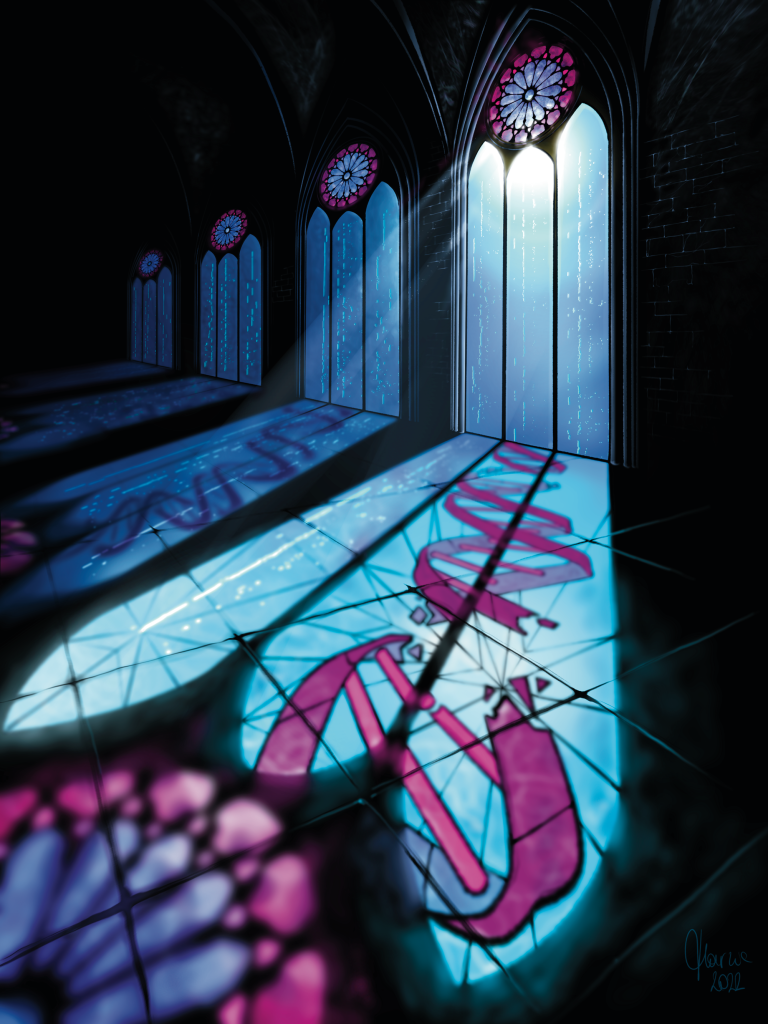 Runner-up artwork: Model organism star map
By Beata Edyta Mierzwa, Ludwig Institute for Cancer Research and University of California San Diego, USA
Abstract: The intricate patterns of our night sky have inspired many ancient cultures who connected the stars to create constellations portraying myths and legends. This 'modern' star map is a scientific take on zodiac signs – showing constellations that form some of the most widely used model organisms and cell types. These model systems have greatly facilitated research and allowed us to discover much of what is known about biology and life today.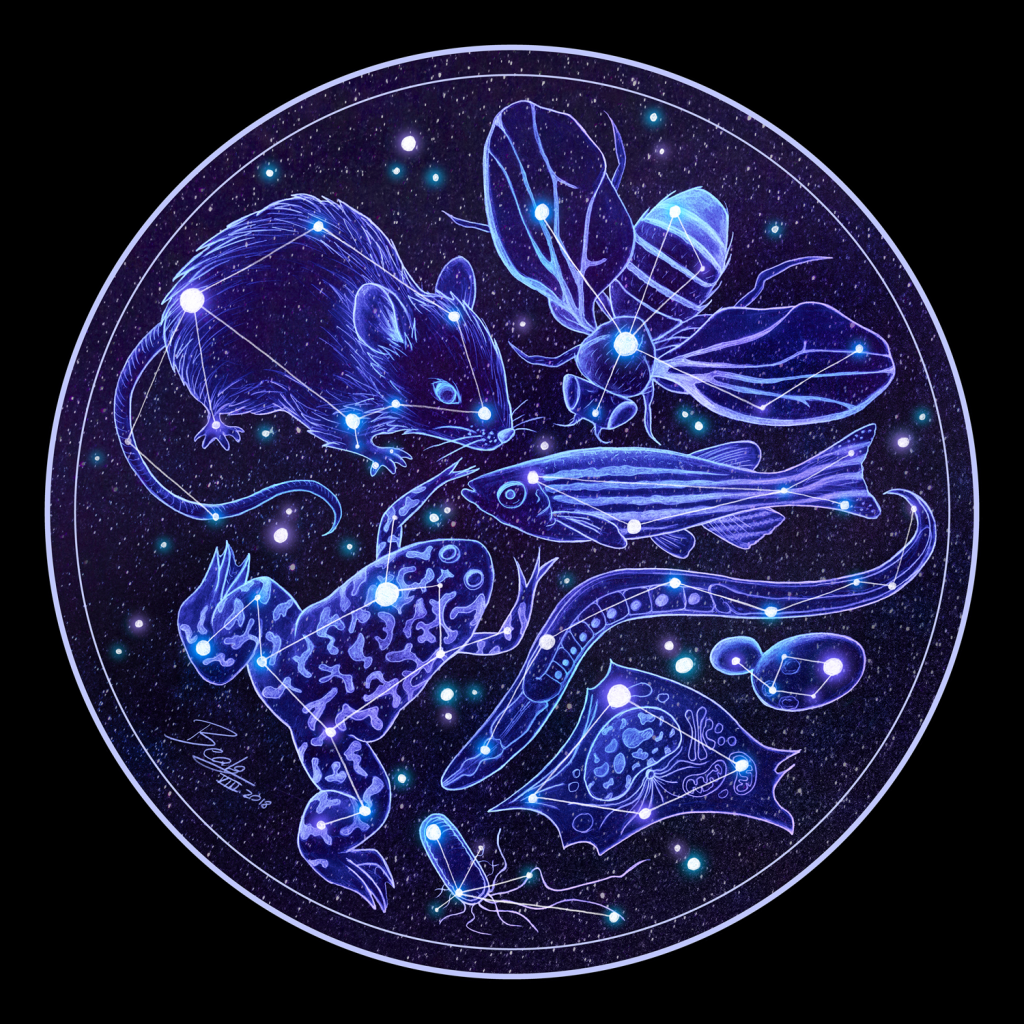 On the last day of the congress, we were treated to an unforgettable session in a cinema room with popcorn, where Martin Dohrn and Drew Berry shared and discussed their recent work. Drew Berry is a biomedical animator who creates beautiful and accurate visualizations of molecular-level events. Both showed different aspects of the natural world On the one hand, Martin shared his documentaries about animals commenting on interesting curiosities about how it is to film wildlife from lions to insects. On the other hand, Drew showed his amazing animations about processes happening on the micro and nanoscale. They shared valuable advice on how to captivate the audience in films, it is key to create an engaging storyline, regardless of whether the characters are animals or molecules. Moreover, we had the opportunity to ask questions and gain further insights into their work. To wrap up the event, we enjoyed some drinks and engaged in casual conversations, fostering a friendly atmosphere and fueling the desire to attend this annual event in the future.
Overall, the VIZBI congress is a unique platform that stimulates new ideas and collaborations, and it is a must-attend event for anyone interested in scientific visualization.
About the author
I'm Patricia Bondia, a scientific visual communicator. I create illustrations, animations and games to help scientist to communicate their work.