Welcome: Maria Bernabeu
New group leader at EMBL Barcelona is investigating how malaria affects the human circulatory system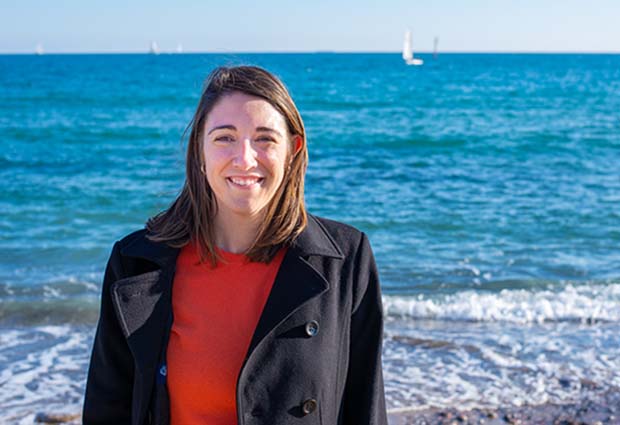 Long before Maria Bernabeu joined EMBL in October, she had a fascination with malaria. Her group at EMBL Barcelona will build 3D models of the human blood–brain barrier to study the mechanisms by which cerebral malaria breaks down this barrier and causes disease severity and death.
What first sparked your interest in science?
I've been interested in science since high school. When the time came to go to university, there was a fantastic degree programme at Universitat Pompeu Fabra (UPF), here in Barcelona. It was unique at that time – there were very small classes, and we had a lot of interaction with teachers who were doing research at the Barcelona Biomedical Research Park (PRBB). To have this close contact with scientists really fascinated me. After my first year I knew I wanted to do a PhD, and to have my own group at some point. My experience as an undergraduate at UPF has had a huge impact on my career.
What is your group working on at EMBL?
My group is focused on two main topics. The first is to create 3D blood–brain barrier models in vitro in the lab. The other area we're really interested in is infectious diseases, particularly malaria. I've been working on malaria for ten years, trying to understand this complex fight for survival between human and parasite. Right now, the main goal of the lab is to model the pathogenesis of this disease in vitro, to see how human cells respond to the parasite's stimuli. Later, we'll start collaborations and use the model to study other vascular diseases of the brain.
What technologies are you using?
We're using in vitro vascular systems. There are a few different methodologies to fabricate them. We use collagen scaffolds, and with polydimethylsiloxane (PDMS) moulds we make pre-patterned channels that have the microfluidic properties that we want. Then we grow endothelial cells inside the tubes, and we grow parenchymal cells in the collagen matrix. This allows us to fabricate vascularised tissues in the lab. We can inject blood cells through our system, and we can study how immune cells, or infected and uninfected red blood cells, interact with the endothelium – the cells that line the interior surface of the blood vessels
What traits are you looking for when recruiting scientists to your group?
I'm looking for highly motivated people. Our system is complex to build, so it will require people who are motivated and can deal with occasional failure. I'm also looking for people who are very collaborative and have an interdisciplinary approach. During my postdoc, I interacted with people from many different backgrounds – doctors working in malaria-endemic countries, biologists working on malaria pathogenesis, and the bioengineers who developed the 3D vessels. I also enjoyed working side by side with the computational scientists who analysed our complex data. That's something I'd like to reproduce here in the lab – this interdisciplinarity, from the patient's bedside to the biology, bioengineering and bioinformatics.
Was the culture of interdisciplinary research one of the things that attracted you to EMBL?
Yes, absolutely. EMBL has this fascinating atmosphere – it offers the possibility of getting to do experiments that we can't even imagine yet, getting to explore all these exciting approaches, and looking at a problem from different angles.
What's your philosophy for running your lab?
I'd like everyone to feel good about coming into the lab every day, and to feel excited about being here. They'll probably spend many hours in the lab, so I really want them to enjoy what they're doing and feel like they're part of a family here.
How do you balance work and life as a scientist?
That's a difficult one! I usually work long hours, but I try to balance periods of very high activity with more relaxed periods. I schedule activities such as going to the gym or running two or three times per week to keep a healthy balance.
What inspires you?
My colleagues have always inspired me. Being around people who are really motivated and are doing what they want to do, and trying to learn from them – that's where I find my inspiration.
If you weren't a scientist, what would you be?
Actually, I'd be a different kind of scientist! I'd be out working in the field, tracking birds, whales and other wild animals. I really enjoy being outdoors and watching wildlife.
Related links