An ocean of droplets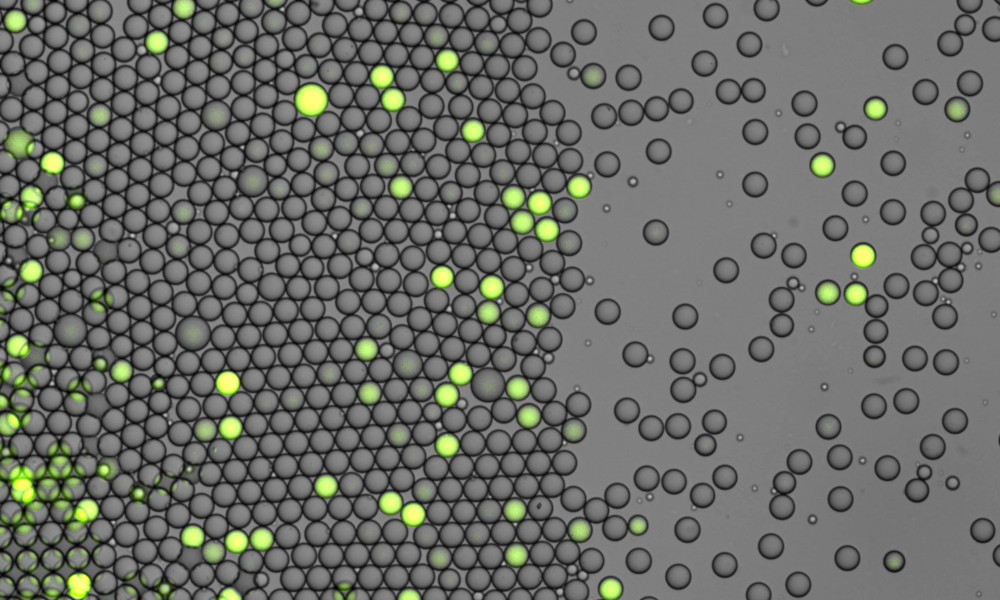 The aim of EMBL's research is to achieve a fundamental understanding of biological processes. Tobias Wenzel, a postdoc in the Merten Group at EMBL Heidelberg, is trying to solve some of these fundamental questions. He's studying single bacterial cells from a gut microbiome sample, which are shown in this Picture of the Week.
The bacterial cells are embedded in microfluidic droplets in oil. The fluorescence indicates the presence of the targeted bacterial strain with the help of a characteristic DNA sequence.
The Merten group is continuously developing new microfluidic chips – palm-sized devices that are used to carry out experiments by manipulating extremely small quantities of liquid. The group also develops detection systems and software for the discovery of new drugs and antibodies. They use microfluidic technology to identify personalised drug cocktails for cancer therapies.
The images were captured on a Nikon Microscope Ti-E.
Credit: Tobias Wenzel/EMBL
If you have a stunning picture of your science, your lab or your site, you can submit it here.
---