Bridging Excellence: a unique transatlantic opportunity for postdocs
Applications are now open for the Life Science Alliance's Bridging Excellence Fellowships, enabling postdocs to carry out collaborative projects at EMBL and Stanford University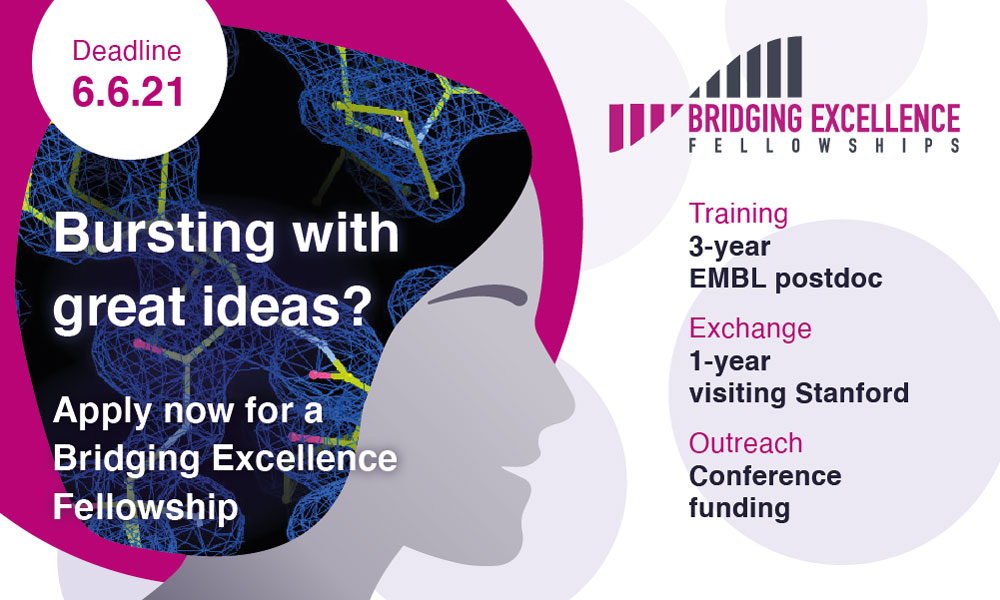 By Katie Zeier, Life Science Alliance Program Coordinator
"Collaboration enables us to reimagine what's possible. It gives us the power to leverage a diversity of expertise, technology, and even mentalities, which can take our research in directions we never expected," says Lars Steinmetz, Director of the Life Science Alliance. Lars is a firm believer in drawing on insights from across the US and Europe to drive the development of new technologies and answer tough questions in biology. This is the premise behind the Bridging Excellence Fellowships, which provide a unique opportunity for young postdocs to carry out a collaborative project at EMBL and Stanford University.
Applications for the next round of Bridging Excellence Fellowships open on 1 March 2021. Funded for three years, fellows will work on a joint research project supervised by at least one EMBL group or team leader and one faculty member from Stanford University School of Medicine or the School of Humanities and Sciences. Fellows develop their own proposal in collaboration with their chosen supervisors. Working across two first-rate institutions means that fellows have access to a wide range of expertise and technologies, encouraging them to think creatively and take on ambitious, innovative projects. The fellowship isn't just a catalyst for new research, but also a global training opportunity. In addition to having two mentors, postdocs have access to training and development programmes at both institutions, as well as the potential to build an international network that can help launch their scientific careers.
The biggest challenge, according to Lars, is choosing the supervisors. "We have over 50 labs in our network, and everyone is working at the forefront of their field. The diversity of knowledge and expertise is mind-blowing! It makes it hard to choose just a few to work with."
Spanning six sites in five European countries, EMBL alone has a lot to offer. Jana Helsen, one of the first Bridging Excellence fellows, encourages new candidates to take full advantage of the diversity of research groups in the programme. "Both EMBL and Stanford are brimming with expertise," she says. "Try to look beyond your main collaboration and consider teaming up with other groups to give your project that extra edge and further expand your transatlantic network." Fellows can browse the network of Life Science Alliance members for inspiration, or pick their own combination of supervisors from any of the group or team leaders at EMBL's six sites, and from Stanford faculty in the schools of Medicine or Humanities and Sciences.
Fellows are based at EMBL for the duration of the fellowship, and receive travel and accommodation support for one or more visits to their Stanford partner. In total, postdocs can spend up to a year at Stanford during their fellowship. This, says Jana, is the most exciting part of the programme. "I didn't even think twice about applying. It allows you to immerse yourself in two distinct scientific cultures, enables you to do exciting science using cutting-edge technology, and is the perfect way to establish your own global network. Altogether, the programme offers you a fun and adventurous way to build a successful scientific career."
Full details on eligibility and the application process are available on the Life Science Alliance website.