A tribute to Anna Tramontano
Janet Thornton reflects on the contributions of a dedicated, energetic and galvanising member of the scientific community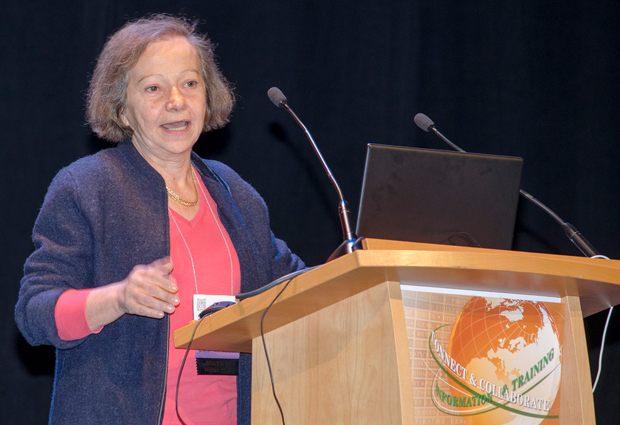 By Janet Thornton
EMBL alumna Anna Tramontano was an expressive, effective leader and a visionary in the bioinformatics community. She was not only a good scientist, but also a great organiser, coordinator, and motivator. She was devoted to mentoring and inspiring the next generation of scientists. Anyone who worked with Anna could tell you that she was the kind of person who got things done, and in a warm, collegial manner. She brought out the best in people, and that is a rare quality.
Scientific background
Anna trained as a physicist in her hometown of Naples, before being attracted by the emerging field of structural molecular biology. In a postdoc at University of California San Francisco, she authored a powerful graphics programme to display and compare protein structures, which was commercialised and used widely. She then moved on to join Arthur Lesk at EMBL in Heidelberg, where she completed her best-known work: analysing and predicting the structure of antibodies. To quote Anna: "It opened the road to the rational redesign of antibodies, especially for therapeutically important purposes."
She returned to Italy, joining the IRBM research institute of Merck & Co., where she continued to work on protein modelling in hepatitis C and interleukin-6. She was involved in developing many methods for protein design and docking. In 2001 she returned to academia as a full professor at the the Sapienza University in Rome, continuing to focus on structural bioinformatics, especially for proteins involved in biomedical problems and also branching out to consider RNA molecules and their structures.
A great organiser, blazing trails for the pursuit of knowledge
When Anna was at EMBL in the late 1980s, EMBL was home to some of the most outstanding computational bioinformatics groups in the world. The students and postdocs from that time, including Anna, went on to lead many of the developments in our field, in Europe and beyond. One of these was the International Society of Computational Biologists (ISCB), of which Anna was a Fellow, and which today hosts the largest bioinformatics meeting (ISMB) in the world.
I first got to know Anna well when we were writing a proposal for "BioSapiens," the project to use computational approaches to 'understand life' that eventually sparked ELIXIR. Anna, myself, Alfonso Valencia and Søren Brunak wanted to bring together the many emerging bioinformatics groups in Europe – particularly those working in protein bioinformatics.
She was an exceptional mentor and knew how to bring out the best in everyone
As a group and steering committee, we really worked well together. I remember working with them all at midnight, trying to finish up the BioSapiens proposal by the morning deadline – that was my first experience working on joint, web-based documents and my first really intensive project with Anna. We got it together just in time, it got funded and it did help to bring a fragmented community together.
Anna was a leading light in all of that. She coordinated the first all-hands meeting in Rome, which set the entire project in motion. The whole spirit of it was enhanced because Anna was such a wonderful host and made everyone feel part of something great. She was also outspoken and drove things forward – she made sure everyone pulled their weight and did their best.
Community building
Predicting the structure of a protein from its sequence is a long-standing challenge in molecular biology, with practical implications for drug discovery and environmental interventions. This is incredibly complex, and requires pooling talent – getting great minds together to chip away at it. Anna played a big part in the Critical Assessment of Structure Prediction (CASP) challenge, which does this through a bi-annual international challenge. She helped grow the organisation of CASP beyond the US, taking on responsibility for coordinating several of these events in Europe.
Training: preparing the next generation
Anna was proud to be an Italian scientist and embraced her substantial teaching responsibilities, lecturing to undergraduates and leading her structural bioinformatics group. Throughout her career she would share this dedication with farther-reaching operations, for example championing ELIXIR's framework for extending training across a complex, multicultural landscape. Importantly, she also threw herself into training programmes for under-represented scientists working in challenging environments – work that took her to Cuba, Africa, and most recently in Saudi Arabia.
My colleague Cath Brooksbank, who leads Training at EMBL-EBI, shared with me that Anna's model for the BioSapiens summer schools deeply influenced the format of our own programme. Cath also co-chaired training activities during the preparatory phase of ELIXIR, and said that Anna had "the perfect combination of leadership and listening skills" – and was a person "so committed to her calling that nothing was too much work – and she fostered that commitment in those she worked with." I could not agree more.
These are just a couple of examples that show how Anna was always looking for ways to bolster the protein bioinformatics and modelling community, uniting us all around common causes and pulling us together. We were all doing rather similar things, but not in a joined up way. Because of Anna's determination, we have been able to focus on building our detailed knowledge about proteins in a coordinated way.
That kind of cooperation, across nations and disciplines, forms the very foundations of research infrastructure.
Builder of bridges: ELIXIR
Indeed, it was Anna who first led the efforts that helped to bring Italy into ELIXIR – an addition that tipped the scales and transformed an incipient research infrastructure for Europe into a real one. She campaigned hard for a bioinformatics training framework that could serve everyone in Europe, giving it everything she had: energy, understanding, expression, warmth and clarity.
Giving back to the EMBL community
Anna's long-standing participation in the EMBL community, as an alumna, collaborator, scientific advisor, counselor and friend, are well documented. She served on EMBL's Scientific Advisory Council from 2006-2011, on EMBO's Fellowship and Courses Committees and on countless reviews, always willing to help EMBL.
But training the next generation of scientists is perhaps Anna's strongest legacy. She was an exceptional mentor, promoter of young scientists, knew how to bring out the best in everyone and enabled amazing science. She gave generously of her time in a lot of different situations, and she will be sorely missed.
---
Funds in Anna's name
For those who wish to contribute, two donation funds have been established in Anna's name.
Set up by her students to support important projects in cancer research. This fund is already in operation.
Set up by the International Society for Computational Biology (ISCB) to fund travel for disadvantaged students to laboratories. This fund is currently being established.

More tributes to Anna from the EMBL community
Related links