Pathways: Culture of care
As someone who has always held a great love for animals, it would be no surprise to those who knew Maria Kamber as a child that she went on to become a veterinarian. But inspired by medical science, her career led her not to a farm or an animal hospital, but to the lab bench, where she is now responsible for the health and wellbeing of animals turned into living models of human disease.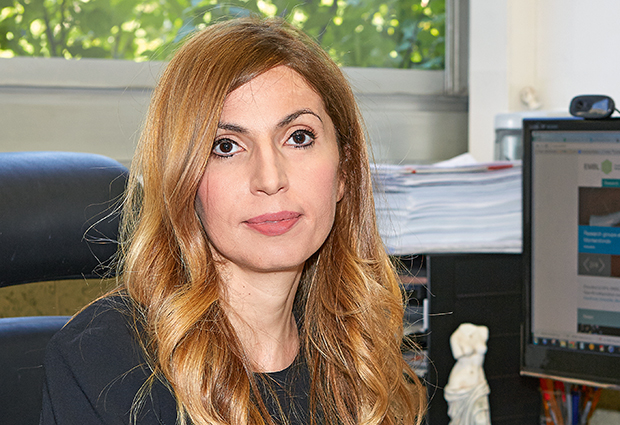 "Without research using animals, breakthroughs such as antibiotics, organ transplants and vaccines would have been impossible, and this remains true in some important research projects today," says Kamber, who is head of the mouse facility at EMBL Monterotondo. "But laboratory animal veterinarians also understand that animal use in experiments is a privilege that must be carried out ethically. My role is to support scientific endeavour, while ensuring dignity, compassion and respect in the use of animals in science."
Laboratory animal veterinarians also understand that animal use in experiments is a privilege that must be carried out ethically.
Veterinarians play a key role in driving animal care programmes and, with support from technicians and caretakers, develop practices that aim to meet the environmental, social and nutritional needs of animals. Kamber's role involves advising researchers on experimental design, training staff, policy development, facility inspections, interventions and treatment, post-procedural monitoring, daily care, and identifying alternatives to potentially painful procedures where possible.
"Most importantly, we are continuously striving to develop a culture of care at every level," explains Kamber. "This involves identifying non-animal models where appropriate, exploring ways to reduce numbers used in experimentation, refining procedures to improve wellbeing, and nurturing a compassionate approach to animal welfare. This is important not only ethically, but for the success of the science as well."
Empowering people
This ethos formed the cornerstone of a laboratory animal science course that Kamber organised at EMBL Monterotondo in April, one of just
16 centers in Europe approved by the Federation for European Laboratory Animal Science Associations (FELASA) to provide training for investigators to carry out animal research. The course brought more than 40 researchers, technicians, biologists, medical doctors and other professionals together with expert trainers to explore theoretical, practical, philosophical and ethical aspects of laboratory animal science, while also underscoring the importance of continual improvements in professional knowledge.
New European legislation requires that people working with animals have proven high levels of competence.
"New European legislation requires that people working with animals have proven high levels of competence," says Kamber, who has organised seven FELASA courses in total. "Through the course we wanted to emphasise the subtleties of animal care, raise awareness of the responsibilities involved in safeguarding animals and ensure that professionals do so in a way that minimises pain and maximises comfort. A key part of my job involves empowering people to meet their potential: I am proud to work in this inspiring environment, promoting animal research ethics, while also contributing to the advancement of scientific knowledge."