Why you need an ORCID
In her latest blog post, Jenny Cham, Lead User Experience Analyst at EMBL-EBI, writes about how ORCID helps distinguish her from all the other Jenny Chams in the world.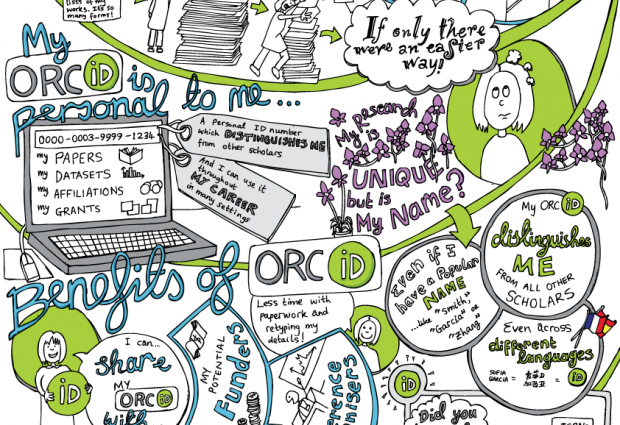 The problem with names
Years ago, I remember looking at Facebook for the first time to set up an account and typing in "Jenny Cham" to see if there were other people already using the same name. There were loads of other girls – mostly of Chinese origin, actually – with exactly the same name as me, with search results spanning over several pages. This was a bit annoying, but at least in this context once I set up my account my friends could work out if it was me by other means, such as receiving a direct invite from me, or by looking at my photo thumbnail, or viewing the names of my other friends.
Having a similar, or the same, name as others can be much more problematic, and important.
In other situations having a similar, or the same, name as others can be much more problematic, and important. Imagine you are trying to organise a conference and invite a speaker, only to find you ended up contacting the wrong person with the same name – awkward! What if you are reviewing a grant proposal and want to look up the authors to asses their credibility and contribution to the field, and one of them has a popular name – nightmare! Or maybe (which also happened to me): what happens if you get married and decide to change your surname? How will you ensure your publication record in your previous/maiden name doesn't get lost going forwards?
Simple searches using an author name in a papers database, such as PubMed or EuropePMC, would be hopeless for these scenarios. But, a solution is now at hand…
Introducing: ORCID
ORCID provides a persistent digital identifier that distinguishes you from every other researcher, which can be useful for manuscript and grant submission, and generally for linking you and your professional activities. This helps ensure that your work is recognised. You can include your books, papers, affiliations, education background, grants and citable datasets.
EMBL-EBI provides a three-step tool to help you link your works quickly to your own ORCID via EuropePMC. EMBL is a pilot organisation for ORCID, so most of our employees have an ORCID. If you don't have one yet, it's really easy to request one yourself through the ORCID website.
ORCID at a glance
Laurel Haak, Executive Director of ORCID, asked if I would make a sketchnote to get the message out about ORCID and its benefits (you can see the result on Flickr). Thanks to EMBL-EBI's graphic designer, Spencer Phillips, for helping me get it into shape!
Read on…
You can read more about ORCID in the full post on Jenny's blog: Bringing usability to a complex domain.
Related links