EMBL and Tara: Barcelona
EMBL joins Tara in Barcelona to promote science and interdisciplinarity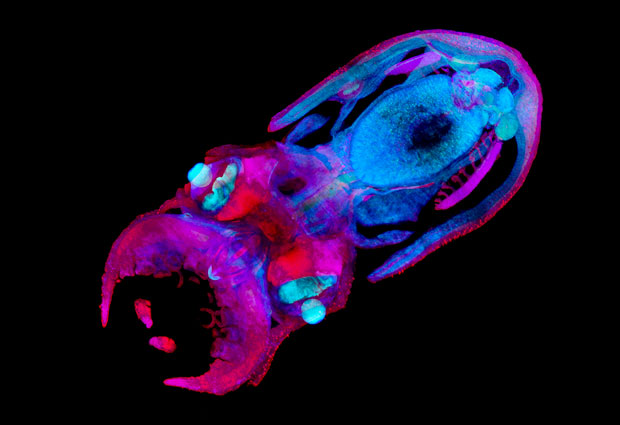 As part of Mission Microplastics, the schooner Tara will dock within view of the Barcelona Biomedical Research Park (PRBB) from 4–9 October. The PRBB is home to EMBL Barcelona and five other leading biomedical research centres.
Tara's visit coincides with the PRBB's annual open day on 5 October, which sees laboratory doors thrown open to the public. Visitors can learn about the research going on in the PRBB's six institutions by participating in guided tours, talks by local researchers, and a variety of more hands-on activities.
This year, EMBL Barcelona's contribution will feature a Tara-themed twist. "For the open day last year, we had a virtual reality experience that allowed visitors to explore 3D samples from the lab at different stages of their biological development," says EMBL Barcelona's Liaison Officer, Carla Manzanas. "This year, to integrate with Tara's visit, we've also included samples of aquatic organisms imaged at EMBL's Mesoscopic Imaging Facility."
What is mesoscopic imaging?
Mesoscopic imaging involves looking at details of biological systems in the context of an organ, body part, or organism. It's an approach that recognises that a heart, an arm, or a fish is more than just a set of cells. In any tissue, organ, or body part, cells are packed tightly together or arranged in relation to each other. They respond to each other, and in some cases even move together. Mesoscopic imaging allows scientists to record, track, and study how they do so.
Mesoscopic imaging requires specially designed technology, since most microscopes are developed for looking at single cells, or small groups of cells. And technologies like CT scans – developed to look at a body part or even an organism as a whole – don't provide the necessary detail. To fill this gap, scientists have designed techniques like selective plane illumination microscopy (SPIM) and optical projection tomography (OPT), which combine the ability to capture fine details with the capacity to study relatively large samples for extended periods of time.
These and other mesoscopic imaging techniques can reveal critical information for scientists studying developmental biology and the pathologies that arise when normal development is disrupted. The fate of a given cell depends not only on its initial state but also on signals it receives from its 3D environment – the organ in which it develops. For example, individual neurons can easily be studied using traditional microscopy techniques, but critical information is lost about how the cells interact with the complex environment of the brain during development. Mesoscopic imaging offers the organ-wide context that will enable researchers to get the whole picture.
For the facility's Imaging Specialist, Montserrat Coll Lladó, this is not the first time she's worked with Tara. "I spent a month on board Tara during the Tara Oceans Expedition (2009–2013)," she says. "I was in charge of sampling for bacteria as we sailed across the Pacific Ocean from Rapa Nui (Easter Island) to Ecuador. We started out in one of the most remote places on Earth and we didn't see another boat for the whole month."
Tara is not a typical oceanographic research vessel. The 36-metre schooner offers a unique research experience. "During an expedition on a smaller vessel like Tara, you participate in both the scientific tasks and the day-to-day tasks of running a sailboat," says Montserrat. "You set the table for dinner, you take night shifts on watch, and you clean the bathrooms!"
We're hoping to understand and raise awareness of how humans impact marine organisms
Although EMBL and Tara work in different areas, both strive to bring together people with diverse skill sets and have them learn from one another. Researchers at EMBL Barcelona focus on tissue biology and disease modelling, combining diverse expertise in synthetic and computational biology. EMBL Barcelona's five research groups study diseases and drug development, as well as how tissues develop and respond to damage or disease.
Montserrat believes that the technologies she and her colleagues develop at the Mesoscopic Imaging Facility could benefit a wide range of other fields. "We have the technology to look at organs and tissues in 3D, but SPIM and OPT technologies are quite expensive," she says. "We're hoping to work with colleagues in the city to make them cheaper. I think this technology could be very useful for other areas such as marine science, or for clinicians, who would be able to look at patient samples in 3D, rather than in 2D slices."
For many, Mission Microplastics is seen as an important successor to Tara's previous expeditions. "We know a lot about the human body and its many hundreds of cell types, but there are still many new species in the ocean that we know nothing about," says Montserrat. "That was one of the goals of the Tara Oceans Expedition, to find out more about the organisms we share the Earth with."
"Now, with Mission Microplastics and the growing interest in ecosystem research," adds Carla, "we might be able to understand and raise awareness of how humans impact these marine organisms."