EMBL in Spain: Lola Ledesma
EMBL alumni and researchers working throughout Spain met in Madrid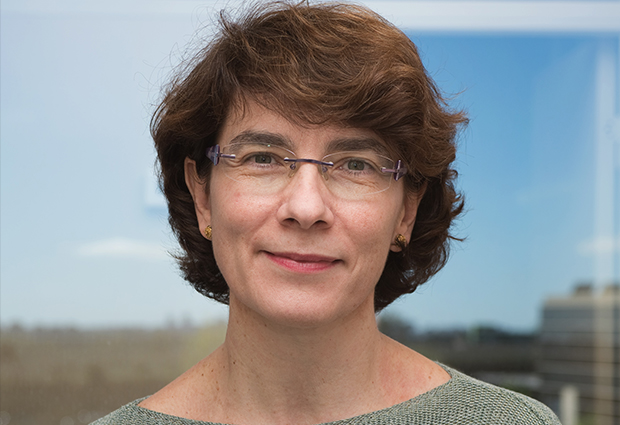 More than 100 EMBL alumni and researchers in Spain came together on 8 October at the Centro de Biología Molecular Severo Ochoa (CBMSO) in Madrid to build new networks and share ideas. EMBL alumna, Lola Ledesma, co-organised this event alongside alumni Jose María Almendral and Luis Menéndez-Arias. In the lead up to this event, Lola spoke about her current research at CBMSO and the importance of doing research abroad.
What did you work on during your postdoc?
I joined EMBL in January 1996 as a postdoctoral fellow in the lab of Carlos Dotti. I worked there for 5 years, characterising specialised regions in the membranes of neurons. These regions – known as lipid rafts – contain lipids [fats] and signalling receptor proteins. We showed that these lipid rafts are crucial for the breakdown of certain proteins within the cell. For example, when the fats that make up a lipid raft change, the production of a small protein important in Alzheimer's disease – known as amyloid beta – is altered. To study this, I learnt how to grow embryonic neurons in a dish, until they were mature and functional. We even used them to study neurons as they aged!
What does your work involve today?
My work at EMBL has really dictated my current research. My group focuses on the lipids in brain cells. In particular, I'm trying to understand the role of two different lipids – sphingomyelin and cholesterol – in both healthy and diseased neurons. To do this, my research group uses mouse models which mimic certain genetic disorders that affect human brains. In these diseases, the normal storage of fats in the brain is altered and the levels of either sphingomyelin or cholesterol rise inside the cells. This causes serious learning and behavioural disabilities.
What did you learn at EMBL?
Being at EMBL was an extraordinary experience, both professionally and personally. It's a paradise for science. This is partly because of the many resources which are available, but also because the people at EMBL are so passionate about their science. Group leaders dare to take on risky and creative projects and there's an excitement that comes with that. This is something that I've tried to keep in mind since leaving EMBL.
At this event we will continue to build these networks and keep in touch with old friends
What are your aims for the EMBL in Spain event?
I think that, for all the organisers of the EMBL in Spain event, EMBL was a place to build networks and make friends. At this event we will continue to build these networks and keep in touch with old friends. We also want young researchers in Spain to know more about the opportunities that EMBL can offer them. These scientists are looking for places to start or continue their careers and we want them to know that EMBL is a great place for them to do this.
We've invited EMBL researchers and alumni from all over Spain to speak about their different research topics. We have presentations about brain ageing, development, gene therapy, bioinformatics and structural biology. But it's also important to understand more about other career paths. One of our speakers, who was a postdoc at EMBL, will tell us about how she moved out of academia to work in industry.
What's your advice to early-stage researchers?
I think that everyone at the start of their scientific career is passionate about their work. But it's important for this passion to continue. Sometimes you might need to take time off, for example if you have children, but this doesn't mean you have to give up science. It is more difficult but the two things are not incompatible. Try to find ways to come back with the same passion and energy as before.
As well as this, I think it's important to go abroad to do research. Wherever you go, you'll learn different techniques and develop scientifically. It'll also open your mind from a personal point of view. It will help you build your network and understand other people's attitudes. After I was in Heidelberg, I was in Italy and in Belgium for several years before coming back to Spain. I really treasure that experience.