Fighting disease with structural biology
EMBL Alumnus Michael Parker talks to us about his career, research highlights and how EMBL has played a role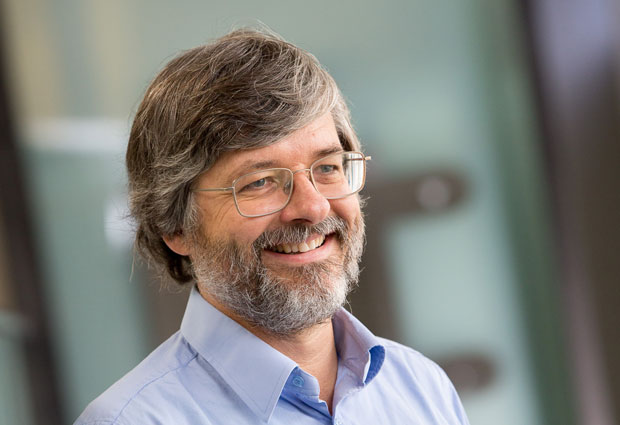 Michael Parker's passion for biology is rooted in Australia, where he grew up and continues to work today. After taking his DPhil at the University of Oxford in protein crystallography, Parker started as a staff scientist at EMBL's Heidelberg site in the group of Demetrius Tsernoglou. Here he worked on membrane proteins for the first time. By the time he left, he had solved the first three-dimensional atomic structure of a pore-forming toxin, a type of protein that kills cells by punching holes in their membranes.
Parker returned to Australia in 1991, and has brought his passion for membrane proteins into a medical setting at St. Vincent's Institute of Medical Research in Melbourne. He has recently taken on an additional position as Director of the Bio21 Molecular Science and Biotechnology Institute at the University of Melbourne. After a recent alumni event in Sydney, we caught up with Parker to learn about how his research on membrane proteins is being applied to treat diseases including Alzheimer's, cancer and the common cold.
The EMBL community is spread all over the world and and there is perhaps no greater illustration of this than EMBL's extensive connections in Australia. To further engage and inspire these networks, 74 EMBL alumni, colleagues and collaborators convened on the 9 June in Sydney for the first official EMBL alumni event in Australia. Speakers from EMBL, alumni and representatives from partner institutions outlined the impact of partnership and collaboration on research at EMBL and in Australia, as well as outlining opportunities for the future.
What did you work on when you were at EMBL?
I solved two protein structures, both in collaboration with the group of Franc Pattus. The first was colicin, which comes from E. coli. The second was called aerolysin, which comes from a bacterium called Aeromonas, which infects fish. Both proteins are particularly interesting because they are pore-forming toxins and yet have a water-soluble nature.
In order to punch a hole into the membrane of the cell, pore-forming toxins must transform from a water-soluble form into a membrane protein. So the mystery was, how can a protein that completely dissolves in water be able to insert itself into a fatty membrane, which repels water? Colicin provided some answers to this mystery. Our crystal structure revealed that the membrane-spanning regions are hidden inside of the protein, and they only became accessible when interacting with target membranes.
I felt like I was reliving the discovery of the structure of another important molecule called myoglobin when I looked at the computer graphics screen and saw long rods of electron density, representing helices, packed together in a similar way. John Kendrew, the first Director General of EMBL, solved the structure of myoglobin at the University of Cambridge in the 1950s, without the aid of the computer programmes and graphics as I was able to use. Our colicin structure was published in Nature in 1989.
Aerolysin was a much more difficult structure to determine. I did most of the project at EMBL, but I had to bring back my work to Australia to finish it. About a year later, I solved the structure, and it was also published in Nature. Our group collaborated with Kevin Leonard's group to image the aerolysin membrane pore using electron microscopy. Both were lots of fun!
And what are you working on now?
Rather than just focusing on how pore-forming proteins pass through membranes, as at EMBL, we have extended our studies to examine the structures of proteins that are already bound to membranes – that is, channels and receptors. With this knowledge, we're seeing if we can design drugs to treat a variety of diseases. Of the three areas I'm working on the one I'm particularly passionate about is Alzheimer's disease. We're trying to understand how antibodies interact with toxic proteins that interact with membranes, and in turn designing molecules that can stop these toxins accumulating in the brain. Another exciting project is on Rhinovirus, a major cause of the common cold. By working with the three-dimensional structure, we visualised how a drug that was developed by a local biotechnology company stops the virus from multiplying. We're also developing anti-cancer drugs based on the structures of membrane receptors, which are now entering clinical trials.
What is your interaction like with the EMBL community in Australia?
The recent alumni event was great for networking – not only alumni took part, but also students. EMBL's alumni are diverse in terms of what they do. An important common topic that arose is the problem of working with big data, for example, how best to visualise and analyse vast amounts of information to discover new biological insights and to develop clinically useful drugs.
EMBL has influenced my career very strongly – both the people and the science. I've kept connections with people at EMBL to this day, all around the world. I've known James Whisstock, the Scientific Head of EMBL Australia, for many years; as well as Paul Gleeson, who until recently was the Head of Biochemistry and Molecular Biology at the University of Melbourne. I am delighted that there is a connection between what I researched at EMBL and what I do now in Melbourne. Leading structure-based drug discovery research at the Bio21 Institute has inspired scientists and students with diverse backgrounds to work together, and I look forward to seeing the outcomes in terms of exciting new discoveries and industry collaborations.