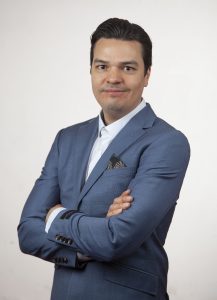 Medical writing is a fast-growing career area with promising job prospects for scientists passionate about communication. This career area is less known, and we recently spoke to Dr Yavé Lozano, a neuroscientist by training who stumbled upon medical writing while looking for journal editor roles. If you are detail-oriented and enjoy the challenge of digesting and presenting complex scientific information concisely, then perhaps it is time to consider a career in medical writing.
Find the full interview below, and if you are interested in this career area, you can learn more from the following resources:
---
You got a university degree in Psychology and then moved into the life sciences. Can you tell us how did you get there?
My career path has been somewhat unpredictable. I was born in a small town in the state of Jalisco, Mexico, and my family moved to the USA during my early teenage years, and as a result, I grew up in southern California. Since high school, I was interested in studying Astronomy for my undergraduate degree. However, during the first semester at college, I took a course in Psychobiology, which sparked my interest in the biological basis of human and animal behaviour, and decided to pursue instead a degree that would combine both Psychology and Biology. I was rather fortunate to study an undergraduate degree within a liberal arts programme, which exposed me to many courses that emphasized reading comprehension, critical thinking, writing essays, and presenting scientific information concisely.
On the other hand, my undergraduate studies did not offer many opportunities to do experimental research. Therefore, I decided to return to Mexico and enrol in a Master's programme in Neurobiology at the National Autonomous University of Mexico (UNAM). I had a wonderful time returning to Mexico and studying for a Master's degree after many years of living abroad. The 2 years at UNAM were challenging for someone who lacked experience in experimental research and, at the same time, intellectually rewarding with many supporting professors, classmates, and research staff. It was likely a combination of the research culture and my interest in Behavioural Neuroscience which motivated me to apply for a scholarship and pursue a PhD in Neuroscience at University College London (UCL). Studying and living in London was quite a life-changing experience. Being exposed to such an interdisciplinary environment made my way of thinking constantly challenged. I learned that you often need to step out of your comfort zone and reconsider deeply held ideas to find solutions to unstructured problems that you often encounter both within and outside academia.
Why did you decide to pursue a postdoctoral position?
I chose to pursue a postdoc after completing my PhD primarily because I was intellectually driven to understand how specific neural circuits control behaviour. At the time, like most recent PhD graduates, I was focused primarily on pursuing a career path in academia and decided to apply for a postdoc position to work alongside a Principal Investigator (PI) who had recently started his lab. I made the conscious decision to join the lab of a starting PI to better understand what elements are essential to set up a lab from the ground up and develop a research group. After two years of postdoctoral research in Germany, I realized that the hurdles faced by PIs, such as managing a lab, hiring postdocs and lab technicians, training students, attracting funding, teaching courses, and publishing, among many other tasks, often place an unrealistic demand on both PIs and early-career researchers. This, combined with the very competitive job market in academia, made me consider other career options.
How did you become interested in medical writing?
The short answer is by chance. I have been interested in writing since my undergraduate studies and enjoyed the process of writing both my MSc and PhD theses. Also, during my academic career, I found the process of writing, revising and discussing manuscripts exciting, and I took every opportunity to be part of the process. Moreover, during my postdoc, I was often involved in reviewing manuscripts and drafting formal responses to the editor. This was something that I had not been exposed to during my PhD, and made me aware that a career as a Scientific Editor or Scientific Writer was better suited to my skills, curiosity and passion for science.
After concluding my postdoc position, I stumbled upon medical writing one day – a career area that I did not know anything about before. I found several medical writer jobs advertised on LinkedIn while searching for journal editor positions. The job description sounded interesting, and I took the time to gather information about it and assess if it was a good fit for my background and skills. Luckily, I was interviewed and was offered a position at ICRC-Weyer, a Berlin-based contract research organization (CRO), where I worked for 2 years in the Medical Writing and Pharmacovigilance department.
Can you briefly explain what medical writing is about?
Medical writing involves communicating clinical and scientific data in various formats and preparing documents for specific audiences. According to the target audience, medical writing is generally broken down into two main categories: regulatory writing and medical communications.
Regulatory writing is primarily focused on preparing documents for submission to health authorities bound to countries where approval or maintenance of marketing authorization for new medicinal products or medical devices is sought. This could be, for instance, the European Medicines Agency (EMA) for European Union member states or the Food and Drug Administration (FDA) for the United States. As a result, the regulatory medical writer could be involved in the writing or compilation of documents that are needed across the different phases of clinical development (from Phase I – Phase IV) and the drug lifecycle. On the other hand, medical communications is focused on delivering information about new drugs, therapies or medical devices that are destined to audiences which can range from researchers, doctors, healthcare professionals, patients and their families or the lay public as could be the case in medical journalism.
How is PhD or postdoc experience perceived when applying for medical writing positions?
It is perceived positively, and it is becoming more common to hire individuals with PhDs in the biological sciences, even if they have no previous experience in drug development or have carried out research within a specific therapeutic area. For entry-level positions, it is an advantage if you have a working knowledge of medical statistics, are familiar with the drug development pipeline and/or previous experience in a specific therapeutic area, but not definitely not mandatory to break into the field.
How is the learning curve in medical writing coming from academia?
It is a steep learning curve, as is the case when you start a PhD or a postdoc. I think that coming from academia after a PhD or postdoc, you come with good baseline skills that prepare you for different challenges in the industry. For instance, the ability to rapidly learn new concepts, plan, design and finalize projects under pressure, present complex scientific information clearly, and communicate effectively within a team and to different stakeholders are some examples that come to mind. Still, when you are in academia, you generally inhabit a rather narrow research field and it can be difficult to communicate with those who are not involved in your line of research.
One of the challenging aspects of being a regulatory medical writer is that you have to rapidly become familiar with concepts from different fields to have a working knowledge of different drug compounds, therapeutic areas, indications, etc. It is also essential to understand the target audience and the scope of the document that you are writing and be aware that the content that you are writing can be critical for health authorities to judge the risks and benefits of a drug compound that might be in early development or of an established medicinal product.
What is a typical assignment for someone in an entry-level position?
The tasks and typical documents that are assigned when you start as a regulatory medical writer depend on the work that is contracted to the CRO, the stage of drug development for the medicinal product, and how much previous exposure you have had to a specific type of document. For instance, when I started working as a medical writer, I was involved in creating, updating and doing quality review of regulatory documents with a particular focus on pharmacovigilance safety reports (i.e., Periodic Safety Update Reports [PSURs]/Periodic Benefit-risk Evaluation Reports [PBRERs] and Risk Management Plans [RMPs]); while in my current position at ICON, I have been working with documents generated during early clinical development such as the Clinical Study Protocol (CSP) and the Clinical Study Report (CSR). These documents are usually quite long and complex; therefore you can expect to be assigned to draft a specific section for an entry-level position. Over time, these small assignments will give you the exposure and training on how to draft a whole document based on source information.
What about language requirements and critical skills to thrive in the role?
First of all, you do not need to be a native English speaker. This is something that a lot of people have a misconception about. Instead, it is important to know that the key goal of regulatory writing is essentially to produce documents for submission to health authorities that must be scientifically and editorially accurate, are clearly worded with respect to main messages, reflect the regulatory strategy and corporate goals, and are in compliance with applicable regulations and guidelines. To achieve those goals, you have to be able to think logically, be organized, and aim for conciseness, transparency and accuracy. Accuracy and transparency are paramount in the highly regulated pharmaceutical industry because every piece of information needs to be traceable and will be reviewed both internally and by a regulatory health agency. In such regard, meticulous attention to detail is essential. Writing for a specific target audience and synthesizing large amounts of complex information clearly is also important. Being able to engage with a variety of stakeholders is also valued, as these roles usually involve direct communication with the client to understand the scope of the project, timelines, and what source information will be provided in order to estimate the workload for the project. Being adaptable and able to deliver under tight deadlines and working collaboratively with colleagues from different departments such as medical affairs, biostatistics, or clinical development, to name a few, are also vital aspects. Finally, it is essential to know how best to deal with criticism from clients and reviewers.
What can you tell us about the career ladder for a medical writer?
For those with a PhD or postdoc, it is common to start as regulatory medical writer and rapidly receive onboarding and hands-on training. As you become more acquainted with the entire content and structure of the different types of documents and can lead the whole project while interacting directly with the client, you can progress to senior and afterwards to principal medical writer. After gaining significant experience working in a company, some medical writers become a freelancer and work independently.
How do you see the medical writer sector evolving in the following years?
Entry-level medical writing positions are generally suitable for fresh PhDs and those looking to move outside academia. The economic need within this job sector is enormous but a bit of a catch-22 situation. Not enough individuals to cover the need, but at the same time extremely difficult for someone to be trained prior to joining a company. While it is common to do an internship that can eventually allow you to apply and be hired in medical communications, this is rarely the case for regulatory medical writing for which there are virtually no internship positions in either CROs or medical writing departments within pharmaceutical companies. Of course, once you get a foot in the door, the job opportunities are enormous, and you can expect to be contacted by recruiters for many such positions.
Is there anything we did not cover that you think you would have liked to know when you started to think about this career area as a PhD?
I would advise those interested in medical writing to join the European Medical Writers Association (EMWA). For registered members, the EMWA website provides a wealth of information about all aspects of medical writing through their journal and recorded webinars which can be a source of self-training material. Also, I strongly advise to attend one of the EMWA meetings and network with a large community of medical writing professionals. This experience, even early on, can help you to decide whether you are better suited or more interested in regulatory medical writing or in medical communications. Once you find your niche, use social media platforms such as LinkedIn to engage with other professionals, read job descriptions, and explore potential employers. And finally, you should not underestimate the job application and interview process. Make sure that you tailor your CV and cover letter to the job specification and provide specific examples of how your academic and work experience qualifies you for the position that you are applying for.
---
Yavé can be contacted by email at yavelozano@gmail.com and on LinkedIn and Twitter.