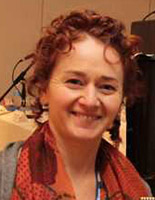 We recently had the pleasure of interviewing EMBL alumna Ilaria Ferlenghi – Head of Structural Microscopy at GSK Vaccines – about her career in industry, and how research in industry compared to academia.
According to Ilaria, working in Industry offers the chance to carry out cutting-edge research in a fast-paced, supportive and collaborative environment. As a hiring manager in Industry, Ilaria looks for applicants with strong lab skills and solid training – but is also looking for soft skills, particularly team work. For her, the interview plays an important role in assessing soft-skills. Ilaria recommends discussing directly with those working in Industry to get further insights before applying (see our article on "Informational Interviews" for ideas of how to find people to talk to).
You can find the full interview below. We thank Ilaria for sharing her time and insight.
If you are interested in this career area, you can find additional resources at:
(within EMBL only) – previous career day talks from scientists from a range of scientific areas in Industry
PLOS Computational Biology article – Ten Simple Rules for Choosing between Industry and Academia
Science Magazine articles on transitioning to an industry career
Book – Career Opportunities in Biotechnology and Drug Development – Toby Freedman, Cold Spring Harbor Laboratory Press – EMBL fellows can find this in the EMBL Library.
---
What is your role at GSK and what does it involve? I have the role of Head of Structural Microscopy at GSK Vaccines, meaning that I am responsible for coordinating all the activities related to electron microscopy. We have different types of microscopy. Some are used for production purposes: for example – for products (vaccines) going to the market – we use electron microscopy to check the condition and do morphological analysis, which can help identify and understand any quality issues. However, we also use single-particle cryo-EM and cryo-tomography to understand the structure of novel antigens that are candidates for new vaccines.
What is the biggest challenge associated with the role? Currently, the biggest challenge is coordinating all the different activities in parallel. As structural microscopy gets more important, we're dealing with thousands of collaborations and different people.
However, at the very beginning, the biggest challenge was to get a vaccine company to understand that there is not only immunological or functional approaches that can be used to discover new vaccine candidates, but that structure is important. To make use of EM approaches, we had to set up new collaborations, and it was at first difficult to persuade the universities who had the instrumentation and were experts in the field, that collaboration was worthwhile. Now that we are established and people are more aware of how structural biology and cryo-EM can help drug discovery for vaccines, this is no longer a problem.
And the best part about working in this role? That you're working with people with so many different expertise, and you are surrounded all the time by innovation. As well as the fact that you are working on something that will be useful in the end. For example, several years ago we started a collaboration with researchers in the NMR field from the University of Florence – only by collaborating with them were we able to create a new vaccine. This wouldn't have been possible alone. You have to continuously deal with researchers from the public and private sector – who have very different ways of thinking and acting, but you manage to collaborate with all of them and this really pushes to get the best results.
What are the main other differences – both positive & negative – between industry and academia, in your experience? In the research centre, there are no differences in terms of research quality. What is different is the timing: in industry everything is very very fast. You are interfacing all the time with development – which means you are thinking not only how something works on your own bench, but how will this affect development and production. There is strong competition in the vaccine field, so we have pressure. What is important is the freshness of ideas – it's more innovative for sure. Also because of this we have internal PhD and postdoc programmes, with close links to universities – the PhDs and postdocs spending time with us and some time at the university, where they will receive their PhD. This provides fresh people and ideas.
How did you get into your first industry role? At the time I was based in Paris working at the CNRS in Gif-Sur-Yvette. Both myself and my husband were working there, and I had a good offer from the Pasteur Institute, but my husband was pining to come back to Italy after many years abroad so we decided to come back. To perform at my best, I need pressure so I go beyond my boundaries; but I also need to know that what I am doing is useful. I thought industry might provide this. Then I noticed an advertisement from Chiron* in Sienna– both my husband and I applied for positions there and we both got interviews. At the beginning they asked me to work as an immunologist, which I did for the first few months, but I then discussed with the head of Chiron that I know a lot more about cryo-microscopy and structural biology. She asked me what cryo-microscopy was, and found it interesting – I was then able to buy my own EM microscope and start establishing collaborations.
* Chiron was an international biotech, which was bought by Novartis in 2006. Novartis later sold the vaccine part of its business to GSK in 2014
What do you think was important for you to get your current role and succeed in your later positions? At the very beginning your lab, technology and methodology skills are important. Coming from a good institute like EMBL helps your CV stand out. However, being smart, passionate about science, hardworking, and able to work in a team is essential for longer-term success.
So as a hiring manager, when reading applications PhD and postdocs' applications , what you are looking for is the lab skills and hints of team-work, hard-work and intelligence? Exactly, I look at the whole CV, including which labs they have trained in and their lab skills. For soft skills and passion, this is always quite hard to get from the CV – here talking to the person is really important, so the interview plays more of a role.
What do you think are the common myths about working in industry research, which are actually incorrect? A common misconception is that scientists in industry can't or don't publish and don't participate in scientific congresses. In fact, you have to publish and will attend conferences in your field. Another misconception is that you will only work 9-4 in industry – but in reality, there's lots to do, you will be involved in multiple projects and have lots of meetings.
You mentioned that people in industry don't work 9-4. How does the work life balance compare to academia? At least at GSK in Italy, there is lots of help for work-life balance – we have our own schools, people who help with chores, the possibility to work from home. For me the work-life balance is good – when my children were younger I would sometimes stay late but myself or my husband would always be there: which allowed us to balance things well. Now that my daughters are grown up I stay longer more often – I have a real passion for the work I'm doing.
How are positions generally advertised/filled at GSK? Firstly, we have our own internal PhD and postdoc programmes – all are advertised on the GSK website. For the PhD programme, the advertisement, and supervision is shared with a university – with the recruitment normally hosted by the university. For postdocs, in addition to our own programme, we can also take postdocs via some grants. For people already doing postdocs who want to come in as a staff member – as well as looking for advertisements, it's often helpful to look directly who at GSK is doing the kind of work you are interested in and contact them directly. The recruitment process normally involves several interviews.
Any other recommendations you have for PhDs and postdocs thinking of applying? It's always good to contact people at a similar level to you working in companies to exchange experiences, this can help you better understand what it would be like to work in Industry and what's important there.
---
Ilaria can be contacted by email at ilaria.x.ferlenghi@gsk.com or via the EMBL Alumni Directory.
EMBL staff / fellows can also search and contact other alumni working in industry research to seek career advice / informal mentoring via the EMBL Alumni Directory. Please see our article on informational interviews for ideas on how to make the most of such opportunities.