Injured lung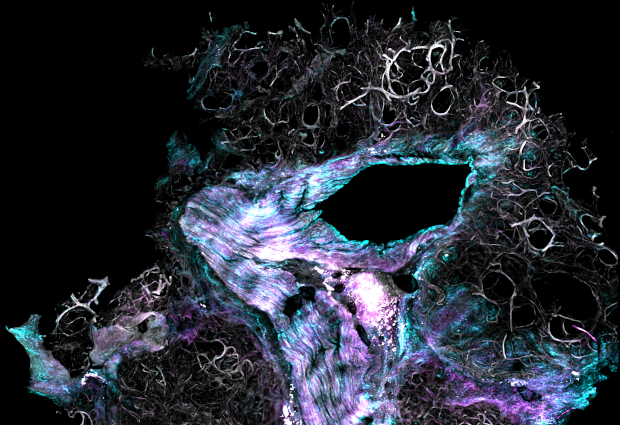 Muzamil Majid Khan, a postdoc in the Pepperkok team at EMBL Heidelberg, studied the piece of tissue visible in this image. It shows the extracellular matrix in diseased human lungs. The extracellular matrix – a non-cellular component of tissues and organs – is a three-dimensional network of macromolecules that provides structural support for cells.
The tissue shown here is affected by fibrosis. Fibrosis can occur in many tissues within the body, typically as a result of an injury. After injury to a tissue, the proteins of the extracellular matrix can accumulate, resulting in scarring and thickening of the affected tissue. Therefore, one can describe fibrosis as an exaggerated wound-healing response.
The image was taken with a 2-photon microscope with a magnification factor of 20. This tissue is about 8 mm wide. Cyan and magenta show fibrillar collagen – the main structural protein in the extracellular matrix – which constitutes up to 35% of the body's protein content. Grey shows elastin – a key protein of the extracellular matrix – which allows many tissues in the body to resume their shape after stretching or contracting.
If you have a stunning picture of your science, your lab or your site, you can submit it to mathias.jaeger@embl.de.
---