Team Science: building diversity and inclusion in research
In a talk on 29 April, Professor Jeanette Woolard will share her experience of creating a more positive research culture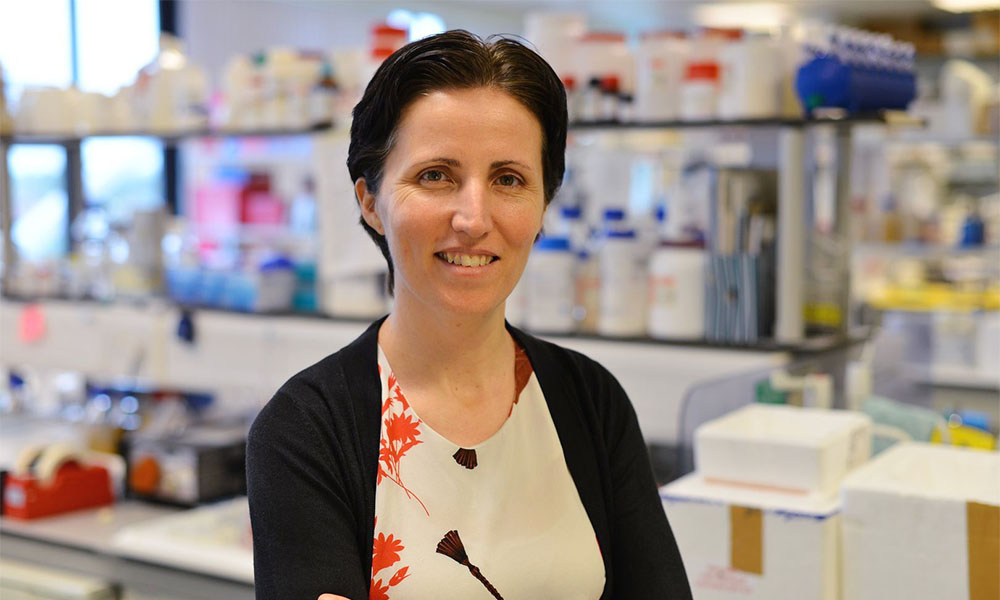 By Roshni Mooneeram, Head of Equality, Diversity and Inclusion Office, EMBL
EMBL's Equality, Diversity, and Inclusion Office has invited Jeanette Woolard, Professor of Cardiovascular Physiology and Pharmacology at the University of Nottingham, UK, to give a talk on 'Team Science'. Register for the talk and join us on 29 April at 16:00 CEST. Here, Jeanette discusses her commitment to creating a more inclusive and supportive research culture, and shares some of the insights she will explore in her talk.
For Jeanette, diversity and inclusion are at the heart of successful research. The question is no longer "What are the enhanced outcomes of diversity?" but "What more can we do to support diversity?" Across the scientific landscape, she explains, diversity and inclusion have been shown to enhance creativity and innovation, while also contributing to a richness in research culture. She refers to a report from the UK's Royal Society and an editorial in Nature that highlight the importance of diversity in backgrounds, experience, and expertise when bringing together teams to advance science. "Teams that approach complex scientific questions from diverse perspectives are more likely to expand the scope of research questions beyond a narrow slice," she explains. "Whereas questions were previously addressed only in certain tissues and drugs were screened on limited populations, we now see the advantages of expanding studies to ask questions that are relevant to more diverse populations. For example, there's growing evidence that different populations respond differently to the same drugs. Historically, this has not been captured in clinical trials due to under-representation of certain groups. Increased diversity in clinical trials has begun to enhance the drug discovery process."
It's well established, Jeanette points out, that building diversity enhances scientific output. It was noted as early as the 1980s that, as more female scientists entered medical research, there was a related increase in research into women's health, including cardiovascular disease and breast cancer. By bringing together teams with wide perspectives and a multidisciplinary approach to tackling scientific questions, research groups are given a clear competitive edge, enabling these teams to deliver more innovative and more impactful work.
Jeanette is principal investigator on a recent grant of £4.5 million from the Wellcome Trust, to fund a four-year PhD programme on 'Drug Discovery and Team Science'. The programme involves interactions with industry and other partners to enhance collaboration and training. "We're already experiencing the positive effects of our Team Science approach. Early-career researchers have begun leading collaborations, bringing a diversity of thought and experience to the multidisciplinary team. This has led to more impactful outputs for everyone involved. Meanwhile, other doctoral training programmes are starting to adopt our approaches to recruitment and collaboration."
On the subject of funding bodies as drivers of change in equality, diversity, and inclusion, Jeanette points out that support from leading organisations will only grow. She highlights UK Research and Innovation and the Wellcome Trust as being especially clear in their commitment to supporting a positive research culture across the sector. There is now dedicated content on research culture on the UKRI website, and the Wellcome Trust's Reimagine Research Culture Festival in March explored ways to improve research culture.
Jeanette's commitment to creating an inclusive and supportive research culture stems from her own professional experience. "During my career, I've experienced both challenging and supportive research environments," she says. "I've seen first hand the positive effects that the right research culture can have at an individual level, and I hope that by developing and enhancing our research culture we can continue to capture and develop scientists who might otherwise have been lost from the pipeline."
This Team Science approach has been positively received by the Academy of Medical Sciences and the Royal Society in the UK, and by the European Laboratory Research and Innovation Group (ELRIG). In her EMBL talk, she will share the strategies she has implemented to enhance diversity of recruitment, experience, and talent in her doctoral programme funded by the Wellcome Trust.