Science + X: The science behind the Matrix movie
EMBL researchers separated facts from fiction at a Friends of EMBL Science Movie Night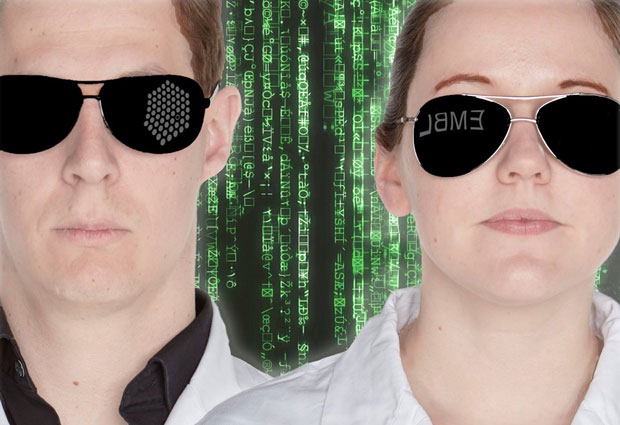 Separating fact from fiction, EMBL researchers Ina Huppertz and Thomas Schwarzl explored the science behind the Matrix movie at an EMBL Science Movie Night at a Heidelberg cinema in May. Speaking to more than 200 science fiction enthusiasts ahead of a screening of the 1999 classic, their talks covered areas ranging from our perceptions of reality to the blurring of lines between humans and machines. In the first of a series of articles on the impact of extracurricular activities on research, we spoke to Ina and Thomas about their experience.
Why were you interested in taking part in the science movie night?
Ina: I think it is very important that we inform the public on what we are doing. I really wanted to get in contact with non-scientists to get feedback on what they think about science. Additionally, I love science – I enjoy being in the lab and thinking about scientific problems and I hope that this might inspire other people.
Tom: Talking to an audience about science can be very inspiring because we are working in a very complex and competitive field and it can be really helpful to step out for a while and remind yourself why you do what you do.
Friends of EMBL is the network for members of the general public interested in life sciences, and in supporting EMBL's research and mission. They are invited to engage in a closer relationship with the Laboratory and its researchers through a dedicated website, a quarterly newsletter and a series of special events, among them the Science Movie Night. For more information visit www.embl.org/friends or write to Barbara Solich at friends@embl.de.
Did the event give you new incentives for your own research?
Ina: To a certain extent, yes. One of the themes that I considered during my presentation was: what does the human body need to survive and maintain itself? The Matrix considers this in a very surreal and philosophical context, but this question is also central to what we are trying to understand as life scientists. It has helped me to think about the bigger picture of my research and I have developed some new ideas for my projects.
Tom: It will not change my immediate research projects, however thinking about the scientific and philosophical issues in the Matrix raises fascinating questions about the future of fields such as artificial intelligence.
How do your personal interests influence your research?
Ina: I love reading science fiction and literature in general. One of my favourite authors is Terry Pratchett. I find it amazing how he describes phenomena in such a colourful, vivid and descriptive language – something that is really important when communicating science to the public. I also enjoy running – I know a lot about the molecular details of how exercise impacts your body, but sometimes feeling the effects personally can give you another perspective on things!
Tom: In my free time I like to relax by making music. Creativity, which is essential for innovation, more often than not comes from a calm rather than a busy mind.
Would you recommend others to take part?
Ina: It was great to have so much positive feedback. Sometimes it can be difficult to comprehend the impact of your work but this experience motivated me to go back to my projects and say "yes, it is really important, what I'm doing!" I would recommend it to anyone.
Tom: Definitely! Breaking scientific topics down so that they are easily understandable to non-experts is tricky but a very rewarding challenge.
---
Ina Huppertz is a postdoc in the Hentze group. Her projects focus on the interface of metabolism and gene regulation.
Tom Schwarzl is an EMBL Interdisciplinary Postdoc (EIPOD) working for the Hentze, Huber and Krijgsveld groups. He is studying the binding dynamics of RNA-binding proteins.
Related links