Press contact
EMBL Press OfficeMeyerhofstraße 1, 69117 Heidelberg, Germany
media@embl.org+49 6221 387-8726
EMBL expands to Australia
Australia to become an associate member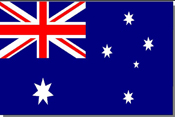 Today, delegates representing the 19 member states of the European Molecular Biology Laboratory (EMBL) offered Australia associate membership in EMBL's international community. The membership is planned to start officially in January 2008 and will initially last for seven years.
"EMBL is a central hub for molecular biology in Europe," said Australia's Minister for Education Science and Training, the Hon Julie Bishop MP. "Australia's associate membership will facilitate interaction between the Australian and European molecular biology communities and will encourage the exchange of scientists between the two continents. Combining their complementary expertise will benefit both Australian science and research at EMBL."
Collaborations and exchange will occur between the five European sites of EMBL and leading Australian research institutions. Monash University, The University of Western Australia, The University of Queensland, The University of Sydney and the Commonwealth Scientific and Industrial Research Organisation (CSIRO) all actively worked with the Commonwealth Government in establishing Australia's associate membership and have indicated their interest in engaging in collaborative activities with EMBL.
Through its associate membership, Australia will contribute to the diverse activities at EMBL by sending early-career scientists to join EMBL as faculty and postdoctoral and predoctoral fellows, while EMBL will share with Australian institutions its worldrenowned expertise in researcher training and research infrastructure development.
"Australia is a highly valuable addition to EMBL and we are very pleased to welcome it as our first associate member," said Iain Mattaj, EMBL's Director General. "In recent years Australia has become a central player in the landscape of molecular biology. With its special expertise, for example in the fields of medical epidemiology and stem cell research, it will be an excellent complement to EMBL's focus on basic research in molecular biology."
Since its foundation in 1974, EMBL has continuously expanded its membership and now encompasses all of Western Europe, Iceland and Israel. The joining of Australia as the first associate member is an important step to expand EMBL's network.
Funding for Australia's associate membership will be provided through the Australian National Collaborative Research Infrastructure Strategy (NCRIS) and through contributions made by Monash University, The University of Western Australia, The University of Queensland, The University of Sydney and CSIRO.