EMBL annual reception: bridging nations
EMBL's annual reception took place on 18 September, with more than 150 attendees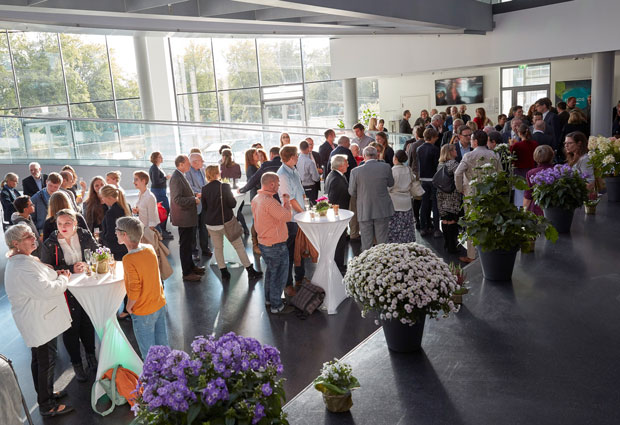 The showcase event brought together researchers, policy makers, journalists and other members of EMBL Heidelberg's local community to build relationships and learn more about science and research projects. Guests were greeted with a reception in the sun-flooded foyer of the EMBL Advanced Training Centre.
Iain Mattaj, EMBL Director General, welcomed participants and gave an overview of EMBL highlights from the past 12 months – which include an agreement to establish a groundbreaking new imaging centre at EMBL Heidelberg, the launch of a new EMBL site in Barcelona focussed on tissue biology, EMBL's role in major international research projects, and the appointment of Iain's successor Edith Heard who will take office in 2019.
The programme included a talk by Rolf-Dieter Heuer, Council President of the SESAME synchrotron – the Middle East's first major international research centre. Heuer, who is a former Director General of CERN, emphasised the importance of international collaboration in science and solving puzzles that can only be addressed by working together.
Giving the Friends of EMBL lecture, EMBL group leader Martin Jechlinger provided an overview of his research into breast cancer relapse.
More than 150 participants attended EMBL's 2017 Annual Reception, which included lectures, receptions and a Mediterranean buffet.
Related links