Czech-ing out EMBL Council
There is a new addition to the waving banner welcoming EMBL Council delegates to Heidelberg for the Summer meeting of EMBL's governing body. Among the established member states' flags now flies the red, white and blue flag of the Czech Republic, the 21st and newest state to join EMBL.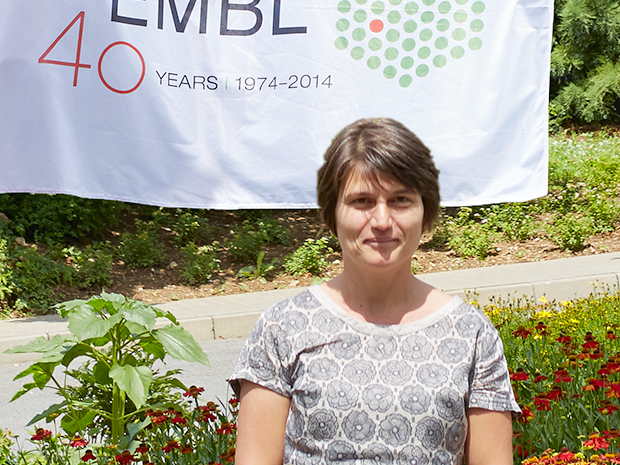 The process to become a full member took some time, as it was necessary to secure support from both the scientific and financial sectors, but the hard work paid off. "Becoming a member in EMBL's 40th anniversary year is something that was worth waiting for," says Jana Bystřická, the Czech Republic's delegate during her inaugural meeting.
A natural progression
Joining EMBL is the latest step in a deliberate expansion in scientific research that the Czech Republic has been undertaking for the last 20 years. It joined the European Molecular Biology Conference (EMBC) in 1994, and since then has forged more scientific links through several organizations like the European Life Science Infrastructure for Biological Information (ELIXIR) and the International Neuroinformatics Coordinating Facility (INCF). "So we have sort of completed it by membership in EMBL," says Bystřická.
The Czech Republic has several previously established connections to EMBL that provided the stepping stones toward full membership. Seven Czech scientists are members of the European Molecular Biology Organization (EMBO), EMBL's sister organization, and EMBL has signed a Memorandum of Understanding with the Central European Institute of Technology (CEITEC) in Brno and the Biotechnology and Biomedicine Centre of the Academy of Sciences and Charles University (BIOCEV) in Vestec.
Grassroots effort
The push for membership was propelled forward in part by Czech scientists themselves. "Biologists are among the most numerous scientists in the whole scientific community in the Czech Republic," says Bystřická. "It was their effort that helped persuade the Ministry of Education, Youth and Sports to lead the way toward becoming a member state and supporting the kinds of life science research that concentrate around EMBL."
Being an EMBL member will help solidify the Czech Republic's position in European research.
Along with voting rights on the EMBL Council, membership grants the Czech Republic access to state-of-the-art facilities and services, scholarships for EMBL's PhD and Postdoctoral degree programs, and training in the form of courses and conferences.
Bystřická expects that Czech scientists will continue benefiting from their country's membership in the future, either on-site at one of EMBL's five locations or through increased collaboration opportunities. "Being an EMBL member will help solidify the Czech Republic's position in European research, both in molecular biology and in life sciences in general," says Bystřická.
EMBL isn't stopping at 21 members. Bystřická and the other council delegates will soon be joined by representatives of the Republic of Malta, whose application for membership was approved at this meeting.
Related links