Still growing at 40
New Dehli, Brno, Warsaw, Buenos Aires, Copenhagen, Cape Town… looking at Silke Schumacher's agenda, you could be forgiven for thinking she is an air hostess, global celebrity, or diplomat. As EMBL's Director of International Relations, the last probably comes closest. But when EMBLetc. caught up with her during a 'layover' in Heidelberg, Silke revealed that the institute's true ambassadors are its scientists.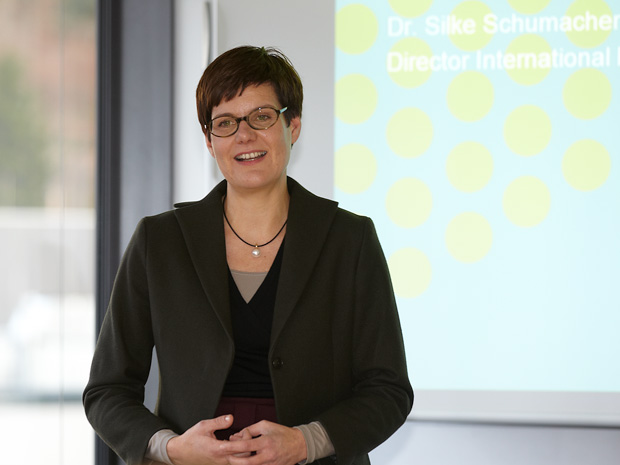 40 years after ten countries came together to create a hub for molecular biology in Europe, EMBL is still growing – what's its secret?
Well, EMBL turns 40 this year, but the average age across all staff – including Administration – is actually lower than that. The philosophy for the Lab has always been to hire the best young scientists, and give them the freedom to explore new ideas in an environment that helps them to thrive. And because there is a cap on contracts – which last a maximum of 9 years – there's constant turnover, so there's a constant influx of fresh minds and new approaches. We also continually evaluate our approach, looking for ways to make membership as attractive and valuable to countries as possible.
It seems to have been particularly successful recently. Why now?
There are several reasons. One is that the EU has expanded. There are 11 new member states that have joined recently, and I think that bringing these countries closer to Europe and becoming part of the European Union also increases the visibility of the opportunities that EMBL has to offer. Another reason is that Europe is slowly coming out of the financial crisis, and countries are realising that they can afford to join international organisations again. And this is what we're seeing, that there are more countries that are expressing their interest – and joining, in fact.
Who are the most recent additions to the EMBL family?
So we have three new countries joining this year, at different levels. At the beginning of the year, the Slovak Republic became the first prospect member state of EMBL, in April Argentina joined as our second associate member state, and the Czech Republic has finally officially become a member state. Plus, Malta has applied to become an EMBL member state, which I hope will happen early next year.
You say 'finally' – it sounds like it has taken some time?
Yes, this was a very long process that started in 2005, when both the Czech government and the scientific community expressed a strong interest in joining EMBL. And then they were hit by the financial crisis and just couldn't afford it for some time… so now they have come back and completed all the necessary steps to become a full member, which they will be from the beginning of this year on. But in the meantime we have already had a lot of interactions with scientific institutions in the Czech Republic. We have established very close links to CEITEC, the new institute being set up near Brno, and also to BIOCEV, which is just outside Prague. And there have been a lot of visits, both of EMBL people to these institutes and to the universities in Brno and Prague, and the other way around, to exchange know-how, to learn about how to set up facilities… Particularly in the two institutions that are being newly established, we have already transferred a lot of know-how: the organisational model, how to set up core facilities, organise technology transfer… That has been a really very nice interaction and has also resulted in some scientific collaborations.
Overall, my goal is to get all the EU member states to join EMBL, plus Turkey and Russia
Although EMBL's current growth spurt was influenced by international events like the financial crisis, it's not all down to external factors, is it?
No, there has also been a strategic change. Sometime around 2010, we actually had a Council working group which also included representatives from the European Molecular Biology Conference [EMBO's governing body], from countries that had joined EMBC but not EMBL, to try to come up with ideas about what we could do for these countries, to facilitate them joining EMBL. Out of those, the idea that in the end was approved by EMBL Council was the prospect membership scheme – which the Slovak Republic was the first to join. This allows countries to basically sign an expression of interest, and for three years have observer status at EMBL Council and participate in all EMBL activities as if they were a full member, and then by the end of the three-year period they have to join as a full member state. I can see when visiting countries that the interest in this scheme is much greater than in previous approaches. One other thing that we offer in the context of this prospect member scheme are promotional activities in the country. So we offer to go, to send a group of EMBL group leaders, heads of the Core Facilities and people that organise the PhD and Postdoctoral Programmes to the country, and to meet the young scientists and present what opportunities EMBL offers. We also invite scientists from these countries to come and visit EMBL, to collaborate, to use the Core Facilities… We see that the countries really appreciate being visited; the scientists like to discuss what the possibilities are.

It also gives them a feel for what it means to them, rather than just being an agreement at government level…
Exactly, and it always works at two levels. You need to engage with the entire scientific community, from the really young, starting out scientists to the very senior presidents of academies and research funding organisations, to really get those people on board and convinced that the investment that the country would make into EMBL is of benefit to them, rather than it being money leaving the country that could be used for their own national research projects. And you have to convince the government, because they in the end have to sign the agreement and provide the funding. So it's always a two-level thing, but one doesn't work without the other: the government would never sign up to anything unless there was very strong support expressed by the senior scientists in the country.
The European Molecular Biology Laboratory is also expanding beyond Europe. What's the reasoning behind that move?
Science is global; if we look at the collaborations EMBL faculty have, many are outside Europe. So the thinking is that a European institution like EMBL will always have the majority of its activity in Europe, but we can make use of existing links and collaborations further afield. We can do this through the associate membership scheme, which establishes formal links to countries where our scientists, but also our member states, already have very, very good interactions. This really was made clear to me when Argentina applied for associate membership. In the EMBL Council there were several delegations that said 'This is wonderful, we already have very well-established links bilaterally.' So bringing the country into the EMBL community extends those relationships and brings added value to European member states, too. And of course, Argentina has excellent biomedical researchers, who I'm sure will benefit from establishing more collaborations with scientists in Europe, in EMBL and EMBL member states. Both EMBL and the Argentinian government are keen to foster those collaborations. We even took the opportunity of the signing ceremony itself, and combined it with a two-day workshop where EMBL scientists went to Buenos Aires to talk to their Argentinian colleagues.

So it's about exploring existing synergies, not a drive to become the World Molecular Biology Laboratory?
No, nothing like that. The associate membership scheme is a scheme that's not going to grow too much – it's a small set of countries that we already have well-established relationships with. Countries like India, with whom we've been jointly operating a beamline – with India and ESRF – in Grenoble, or South Africa, where we have already very good scientific links in bioinformatics and structural biology, or Chile, where there have been a number of visits, and EMBO courses organised by EMBL group leaders.
What's in it for the countries, what do they gain from EMBL membership?
I think there's a lot we can offer that makes membership attractive to the countries. For their investment into the EMBL operation, they get well-trained scientists, access to world-class facilities and services, fellowships for the EMBL PhD and Postdoctoral Programmes and – thanks to funding from our corporate partners – for attending EMBL courses and conferences… and one other thing that countries have found very valuable is that they can join the EMBL partnership programme.
Can you elaborate a little more about that partnership programme?
The partnerships are formal links between EMBL and a national institute in a member state. So there's no transfer of funding, but there is transfer of know-how. We help set up the institute, institutional structure, the governance, the recruitment of faculty, the scientific evaluations that they undergo. We encourage setting up training programmes that are similar to EMBL's PhD and Postdoctoral Programmes; in some cases, we've helped to set up technology transfer offices… So it's a transfer of knowledge from EMBL to the partner institution. And because we allow partner institutions to use the EMBL brand, they get increased visibility, especially in the area of international recruitment. This is something that we have seen very, very nicely in the Nordic EMBL Partnership for Molecular Medicine, where really remote places in Finland and Sweden have been able to recruit excellent international scientists that may not have decided to join these universities if it had not been for the link to EMBL and the visibility that the EMBL partnership provides.
The partnership scheme has also already taken off 'down under', hasn't it?
Yes, Australia was our first associate member state, and of course there was a degree of caution about expanding to a country so far away. The EMBL Australia partnership has really succeeded in bridging the distance and bringing the two scientific communities closer. The partnership's hub is at Monash University, and there's now a node at SAHMRI [the South Australian Health and Medical Research Institute] which has three bioinformatics research groups. And there are plans to establish another node at Perth in Western Australia and other universities are looking into the possibility of becoming or creating nodes, too. Plus we have close interactions, mainly in bioinformatics, with the University of Queensland. There are also many examples of training, with EMBL faculty giving training courses for PhD students in Australia, for example.
And finally, where next – for you and for EMBL?
This year I'm visiting Hungary, Poland and Lithuania… We have to see if this will result in anything. Sometimes things move fast, sometimes they are slow – and there are always factors outside our control, like elections, which always slow everything down. Overall, my goal is to get all the EU member states to join EMBL, plus Turkey and Russia, and to slowly also increase the number of associate member states.