The future of training
EMBL experts outline the trends shaping scientific training in the coming years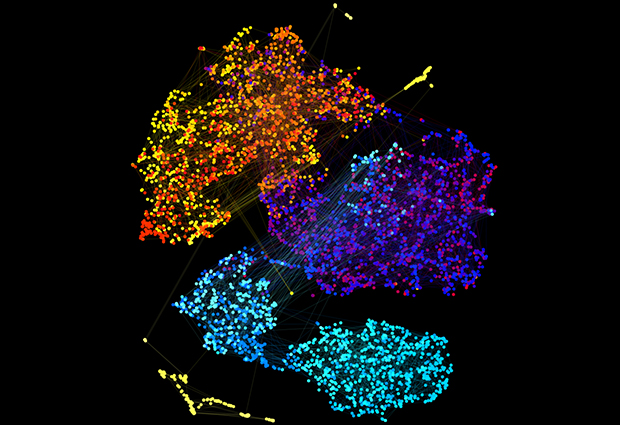 2017 marked the 40th anniversary of EMBL's course and conference programme and ten years of training at EMBL-EBI. As the milestone year draws to a close, we kick off a new mini-series exploring what EMBL training experts believe scientific training will evolve in the future.
Stepping into the unknown
Jürgen Deka, Head of External Scientific Training, EMBL
Today, scientific progress depends more than ever on rapid knowledge exchange and fast learning of new technologies. The era of a single scientist investigating a single gene from protein to function is almost at an end. Scientists need to think on a systems level and integrate an ever-increasing landscape of parameters that influence and define biological function within the molecular system they are studying.
The future of scientific training will be driven by topics and technology. In terms of scientific topics, we will see even closer connections between different research areas. It will not be enough to become expert in genomics or proteomics or metabolomics, and it is important that researchers are trained in a way that integrates these different areas and provides the capabilities for researchers to investigate and understand the countless interactions between these areas that are happening in the molecular universe. Our understanding of the fundamental mechanisms and processes of life will evolve and allow deeper discoveries that are right now unimaginable or just emerging. Techniques such as Crispr/Cas and cryo-electron microscopy are revolutionising the way we solve the mysteries of life. And the molecular life sciences will likely become a much more quantitative discipline than today, and taking this data and visualising and exploring it in the context of gene networks and the environment will be increasingly important.
Coupled with advances in technology, this makes now an incredibly exciting time to develop training and learning initiatives. Live streaming technologies and electronic poster boards, and even the future possibilities of 3D hologram or robot avatar trainers – are allowing trainers at EMBL to teach a course near and far from their home office. Of course, no technology will ever replace real, face-to-face interactions at scientific conferences and the benefits that they provide, and EMBL's training programme is in an excellent position to combine the power of both distance and in-person training for life scientists the world over.
Novel Training Approaches
Cath Brooksbank, Head of the EMBL-EBI Training Programme, EMBL-EBI
Two major changes in the way that we train life scientists will continue to grow in importance in the coming years.
The first of these has been made possible by the advent of technologies such videoconferencing and web-based learning management systems, which have catalysed the adoption of e-learning. This has transformed from being a niche activity at EMBL-EBI into our fastest growing and most far-reaching training activity. Our extensive webinar programme – live seminars focused on how researchers can make use of EMBL-EBI's resources – allows us to provide content very rapidly, covering areas as diverse and interconnected as gene expression, structural biology, chemical biology and ontologies. We then publish this content on our freely available online learning platform, Train online. These two activities make our training programme scalable to meet a rapidly increasing demand, and we see a growing number of universities using them to guide, inform and teach bioinformatics practical classes.
The second is a focus on strengthening bioinformatics capacity and capabilities, rather than limiting our scope to training end-users. Our approach includes train-the-trainer activities and knowledge-exchange events for principal investigators and service providers. This kind of training has potential to be truly transformative: it helps to build new, self-supporting communities of scientists in countries around the world both doing cutting-edge research and delivering excellent training. It has the potential to stimulate adoption of bioinformatics research and techniques, enabling more scientists to carry out computational research in low- and middle-income countries. It empowers researchers to embrace computational research and apply it to local challenges, ranging from healthcare through sustainable food production to protection of biodiversity.
Related links