Lifetime Achievement Award for Matthias Hentze
EMBL Director honoured by the international RNA Society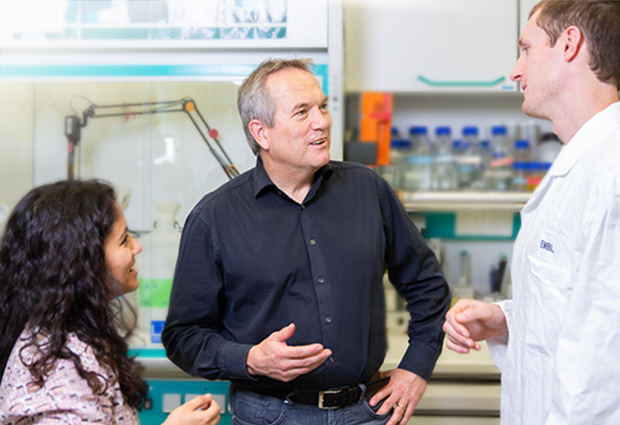 EMBL Director Prof. Dr. Matthias Hentze has been awarded the RNA Society Lifetime Achievement Award, and will be honoured at the Society's annual meeting in Vancouver, Canada, in May.
EMBL Director General Edith Heard said: "The RNA Society award recognises Matthias's significant contribution to the fields of medicine and biology, and his leadership, training, and mentoring of many hundreds of young scientists. On behalf of all EMBL staff and our alumni, we congratulate Matthias on this richly deserved award."
RNA Society President, Professor Anna Pyle of Yale, said: "From his earliest investigations of translational regulation to his recent work on elaborate RNP networks that control gene expression, we have been learning from Matthias and have been continually inspired by his insights into the RNA world.
"He has revealed new biology, and provided science with new technologies that enable the entire community to share in the process of discovery. Just as importantly, he has been a tremendous example to young investigators and students throughout Europe."
Prof. Matthias Hentze said: "I am surprised, excited, and truly humbled by this award – especially as so many of the previous awardees are my absolute heroes! Science is a team sport, and I wish to share this honour with my team members, past and present."
In addition to his personal research, Prof. Hentze leads EMBL's alumni relations and fundraising efforts globally. He co-founded and is co-Director of the Molecular Medicine Partnership Unit, a collaboration with the University of Heidelberg that was the first of EMBL's many partnerships with national research institutions.
With colleagues, he discovered the first regulatory element in mature mammalian mRNA in 1987, and he has led fundamental work to understand translational control by RNA-binding proteins and microRNAs, the importance of which for developmental biology, brain function, cancer development, and other diseases is now widely recognised.
During the past decade, Hentze and his team have developed new technologies to discover the existence of hundreds of previously unrecognised RNA-binding proteins, a new continent of the RNA World. Hentze suggests that RNA could serve to directly control the functions of many of these proteins, impacting broadly on cell biology in health and disease.
An elected member of the American Academy of Arts and Sciences, the Australian Academy of Science, Academia Europaea, and the European Molecular Biology Organisation, Hentze has also received numerous awards and honours, is co-author of textbooks in the field of molecular medicine, and has published over 250 original scientific articles.