Branches: Science takes centre stage
Ben Lillie, a high-energy particle physicist turned full-time science storyteller, takes us on a journey through the art and craft of personal narrative.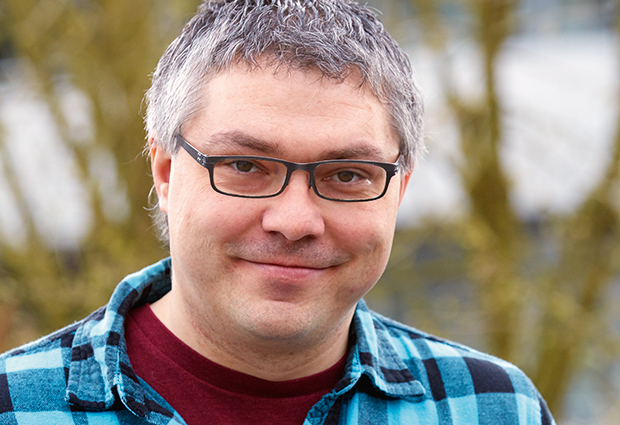 By Julia Roberti
Telling stories is an ancient art. And just as modern day research begins to unravel the mechanisms underlying how our brain reacts when it is fed a narrative, the use of storytelling within the world of science is also undergoing a remarkable renaissance.
A personal narrative is the natural way to bring those stories out.
"Storytelling is a way of presenting science and reaching audiences outside the limits of a conventional lecture", explains Ben Lillie, co-founder and director of the Story Collider – a storytelling project that provides platforms for scientists and people affected by science to recount compelling, funny or even life changing experiences in theatres, concert venues, bars and online. "I am fascinated by the human side of science. What role does it play in our lives? How does it affect who we are? People love to hear stories, so a personal narrative is the natural way to bring those stories out." Together with his team, he organises a continuing tour of compelling stories – those taking to the stage have included a neuroscientist whose inspirational father fell ill with the disease he specialised in, an anatomist struggling between her love for animals and their use in research, and a film editor and musician whose life was transformed after working on a Hubble documentary, just to name a few.
An emotional journey
Personal narrative goes beyond the goal of getting across a concept and rather carries the listener along an emotional journey – but this does not necessarily prevent science from being well explained. "If one embeds science in the narrative, it will stick in the people's minds, so you have to be careful to avoid distortions," says Lillie. And this means planning well in advance: "We begin preparing at least a month before a live performance – prepping speakers for the nature of cabaret-style performance. They do not read from a script: the story needs to sink in and appear unrehearsed – so that it comes out with a feeling of 'here is what happened', mobilising the tremendous energy that comes from telling a personal narrative," he says.
Beginning, middle, end
Drawing inspiration from his particle physics background, Lillie explains that very little "activation energy" is needed to craft your own story, and can be achieved following some basic ground rules. "It is useful to identify an "emotional arc" – either starting at a low point and ending on a high, or vice versa and then using this structure to manage the pace as the events in the story unfold," he says. "Fundamentally, there is not any difference between science stories and any other stories – they need a beginning, a middle and an end –, and most importantly the story needs to matter to the person telling it.
Fundamentally, there's no difference between science stories and any other stories.
Take opportunities to practice: write out the whole talk, then throw that away and distil it down to an outline. One may want to explain all the science behind an event, but if it is not needed to advance the plot, leave it unexplained: often it is better to launch straight into the action. Find your emotion, be natural, and once the exciting part is over, stop there – the tension releases and at this point the narrative pays off."
Related links