Events preview and review
Which courses and conferences will you attend in 2015? Will you get hands on with Synthetic Biology in Action, or connect with the leading and latest research into The Human Microbiome? EMBL's event calendar for 2015 – out now – is fit to burst with new and established conferences and courses, building on this year's triumphant programme of training highlights and anniversary celebrations.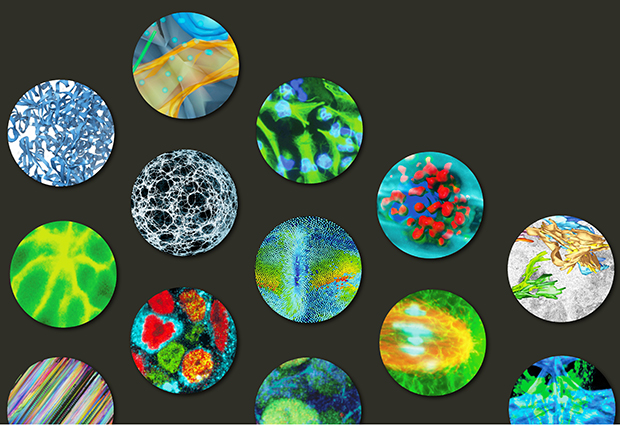 By Julie Heinecke and Nicola Vegiopoulos
---
2015: More EMBO|EMBL Symposia than ever before
The upcoming 2015 EMBL Course and Conference Programme is set to be an exciting scientific series promoting education, collaboration, and cutting-edge research. Next year's calendar includes a record nine EMBO|EMBL Symposia, as well as new and established conferences, many of which focus on the rapidly advancing fields that aim to understand the structure of the genome and its role in health and disease.
Seeing is Believing is back for the third time, and is sure to attract the largest number of exhibitors, showcasing the latest imaging techniques and instrumentation. New EMBO|EMBL symposia include:

The Human Microbiome, an EMBL conference, will take place for the first time, focusing on research into understanding the dramatic impact of our microbiota on human health.
The courses line-up for 2015 is equally diverse, including more than 30 different opportunities to train at different levels, from introductory to advanced. Hands-on courses confirmed for next year cover next-generation sequencing and fluorescence microscopy applications, as well as the long-running EMBO Practical Course: Single-Cell Gene Expression and hugely popular EMBO Practical Course: Current Methods in Cell Biology. New on the agenda is an intensive, two-week EMBO Practical Course: Synthetic Biology in Action – the first of its kind in Europe to provide such in-depth training to a small group of students in this field.
2014: Anniversaries and top-quality scientific training
This year has been marked by anniversary celebrations across EMBL, alongside 24 conferences and 46 training courses for scientists at the EMBL headquarters and outstations.
The conference year kicked off with the always successful EMBO Conference Series: Visualizing Biological Data, which brought together scientists, illustrators, and designers involved in computational visualisation of diverse biological data. The annual BioMalPar|EVIMalaR conference celebrated its 10th anniversary at the EMBL Advanced Training Centre, whilst six EMBO|EMBL Symposia were added to the programme, focusing on topics including Translating Diabetes, Tumour Microenvironment, Molecular Machines, Epithelia, mRNA and Metabolism.
Established meetings – including the EMBO Conference Series' on Microtubules, Chemical Biology, Evolution and Ecology using Yeast, and From Functional Genomics to Systems Biology – further cemented EMBO and EMBL's positions as hubs for high-quality research and ground-breaking scientific training.
The 2014 EMBL Course and Conference Programme was generously supported by 98 organisations – particular thanks is extended to the members of the Corporate Partnership Programme, whose contributions not only supported the diverse EMBL events programme, but also funded 140 fellowships for delegates from more than 40 countries who would otherwise have been unable to attend events at Europe's hub for advanced scientific training.