Supporting the alumni community
EMBL alumna Erin Tranfield discusses her new role on the recently elected Alumni Association Board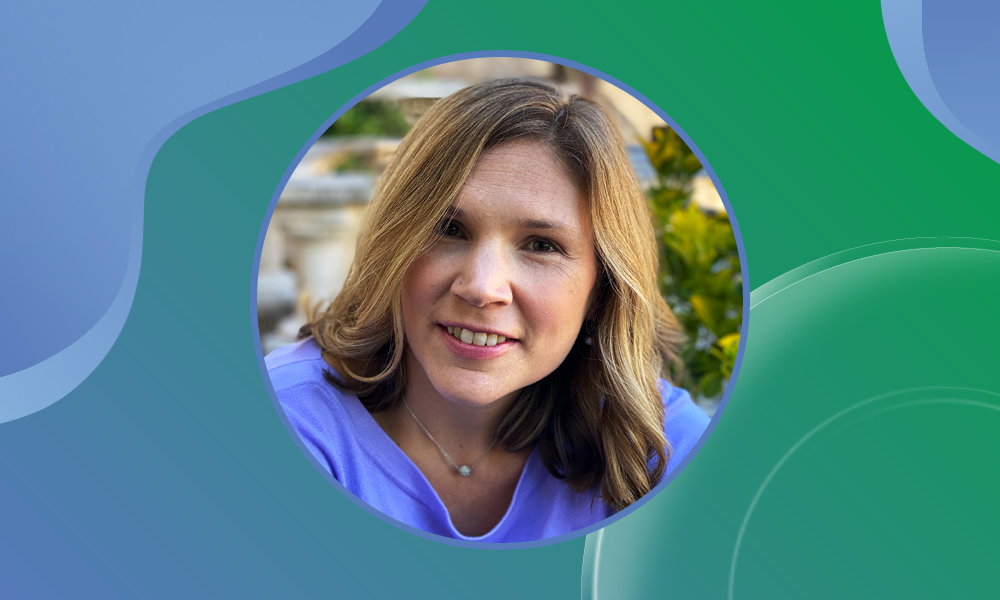 Members of the EMBL Alumni Association Board serve as ambassadors for EMBL across its six sites. They develop the Alumni Association's initiatives, helping EMBL to fulfil its missions and maintain lifelong connections with its alumni community. Erin Tranfield recently joined the board as one of 15 newly elected members. She worked as a postdoc in the Antony team and the Nédélec group at EMBL Heidelberg from 2009–13, and is now Head of the Electron Microscopy Facility at the Instituto Gulbenkian de Ciência near Lisbon. An interview with Erin about her career is available on the EMBL Careers blog. Here, she talks about her new role on the Alumni Association Board and reflects on how a life-changing event made her refocus her perspective on work and life.
How did you come to join the Alumni Association Board?
When I saw the announcement that the board was looking for new members, I thought this could be an interesting opportunity to see more of EMBL behind the scenes, and to stay connected with the community. Then they told me who was running, and I thought I was never going to be elected – there was so much competition. But, to my surprise, I made it!
What was your motivation for applying?
The diversity of people I met in my brief time at EMBL was really inspiring, and if you extrapolate that out over decades, it becomes an incredible community and an extremely valuable resource. The more you know about the community, the more expertise you have access to, and the more people you can contact if you have a question. None of us can expect to know everything. The best thing we can do is to know whom to ask for advice – and that's where the EMBL community can be really helpful.
How do you approach your new role on the board?
My general strategy is to listen first, to understand the playing field and what's going on, and figure out where I can contribute. Most of the board members are new – we're still dating, getting to know each other and everyone's background and experience. As we go ahead, we'll learn how EMBL can benefit from our input, how we can support what already exists, and I think there will be opportunities for new initiatives as well. But I'm a fan of doing only a few things at a time. I don't think it makes sense to throw 20 new initiatives on the table, because it just saturates everyone. I'm hoping we can pick a few excellent projects first, and once we get those running, we can pick a few more.
What impact do you hope your work for the board will have?
I think the board faces the challenge of trying to show its relevance to the community, making sure that people realise the opportunities that being an active member of the community brings. I think we can support this by advocating for the value of the Alumni Association, encouraging participation, and fostering collaboration. If, at the end of my four years on the board, the alumni community is a little bit more tight-knit and a little more connected, that would be a success.
In 2017, you had a serious accident – how did this change your outlook on life and work?
I think it's been a humanising process. I fell from a horse and crushed three vertebrae in my spine, spent 40 days in hospital and four months in rehab, and then it took me another year to get back to full-time work. I basically had to learn how to walk again, and I still suffer some paralysis. An experience like this reminds you of what's important in life. It reminds you to focus on friends and family and community, not just work. You don't get through an accident like this based on the number of papers you published – you get through with support from your family, colleagues, peers, and friends. I also have to approach work in a different way now. Some days are inexplicably bad, while others are almost normal, and I'm trying to navigate my way through with as much patience and compassion as possible towards myself and towards others.
The community that rallied around me was truly humbling. It was amazing how supportive they were. I never would have expected that, and it made me realise how many people valued my time and my contributions. I also learned a lot about myself. I've always seen my injury more as an irritating inconvenience, rather than the end of the world. I seem to have an inherently positive approach to life, which I wouldn't have realised in quite the same way without the accident. People can have a fairly serious accident and yes, we'll have time away from the lab or from work, but usually we'll be back, just in a slightly different way. There's always something good that comes out of these things.