EMBL in the UK: Wendy Bickmore
Meet Wendy Bickmore, Director of the MRC Human Genetics Unit, who spoke at the EMBL in the UK event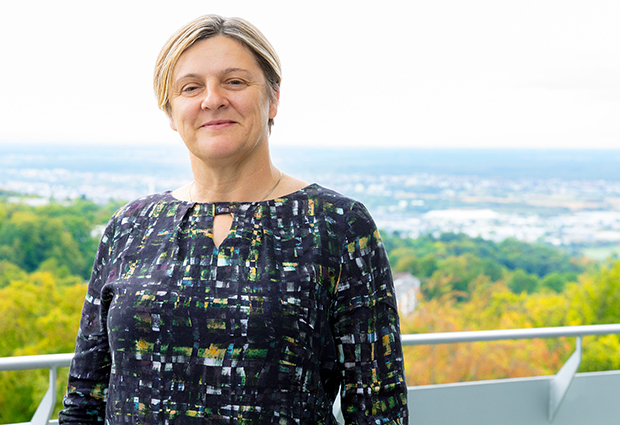 In May 2018, researchers and EMBL alumni in the UK gathered in Edinburgh to learn about EMBL research, training and services, and to strengthen their scientific networks. Wendy Bickmore, the director of the Medical Research Council (MRC) Human Genetics Unit at the University of Edinburgh was invited to the event to reflect on her longstanding associations with EMBL and its researchers.
What is your research topic?
My research topics focus on gene regulation and cell biology. We aim to study cell and molecular biology in a 3D context and, in particular, understand how genes are organised in the 3D space of the nucleus. We can't just study isolated cells any more, we've got to have insights into how cells work in the appropriate spatial context in tissues. Therefore, we're trying to integrate microfluidic and other engineering platforms with imaging or genomics analysis methods. With these systems, we can better study cells in 3D structures.
What's your connection to EMBL?
I've been referred to as a 'second generation' EMBL alumna: I haven't worked at EMBL myself, but there's been lots of crossover between scientists working at EMBL and researchers at my own institute.
One of our group leaders, Martin Taylor, worked at EMBL-EBI. There, Martin worked on computational biology, but since moving to the MRC Human Genetics Unit in Edinburgh, he's expanded his work to encompass some experimental biology too. In the other direction, so to speak, one of the Human Genetics Unit's most successful alumni, James Sharpe, is now the head of EMBL Barcelona. I'd like to think that his current scientific direction started with us. There are many similar stories of exchange and collaboration going in both directions.
I think many scientists who don't have a connection with EMBL could also benefit from this event
It's EMBL's high standards, scientific excellence, and wonderful facilities that make me want to continue my connection with EMBL. Also, I really enjoy going to EMBL conferences. I have to confess that I no longer read the scientific literature – there's just so much and I can't keep up! It's much easier to come to an EMBL conference for a few days, sit and listen to what's going on in the field, and find out about current research that way. It's a much better use of my time and it's more fun!
What's your opinion on the EMBL in the UK event and why are you involved?
I thought the event was great, especially the exchange with other scientists. Although I've never worked at EMBL, I was asked to reflect on what EMBL means for research in the UK, and particularly at the University of Edinburgh. I think many scientists who don't have a connection with EMBL could also benefit from this event, because of its networking potential.
What advice would you give a young researcher?
Do something you love and have a passion for. Pick scientific questions that you're really fascinated by and then just follow your nose!
Related links