EMBL in Spain: a wide vision of science
EMBL Barcelona will host the 2019 EMBL in Spain event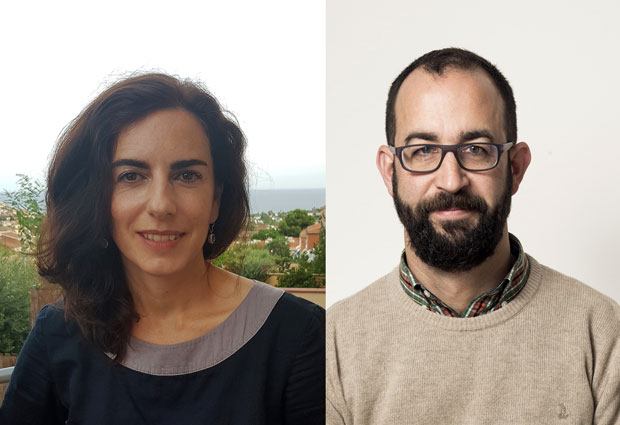 On 7 October, EMBL staff, alumni, and their colleagues will gather in one of the largest scientific buildings in Southern Europe, the Barcelona Biomedical Research Park (PRBB). The event is free and open to all. Group leaders and specialists from various scientific institutions will give speeches about their work, and breaks between sessions will offer plenty of time for networking. We interviewed one of the guest speakers, EMBL alumna Teresa Sardón, and Marco Milán, one of the co-organisers of the EMBL in Spain event.
Teresa Sardón came to EMBL Heidelberg in December 2001, and spent four years as a postdoctoral fellow in the lab of Isabelle Vernos.
Teresa, what did you work on during your postdoc?
I studied mitosis – to be precise, the formation of the mitotic spindle: the protein machinery that separates chromosomes during cell division. Our group helped to characterise the role of several proteins involved in the formation and stabilisation of the microtubules that make up the spindle, and how they are regulated. We were using egg extracts from Xenopus, the African clawed frog, as an experimental model. It took me some time to get used to their slimy skin: it was the first time in my life that I had touched a frog!
What does your work involve today?
I currently work in a biotech company that combines systems biology and artificial intelligence tools to create computer simulations of patients' physiology at the molecular level. We do this to understand diseases and predict patients' responses to drugs. Our clients are researchers and pharma and biotech companies. We help them to determine the mechanisms of action of drug compounds, identify drugs that can be repurposed for new therapeutic uses, understand the molecular differences between responders and non-responders to a treatment, perform in silico clinical trials, and so on. Although it's different to the type of work I performed at EMBL, my time there had a great impact on my current position, since it was at EMBL where I first learned about systems biology – a fairly new field at the time. Thanks to many seminars there by expert speakers in this discipline, I became aware of its potential and the need for traditional experimental research to take advantage of it.
What did you learn at EMBL?
For me, EMBL was an example of the highest standards to which research should aim: enough resources, a collaborative environment, access to high-level seminars, and contact with passionate scientists. After working there, you know how science can be made enjoyable, and you try to adjust other scientific environments to the same high standards. For me personally, it was a great time. I met many interesting people and made very good friends. It was a multicultural environment in which we all shared our passion for science.
What are your aims for the EMBL in Spain event?
My aims are to keep in touch with old colleagues and friends, and get updated about their current research. As a speaker, I want to share my experience of moving from academia to a private company, while still being a researcher.
What's your advice to early-stage researchers?
I think it's important to go abroad to do research, to learn different ways of working, different techniques, and to develop scientifically. It will help to open your mind and build your network. I also recommend attending seminars, not only from your research field, but from others that seem to be far removed. It's important to have a wide vision of science, since nowadays each field and technique is very specialised and collaboration among different fields of expertise is essential.
Marco Milán was a staff scientist in the Cohen group at EMBL Heidelberg from 1997 to 2003. He is now a group leader at the Institute for Research in Biomedicine (IRB) Barcelona.
How did you come to be organising the EMBL in Spain event?
After being at EMBL Heidelberg for a relatively long time, you gain two important things: the first is networking skills – the capacity to meet a lot of people from different countries or different parts of your own country – and, second, exposure to a wide variety of scientific fields and topics. EMBL Alumni Association Board member Fátima Gebauer recommended that Maria Macias, a fellow group leader at IRB Barcelona, and I join as co-organisers of this year's EMBL in Spain event. I suggested that Patrick Aloy, also at IRB Barcelona, should join too. The three of us coincided as staff scientists at EMBL Heidelberg in the late '90s, and all of us moved ten years later to Barcelona, to start our own labs as principal investigators.
Why were you interested in supporting EMBL?
In life, you have to be especially thankful to those people and institutions that have greatly contributed to your training towards becoming an independent scientist. EMBL played a fundamental role in my development in this regard.
What can people expect from the event?
If you are born in Spain, you will learn Spanish and your brain will be challenged by its first scientific problems in this language. Similarly, if you are born in Austria, German will be the language that your brain will use to dissect scientific problems. If you work at EMBL, you will begin speaking a whole new language, and EMBL's philosophy – a combination of cutting-edge fundamental science, networking, and cooperation – will be somehow implemented in your brain and you will start deciphering scientific problems in this tongue. These concepts, which are difficult to understand unless you work at EMBL, will be shared with all attendees at this meeting.
Related links