EMBL in Australia: a strong alumni network
Frank Gannon on what to expect from the Brisbane alumni event, and his own enduring bond with EMBL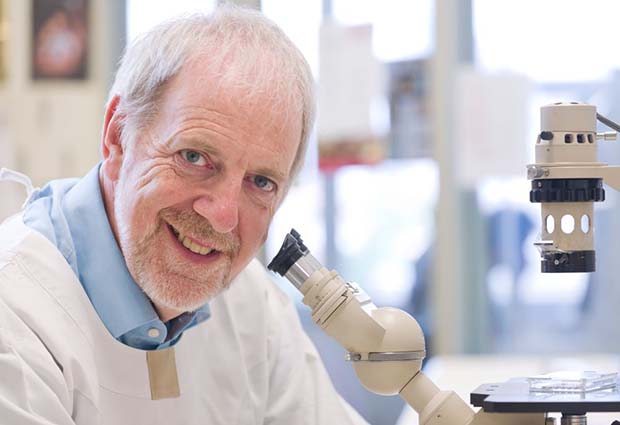 EMBL alumni and collaborators will reconnect with old friends and forge new connections at the second EMBL in Australia event, on 2 September. The gathering will take place at the QIMR Berghofer Medical Research Institute in Brisbane, and is organised by the Institute's Director, Frank Gannon. Here, Frank – a former head of EMBO and an EMBL Senior Scientist – discusses his time in Heidelberg, the strong links between Australia and EMBL, and his own involvement with EMBL Australia.
Tell me about your time at EMBL and EMBO.
I was appointed the Executive Director of EMBO in 1994. Back then, the head of EMBO was also the Scientific Coordinator of EMBL. As such, I was engaged in strategy development with the Director General of EMBL, Fotis Kafatos; I was responsible for graduate studies and technology transfer – these areas were underdeveloped in EMBL at the time. For two years, I was the coordinator of the Structural Biology and Biocomputing Programme. It was a large, complex programme; it needed change, and I was asked to manage that change. I also had my own research group at EMBL.
My primary job was with EMBO, but I was also very involved in EMBL – my engagement wasn't trivial. There was a very tight connection between the two organisations; they had two different jobs to do, and together they were a great combination. Joining EMBO – or more correctly, the EMBC – was a prerequisite for becoming an EMBL member state. I was involved in a number of road trips to try to convince countries of the benefits of EMBL membership. Working with Fotis Kafatos, we got Ireland and Portugal on board.
I was a Senior Scientist at EMBL throughout my time at EMBO, from 1994 to 2007. They were great years.
Do you think EMBL has changed a lot since your time here?
I can say that the EMBL ethos is unchanged. It's still driven by investigators who are doing research in their domains of interest, without the pressure of having to have an immediate impact. That's not possible in many other places. Nearly every funding body I know will ask you the questions "What are you going to cure?" and "What will we get in return for this investment in your work?" EMBL is also unchanged in the fantastic training it provides for scientists at every stage. It's unchanged in terms of the group dynamics – you don't have time in nine years to build an empire, so you collaborate; it's driven by that collaborative process. It's unchanged in the sense that it gives back to the member states excellent people who come highly trained from an institute with cutting-edge equipment. So, although the buildings are new and the people are different, it's really the same model that reflects why EMBL was set up in the first place. It remains true to its roots.
How did you become involved with EMBL Australia?
Australia became an associate member of EMBL in 2008, and the funding was completely driven by our universities. Then, at some point, the line of funding was changed to one run by the federal government, with representation from different bodies. I'm the head of a medical research institute – it's about the same size as EMBL Heidelberg – and I'm on the board of the Association of Australian Medical Research Institutes (AAMRI). When AAMRI was asked to nominate a representative to the board of EMBL Australia, I volunteered because I knew and cared about EMBL, and wanted it to have an impact on Australian science. James Whisstock is now the Scientific Head of EMBL Australia, and he's been very energetic in driving forward the EMBL philosophy. He's encouraged Australian institutes and universities to partner with EMBL, and the engagement is getting stronger. In my own institute, we've seen first-hand how recruiting under the joint EMBL partnership label attracts higher-quality candidates.
How did you come to be organising the EMBL in Australia event?
I'd gone to the alumni meeting in Sydney two years ago, and when EMBL's Head of Alumni Relations, Mehrnoosh Rayner, suggested having the next one in Brisbane, I said yes – because I'm enthusiastic about EMBL, and because I recognised the need for people who are new to EMBL Australia to get to know the alumni. The overall aim is to try to raise the consciousness around EMBL and build an internal network of people that will hopefully yield something positive.
What can people expect from the event?
It's not just a standard scientific meeting. There'll be great scientists there, but in this case the science is the template, not the activity. The activity is people engaging with EMBL and remembering or learning what's special about it. The head of EMBL's Developmental Biology Unit, Anne Ephrussi, is coming out to speak at the event. I wanted a Senior Scientist there – someone who really knows EMBL and understands what's different about it. The talks will be very diverse – there's no theme. So there'll be something for everyone, no matter what area they're working in.
Related links