Pathways: Community management
Scientific community manager and EMBL alumnus Aidan Budd explains the challenges and rewards of bringing together researchers with shared interests, values and goals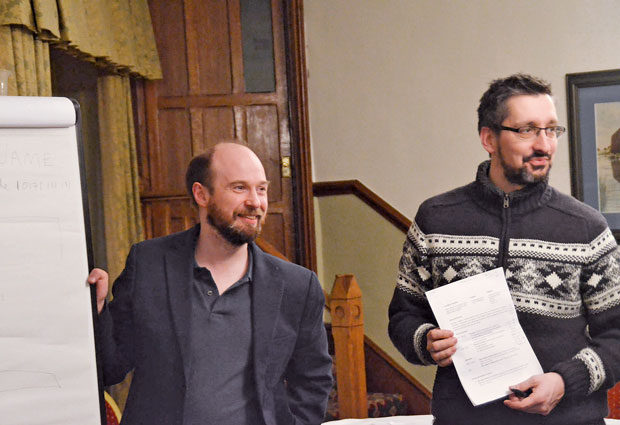 BY AIDAN BUDD
I look back at photographs from nearly 20 years ago and I barely recognise myself – and not just because the hair on my head now sprouts out of my chin! I was somewhat shy when I joined EMBL in Heidelberg as a summer student in 1998. But while my network was small, I found EMBL and the science happening on site incredible. I was hooked.
I returned to EMBL to do my PhD in Toby Gibson's group, and after trying my hand as a commissioning editor I returned for a second time to work on training, service and research initiatives in bioinformatics. The role required substantial networking with colleagues from many different fields. And the more I networked, the more I discovered I love community-focused work. These experiences provided a bridge to my ultimate role at EMBL, as a project manager focused on scientific community building.
Community management
Communities come in all shapes and sizes, but one common goal of scientific community managers is to help people with shared interests, values and goals find ideas for collaboration – and then make it as easy as possible to put these ideas into practice together.
EMBL has a very special culture of collaboration – there is great openness and many opportunities for interaction between people and teams. The first major community initiative I worked on was the Bio-IT Project at EMBL's Heidelberg site, supporting EMBL staff working with computers to analyse biological data. This involved developing an interactive web platform, training events, surveys, meetings, and more. I have also helped build other communities in and beyond EMBL, including a long-running series of events called the Heidelberg Unseminars in Bioinformatics (HUB) and unconference sessions and collaborations at various conferences and other events.
One common goal of scientific community managers is to help people with shared interests, values and goals find ideas for collaboration
Most of the projects I have worked on are mainly driven by the work of volunteers. For example, HUB turns the standard meeting format on its head, uniting people from many different disciplines for participant-driven workshops. Identifying people who want to get involved lies at the heart of community-building work.
People person
My expertise in community building has been largely self-taught, and it has been a steep learning curve at times – something unexpected can happen at any moment, and it often does! One challenge comes in balancing the desire to make exciting things happen quickly with more strategic long-term objectives. But if you like working with people and are well organised you could be well suited to a community management role. I have connected with truly inspiring colleagues, many who have become friends, built valuable and enjoyable professional relationships, and am happy to work in a role that my younger-self might not have dared imagine.