Admin ability
"Working in administration, perhaps the best you can hope for is that no one notices you are there!" Keith Williamson, EMBL's ninth administrative director, often jokes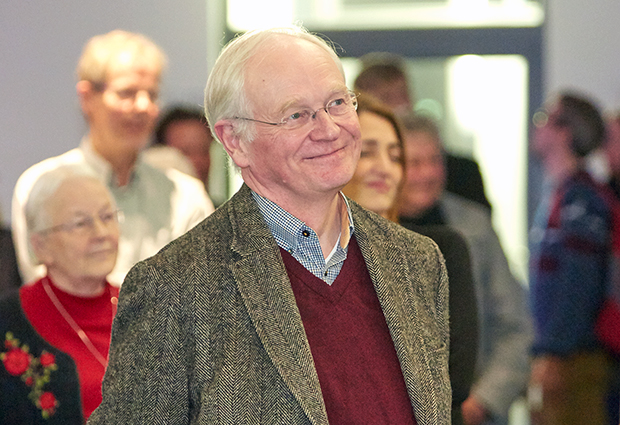 Yet during a special event at the end of last year at EMBL Heidelberg, behind-the-scenes business went centre stage as staff and alumni turned out in force to celebrate Keith's retirement. Beginning his EMBL career as head of personnel, leading the finance department and eventually taking over as administrative director, Keith's extensive contribution – combined with collegiality, friendliness and a wry sense of humour – defined 14 successful years at the Laboratory. Amidst the mirth and music we turn the spotlight on EMBL's administrative alumni.
What is special about EMBL's administration?
The science we see coming out of EMBL is truly exceptional, but for administration such inventiveness can create a lot of challenges! Our ultimate goal is to make administration, which is an inherently rigid activity, responsive to the fluid nature of science. The enriching international environment, spread across five different sites, also presents administrative challenges.
Administration is a key part of a very special culture that embodies the whole Laboratory
One way we respond to this is by combining long-term strategic planning with an intimate understanding of what individual scientists want to achieve in their projects. Essentially, we want to minimise bureaucracy so that scientists can focus on their science. Intertwined with these goals is an emphasis on openness, helpfulness and developing a friendly and cooperative atmosphere – administration is a key part of a very special culture that embodies the whole Laboratory.
What are the most important things you learned at EMBL?
The melting pot of cultures and languages creates varying expectations and aspirations. It is important to take time to understand how people and processes work – getting to know people, and building relationships enable us to support the Laboratory's activities in a very effective way. At the same time, if something doesn't help science move forward, we stop it, and find another solution that does. I also learned it is important to have fun along the way!
What are your lasting memories?
Anyone who's worked at, or visited, EMBL knows that it's a special place, and you feel that as soon as you walk through the door. Having people from more than 80 countries in a single institute means that there is a constant flow of ideas and different ways of thinking. Furthermore, the very constructive relationship between EMBL and it's governing Council means that the Laboratory can continue to play a leading role in the molecular life sciences, and the new scientific programme is testament to that. The people who make EMBL EMBL are friendly, committed and enthusiastic. If you have a great idea, you have the freedom to turn it into reality. I retire with a heavy heart, but I am looking forward to watching this next chapter from the sidelines.
---
The birth of an Italian outstation
Rosie Maccagnano
Then: Senior Administrative Officer, EMBL Monterotondo (1999–2007)
Now: Research Support Services Manager, University of Edinburgh
"I was there at the birth of EMBL Monterotondo, and it was incredible to be involved in setting up an outstation from scratch. Although there were many challenges initially, I built up a strong working relationship with my colleagues in Heidelberg and in the other outstations, and relied on them to keep my sanity! This was key to maintaining that 'EMBL family' feeling – in the sense of close-knit colleagues but also in the sense of 'family-centric'. Most organisations are still trying to catch up with the family-friendly policies, support and services that EMBL has had for years. Looking back, I feel proud to have been a part of it. No day was the same – my role covered human resources, health and safety, finance and more besides. I learned many valuable skills, and it was a wonderful place to work.
Professional services
"I am now building a support team that easily responds and adapts to any new requirements or changes as well as offering support for core service activities such as academic support and research communications. There is a lot of flexibility to this role, and I am thankful to be able to draw on many of the skills that I developed in Monterotondo to address these new challenges. There are exciting opportunities here to support scientists in ever-creative ways, while also developing professionally.
Secret society
"Recently I met another former EMBLer. We discovered we were both at EMBL at the same time – she as a postdoc in Frank Gannon's team and I in Monterotondo. What was surprising was the revered way we both spoke of EMBL. Almost anyone who is part of the lifelong network of alumni cannot help getting sentimental: it is like being part of a secret society, which includes everyone who has ever been part of the EMBL story."
---
Open opportunities
Yann Chabod
Then: Budget officer, Head of Budget Office, Head of Human Resources (2006–8)
Now: Director, Human Resources Customer Interface, European Patent Office, Munich
"EMBL is a place with lots of creative young people who are very passionate about science and research. It is also a place where people can continuously develop themselves professionally. This is also true for people working in the Lab's administration. I took the unusual step of moving from the budget office into human resources, and I was supported at every turn – it was a very important time in my career and paved the way to my current role at the European Patent Office (EPO). What is striking about EMBL's administration is how well it fits to the needs of the organisation – it is the open culture and strong service support that makes this dynamic work so well.
International interchange
"I am now responsible for the frontline delivery of the human resource service to staff at the EPO. Like EMBL, the EPO has many different sites across Europe and we provide support to line managers as well as being a first point of contact for staff members. There are a lot of other parallels to EMBL in the sense that the EPO has a strong focus on driving innovation, and the working environment is truly international. It is a challenging job, but highly motivating and interesting.
Continued connections
"Coming back to visit as an alumnus, I see many new faces and buildings – but the vibrant and friendly atmosphere remains the same. I have kept in contact with several friends and colleagues, and although many have their own 'new' lives now I feel very connected through the alumni network. There is a fantastic energy to the place. À la prochaine!"