Pride at EMBL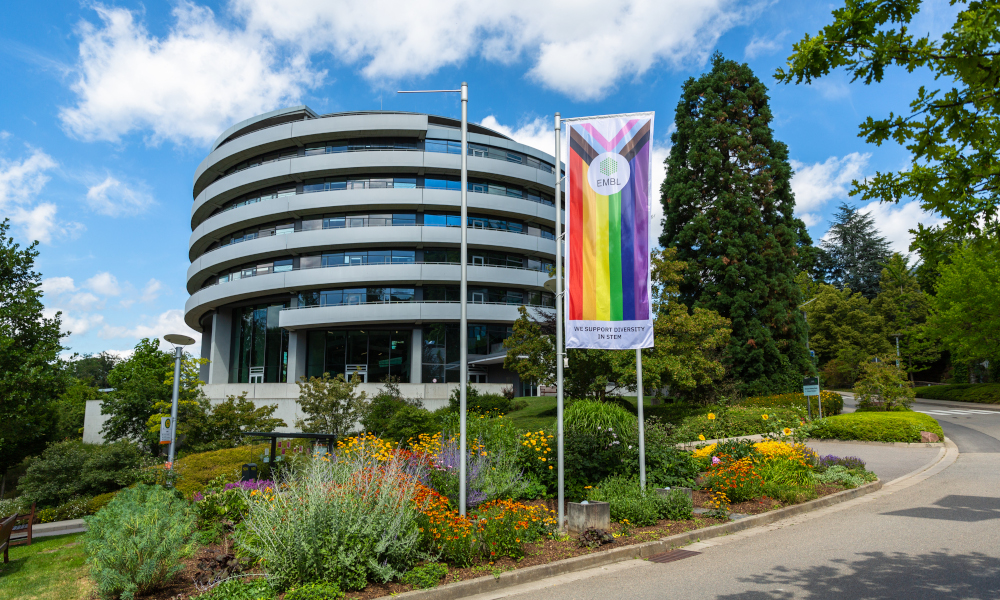 EMBL brings together more than 1700 people from all over the world, from a variety of academic and cultural backgrounds. This creates an environment in which there is constant exchange of both scientific knowledge and cultural heritage.
While it seems obvious that EMBL, as an international organisation supported by 30 countries, would include a diversity of national identities, EMBL is also diverse in other ways. The LGBTQ+ community at EMBL is one example of this, and EMBL is proudly flying the Progress Pride Flag at its headquarters in Heidelberg – an initiative led by EMBL's LGBTQ+ group and supported by the Equality and Diversity Committee. This version of the pride flag was created by artist and designer Daniel Quasar, and combines the LGBTQ+ rainbow flag with the transgender pride flag (white, pink, and light blue), and brown and black stripes representing marginalised communities. With permission from Quasar, EMBL PhD student Jesús Alvarado Valverde modified the design to create the EMBL version.
EMBL's LGBTQ+ group organises a range of activities, including social gatherings and workshops across our sites. This group provides an important and valuable network at EMBL made up of volunteers from the LGBTQ+ community and allies. Additionally, EMBL's Equality and Diversity Officers, Luisa Vieites Rodrigues and Zac O'Sullivan, are working closely with leadership and the Equality and Diversity Committee to form a strategy plan for EMBL on issues related to equality and diversity.
Credit: Kinga Lubowiecka/EMBL
If you have a stunning picture of your science, your lab or your site, you can submit it here.
---