Being an IT support engineer: go everywhere, know everyone
For Vasiliki Karyoti, troubleshooting and problem-solving take on a greater meaning at EMBL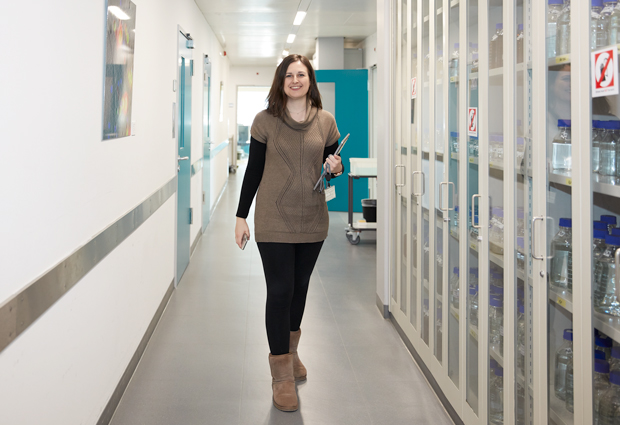 Finding your way around EMBL Heidelberg is notoriously tricky: because it's positioned on a hill, 'ground level' can be any of 4 floors; there are multiple rooms with the same number; and moving between rooms on the sixth floor can entail walking down a flight of stairs. For Vasiliki Karyoti, though, navigating the EMBL maze soon became a walk in the park. "Within a few weeks of working in desktop support you can map the whole place with your eyes closed." It's not that IT support engineers like Karyoti are particularly adept at navigation, but rather that the job takes them everywhere.
Between solving glitches, setting up computers for new staff members and advising on software purchases, Karyoti and her colleagues spend much of the day on the move. And when she settles down at her desk, people come to her. "We get to know pretty much everyone," Karyoti says with a smile. "I enjoy coming into contact with so many different people, with different needs, different approaches to problems. And because EMBL is so multicultural, you get to meet people from all over the world, and make friends from all over." That diversity also brings constant professional development, she points out. "We have a wide user-base here at EMBL, from computer scientists to biologists to finance staff, so we're exposed to a variety of users, problems and projects. The larger the audience you have to help, the greater the experience you get – you see more cases and gain a much broader expertise."
you're offering your services to help somebody else improve this world
Karyoti and her colleagues also often find that, rather than narrowing the scope of what the IT team can develop and implement, working in a biological research institute brings opportunities to develop new systems.
You might think that a job that involves troubleshooting and fixing people's problems would entail handling a lot of frustration, but Karyoti has found the opposite. "People may be frustrated at the situation, but they're always really nice to me and my colleagues – maybe they feel hope is coming!"
Plus, she says, helping people get their projects on track takes on a greater meaning at a place like EMBL: "You have the feeling that you're offering your services to help somebody else improve this world – even if it's just a little. You don't just work with empty numbers, it's something that will have an impact. And you work with people who are passionate, you see their passion and it inspires you!"
---
Karyoti studied computer science and informatics at the University of Economics and Business in Athens. She worked for a company that specialises in Geographic Information Systems before joining EMBL's IT Services team in 2013.
Related links