Looking forward
EMBL speakers discuss the future of European science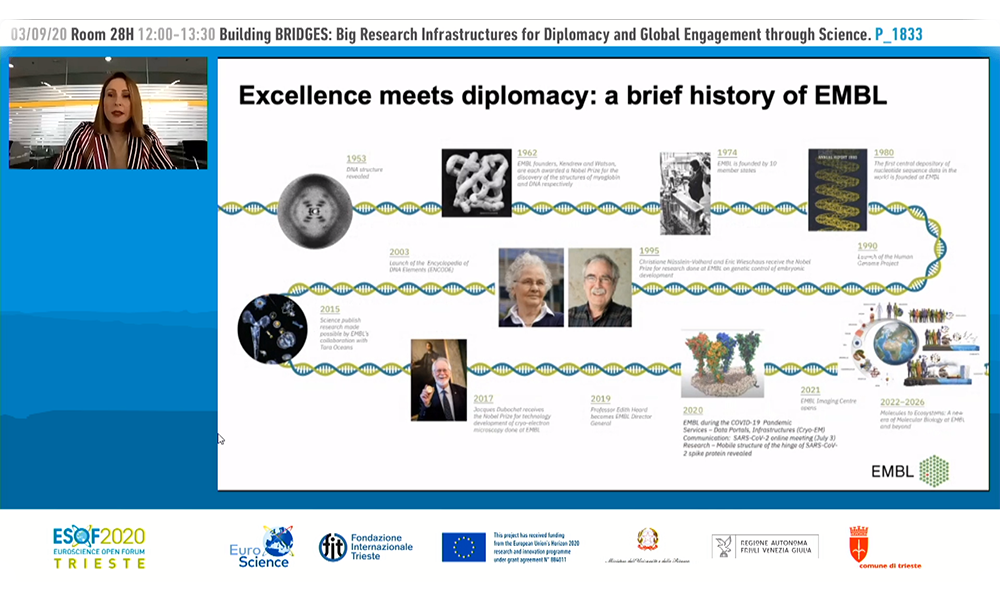 The EuroScience Open Forum (ESOF) may have concluded, but the impact of the discussions lives on. Two EMBL speakers gave presentations that looked toward the future and at ways to trailblaze on the endless frontier of science.
The largest interdisciplinary scientific meeting in Europe, ESOF explores a range of topics with the mission of advancing European scientific research and innovation. In 2020, with an ongoing pandemic and growing evidence of the impacts of climate change, the mostly virtual gathering had an added sense of urgency.
Building BRIDGES: Big Research Infrastructures or Diplomacy and Engagement through Science
In a session that brought together representatives from some of the foremost international research organisations, including the Joint Research Centre, Plamena Markova, Joint Head of Government and EU Relations at EMBL, was part of a panel that looked at how science and scientists can play a role in diplomacy, particularly on issues of global concern, such as the current coronavirus pandemic, climate change, pollution, or antibiotic resistance.
"International science organisations often have a role, but also a responsibility in upholding and promulgating standards, such as open science and knowledge sharing, which are absolutely vital for building trust in the scientific endeavour," Plamena said.
She turned to the current pandemic as an example of how organisations like EMBL can impact science and enable multilateral collaboration.
"In the beginning of the pandemic, thousands of researchers across the globe had been working to understand this coronavirus and generated an enormous amount of information, but there was no central repository to collect it and help governments and health officials make sense of it," Plamena explained. "Then came the COVID-19 Portal, a science-inspired initiative of shared space where data could be stored and analysed in a completely open manner. This effort brought together countries across Europe, and it demonstrated how science can be a driving force. International science organisations are often the nexus of science and diplomacy."
She also noted that science diplomacy must be supported by rigorous science. Without it, science diplomacy lacks integrity and credibility.
Ultimately, science can and should inform policymakers so they can successfully address the significant global challenges facing the world today.
"EMBL is entering a new era of research we hope will feed into policymaking," Plamena said. "For us, this means daring to step outside of the controlled environment of the lab and attempting to understand the molecular complexity of life in its natural context to offer timely predictions and scientific solutions. And we can build on that to offer trusted scientific advice to be part of national and international decision-making processes."
EIROforum science – bringing the future closer
Stephanie Alexander, Research Program Manager for EMBL's Cell Biology and Biophysics Unit, also spoke at ESOF. She was joined by representatives from other European intergovernmental research organisations that make up EIROforum. Each speaker addressed a cross-disciplinary research area in which advances are likely to have important impacts on future science. Stephanie discussed photon science and the range of research it influences, both at EMBL and at other EIROForum organisations, such as the European Synchrotron Radiation Facility, the European X-Ray Free-Electron Laser Facility, and the European Southern Observatory.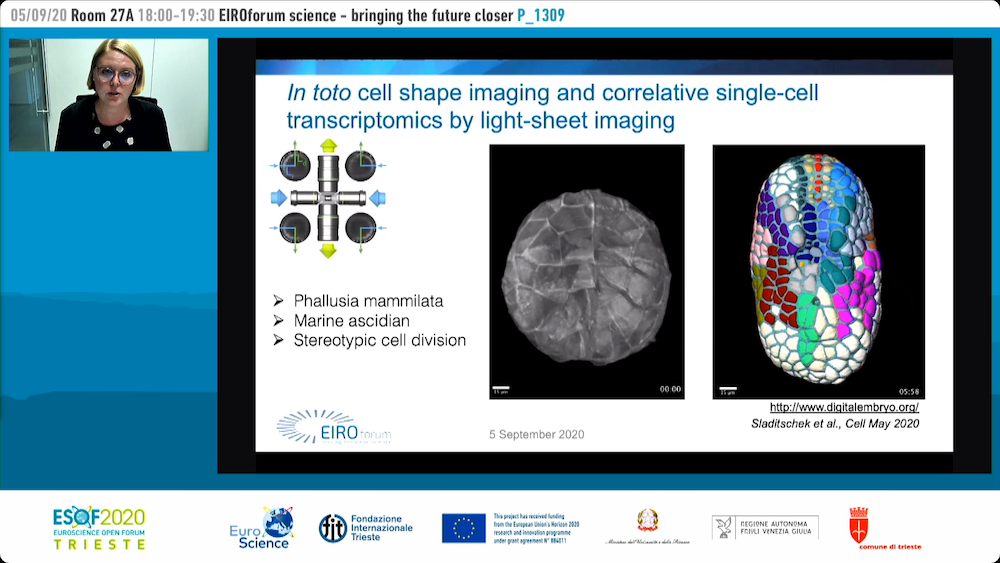 A primary goal of EIROforum is to play an active role in promoting the quality and impact of European research. In particular, the group facilitates effective, high-level interaction and coordination between its eight member organisations, of which EMBL is one.
Photon science plays a central role in research at these organisations. At EMBL specifically, Stephanie pointed out how researchers are using photons and electrons in imaging technologies to unravel life across scales and in context.
"At EMBL, researchers have the benefit of applying the latest imaging technologies developed by physicists and engineers in house to accelerate research," Stephanie said, introducing a scientific case study of the first virtual embryo. "Despite recent advances in the field, a complete representation of embryonic development, accounting for every single cell in space and time, had not been achieved until now."
This approach allowed the researchers to capture cell-by-cell data that will help to explain how the different cell types in an organism can originate from a single egg cell.
The new EMBL Imaging Centre, scheduled for completion in 2021, will continue to expand EMBL's capabilities in photon science and offer new opportunities for training and collaboration.
"Access to technologies like those used in developing the virtual embryo is quite limited, so in addition to its own research, EMBL has the mission to provide service to the scientific community and it does so by providing access to state-of-the-art facilities run by leading experts," Stephanie said, giving as examples the structural biology services at EMBL's Hamburg and Grenoble sites. "The EMBL Imaging Centre will offer the latest imaging technologies, including those developed at EMBL and not yet commercially available."