EMBL Fellows' Career Service launched
EMBL career advisors discuss the new portfolio of activities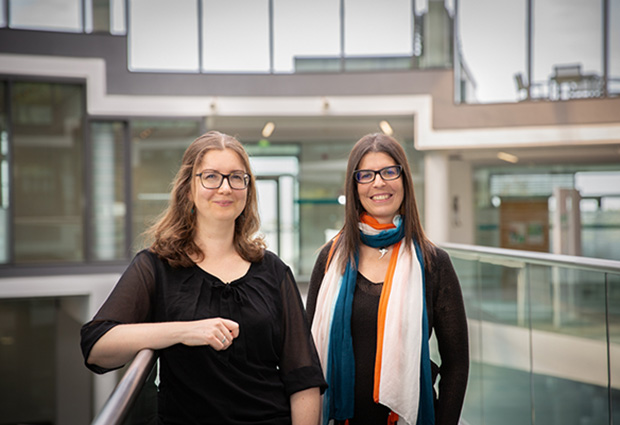 In September, EMBL launched a new career service for predocs and postdocs. EMBL career advisors Rachel Coulthard-Graf and Patricia Cabezas give an overview of what the new service offers and how it supports fellows.
What's the goal of the service?
Patricia: There is a wide array of career options available for life scientists. Deciding which of these to pursue is tough, because there may not be one single right answer. Our goal is to provide EMBL fellows (predocs and postdocs) with support and guidance so they can take an informed decision about their next career step.
Why is it important for EMBL to offer such a service?
Rachel: PhD students and postdocs are at a really critical period in their careers. While at EMBL, fellows have to balance their research projects with building a set of scientific and non-scientific skills. They also have to make the difficult decision of what career options to pursue. Having clear career aims and making a career development plan can help fellows identify and focus on activities that will have a real impact on their current performance and future career. This can reduce some of the pressure they feel and also enable a smooth transition to a future role that fits their long-term career goals.
What does the new career service offer?
Patricia: We offer a range of services. Firstly, individual support via career guidance sessions and a job application clinic. The career guidance sessions offer a confidential space where fellows can explore their career trajectory, preferences and concerns. Our job application clinic provides support to refine cover letters and CVs for specific job applications. Both services are available to all EMBL fellows. For those who aren't based in Heidelberg, appointments can be done via Skype and we will also visit each EMBL site once or twice a year, so that non-Heidelberg fellows can also benefit from in-person appointments and trainings.
Rachel: We also organise a variety of career events and trainings and develop a wide range of resources. Examples of our resources include a careers blog, which features articles on career-related topics and interviews with people in various career areas, and a job vacancy service offering personalised alerts. Although aimed at predocs and postdocs, some of these events/trainings/resources are useful for other EMBL scientific staff – and, when possible, we make these open to everyone.
How common is such a service in other research institutions?
Patricia: In-house career services for early-career scientists are still rare at research institutes in Europe. The scientific career landscape has dramatically changed in the last two decades, and career options for PhD life scientists are now quite diverse. Many EMBL alumni are leaders in academia, industry and beyond. With this new career service, EMBL shows its commitment to supporting the career development of its fellows and training the next generation of life scientists.
What are the challenges in setting up such a career service?
Rachel: Specific to EMBL, one of the challenges is ensuring that we provide a good service at all sites, not just in Heidelberg. Some interactive trainings need a critical mass of participants to be effective, and for other events it can be difficult to attract international speakers unless there will be a big enough audience – we therefore can't offer every activity at each site. Streaming and video conferencing events is one solution, but we also want to explore other formats and make sure we develop site-specific knowledge to point people in the direction of additional local resources. In some cases, there might also be the potential to collaborate with neighbouring institutes.
Patricia: A related challenge is ensuring that what we do really fulfils the needs of the fellows. To achieve this, their feedback is essential. We need fellows (and ideally also faculty) to help us identify what's missing from the service and also what they don't need, so we know what to prioritise. While establishing the service, we gathered input from fellows via a survey and we will request feedback after all of our future activities. We have an open-door policy and we're happy to hear any comments, concerns or suggestions.