In our DNA
Photographer Horst Hamann looks out towards Mannheim from atop the EMBL Advanced Training Centre with a sparkle in his eyes. Whilst growing up in the Quadratestadt, he used to break into his school dark room, work all night developing photos, before sneaking back to bed before he was noticed. "I was always the black sheep," he smiles.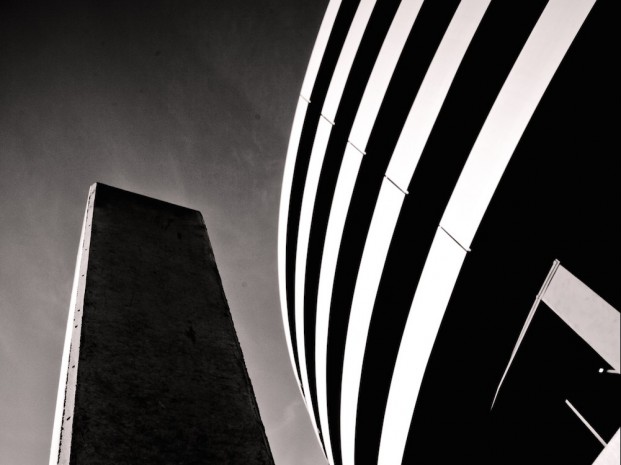 Hamann, whose work has taken him to more than 70 countries around the world, is producing an exhibition and book to mark EMBL's 40th anniversary. His original concept – to image the Lab's architecture – soon swerved to the people in and around it. "What became clear is that EMBL is a very cosmopolitan and intellectual environment," he explains. "It feels like its own universe with people from all walks of life who all have a story to tell."
Instinctive images
A chat with EMBL Director Matthias Hentze spawned an idea: DNA | Portraits by Horst Hamann will feature eyes-shut, black and white photographs of nearly 200 staff and alumni, chosen instinctively by Hamann during visits to EMBL sites. "I asked people to close their eyes because this ties them together, regardless of age, gender or nationality," he explains. "They relax more, and their body language becomes more prominent, especially as there is no dress code here."
I asked people to close their eyes because this ties them together, regardless of age, gender or nationality
For a black sheep, Hamann has come a long way: turning the world of panoramic photography on its head with compelling vertical images of New York's skyscrapers and boasting an impressive portfolio of cityscapes, desertscapes, intimate portraits, and more. His career took off in the Big Apple – where he lived for 15 years – first assisting a commercial photographer, but soon his images were hanging in the subway and occupying spreads in the New York Times. A medal of honour from Rudolph Giuliani, then city mayor, followed.
People person
He fondly recalls shoots with the likes of Bill Clinton, Claudia Schiffer and Jon Bon Jovi – but most unnerving was meeting his hero, footballer Gerd Müller. "My whole legs were shaking, but he turned out to be a very nice guy!" Hamann says. "My heart lies in photographing people, and this is one of the most exciting things about this project here at EMBL."
And as for the exhibition itself? "You will have to wait and see," he smiles coyly. "The photography will create an interactive dialogue with the architecture – one needs to be creative as there are no straight walls here, but I will follow my instincts and then let the pictures speak for themselves."
A public preview of DNA | Portraits by Horst Hamann takes place at 11am, 13 September at the EMBL Advanced Training Centre, Heidelberg.
Related links