Baden-Württemberg Science Minister visit
Theresia Bauer and EMBL discuss organisational developments and future strategies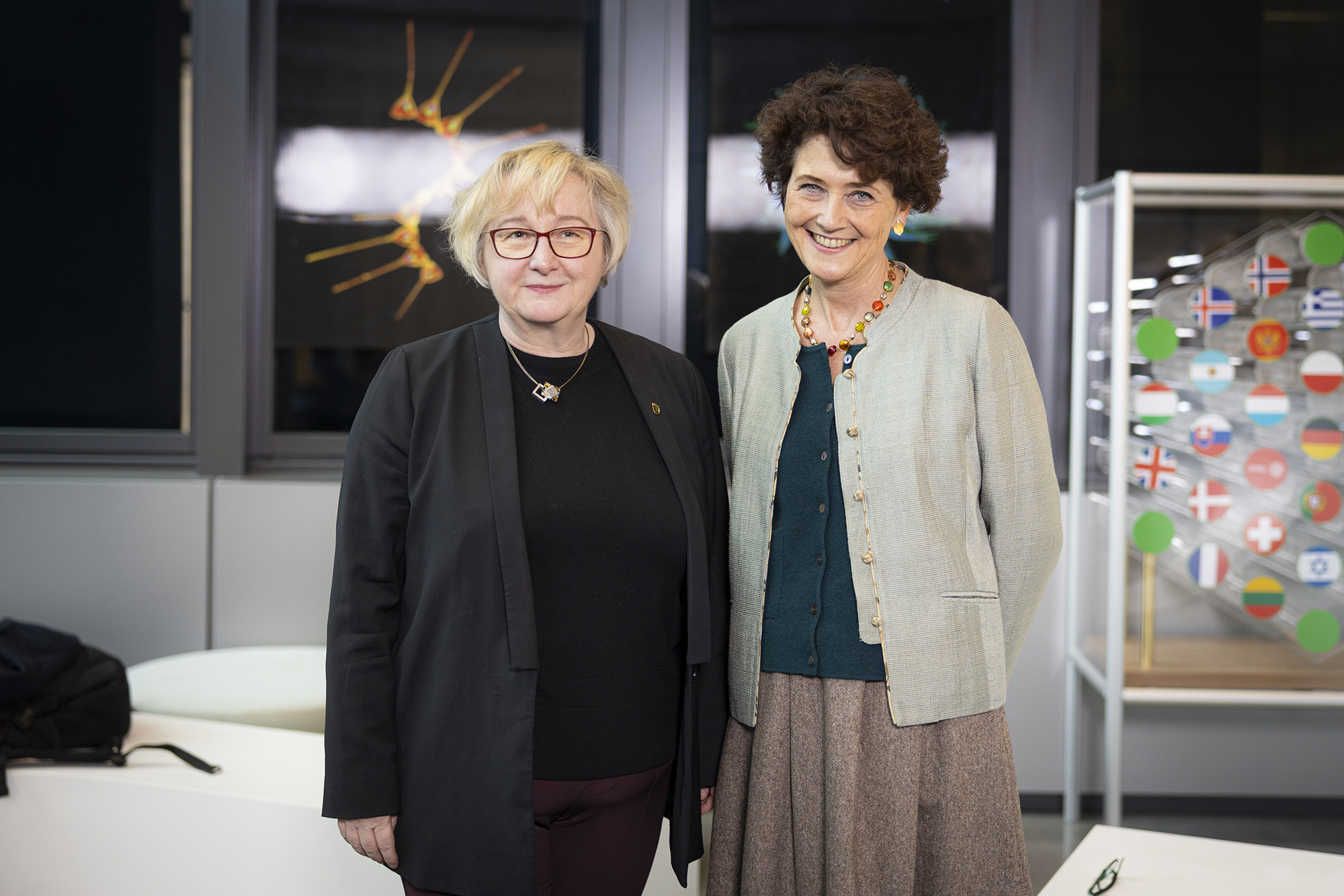 EMBL Director General Professor Edith Heard and members of EMBL senior leadership were pleased to welcome Theresia Bauer, Minister of Science, Research and Arts for the German federal state of Baden-Württemberg, to EMBL Heidelberg on 14 February. Bauer, who represents the Heidelberg constituency, was received along with a delegation from her ministry. During the visit, EMBL's scientific and societally relevant plans were discussed between both delegations.
To set the scene, Heard presented an overview of EMBL's future plans, highlighting the need for EMBL to use its expertise in the life sciences to address some of today's societal challenges. She stated that "EMBL hopes to provide a molecular understanding of life in context, by connecting EMBL's molecular expertise to disciplines such as environmental science, ecology, and epidemiology."
Several of EMBL's other ongoing and future projects were also discussed, including the EMBL Imaging Centre – a project that has received strong support from Bauer. This unique facility will offer tools for biological imaging across all scales to scientists worldwide. The importance of large-scale genetic studies in medicine and the need to manage data effectively to make it easily accessible and searchable by the scientific community were also discussed. Oliver Stegle, an EMBL Group leader who is jointly affiliated with the German Cancer Research Center (DKFZ) highlighted EMBL's role as a facilitator in making tools in artificial intelligence available to the scientific community, and in bringing together the latest data and methods.
The Green EMBL initiative, another topic of special interest to Bauer, was introduced to show that EMBL as a scientific institution can lead by example in implementing green actions across its European sites. Staff members who are part of the Green EMBL working group also reported on actions taken in 2019. These included organising Heidelberg's first ever Climathon: a 24-hour event in which students, scientists, entrepreneurs, and others joined forces to explore ways to tackle climate challenges. In the near future, an Environmental Officer will coordinate ongoing and future activities in this area at EMBL. Alongside this, an Environmental Research Initiative and Fund will be set up with the aim of supporting and enabling young researchers at EMBL to tackle questions to address the environmental challenges faced by society.