Degrees of excellence
We catch up with Helke Hillebrand on leaving EMBL after 9 years as Academic Coordinator and Dean of Graduate Studies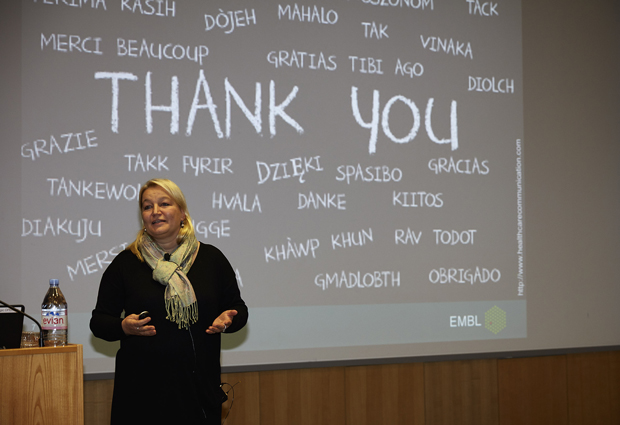 What is special about being a fellow at EMBL?
There are now more than 550 fellows at EMBL, including around 250 postdocs, 200 PhD students as well as many undergraduates and interns – it´s a big ship, and it is growing. The combination of mentoring and support for early independence on EMBL´s fellowship programmes presents a fabulous opportunity for early career scientists to make their mark. The range of expertise at EMBL – in biology, chemistry, computer science, mathematics, medicine and more – enables fellows to include a great range of dimensions in their research projects. Throughout my time at EMBL, my goal has been to develop the programmes in ways that enable fellows to explore science at its best, to take advantage of the many opportunities available to them and to be fully informed when planning their next career steps. It is important that fellows feel thoroughly empowered to employ their talents to the fullest.
What have you learned during your time at EMBL?
My role developed significantly during my time here: I began as Dean of Graduate Studies and went on to become responsible for all internal training activities at EMBL. Meeting the diverse needs of a huge variety of stakeholders was a great challenge, one that provided me with a constant source of inspiration. The experiences and skill set I developed throughout my career before EMBL prepared me well for this role and I greatly enjoyed adding a dimension of strategic planning for tertiary education across Europe, as well as building up EMBL's Internal Training Team. I further improved my leadership skills and I was fortunate to work with an outstanding team and great colleagues within the EMBL International Centre for Advanced Training (EICAT) and across all EMBL sites. The people at EMBL are what makes EMBL great and I have learned a lot from the different worlds I have worked so closely with during my time here. Our team is a bit like a connector – in touch with everybody at the institute, linking people across departments, sites and countries. It is something I have enjoyed tremendously.
In particular, my role has involved mentoring and coaching, one of the aspects I find most rewarding
What do you regard as your biggest achievement while at EMBL?
There are so many fulfilling things that spring to my mind. But if I have to pick two, they would be: working with EMBL's Administration to include fellows in social and pension benefit schemes and the development of the EMBL Interdisciplinary Postdoc Programme (EIPOD). The EIPOD programme embodies the EMBL spirit: enabling young researchers to work between groups and units on highly collaborative and interdisciplinary projects. Behind the scenes, my team worked very hard in growing this, driving two successful applications for co-funding from the European Commission´s Marie-Sklodowska Curie initiative. Our most recent application, in 2014, sits firmly in my mind: we worked day and night for many weeks to develop a very innovative proposal. It was worth it: the Commission graded the application very highly and we secured funding for EIPOD postdocs for the next five years. It includes scope not only for interdisciplinary projects for postdocs between groups and units at EMBL, but also for fellows to collaborate with external partners in industry and academia. With this award, we were also able to appoint a dedicated career development advisor.
What are your best memories of EMBL?
I had a lot of personal high points at EMBL. In particular, my role has involved mentoring and coaching, one of the aspects I find most rewarding. The positive feedback I have received from students and supervisors over the years made me realise that our team was making a difference at EMBL. Another highlight was the evolution of the graduation ceremonies for our PhD students. Each year the event marks the culmination of many years of blood, sweat, tears and success that ultimately result in a highly respected doctorate. Every single ceremony had its own memorable touch with a terrific atmosphere in the auditorium, proud parents in attendance, personal stories told and celebrations carrying on until the early hours. Hearing what alumni have gone on to achieve after leaving EMBL is another highlight – it is great when people check in and let me know the incredible adventures they have been on after leaving EMBL. Finally, I have also had my best "cloning" experience here at EMBL – my daughter Charlotte. It was a great experience to combine parenthood with my EMBL role and I think EMBL was the perfect place to do that. I have very few regrets from my time here, but perhaps the main one is that I still can't speak proper Italian, despite many coffees, lunches and other events with Italian colleagues!
EMBL was a very special time in my life, and my advice to all who are here present and future: carpe diem!
And what now?
The finer details of my new role are yet to be defined – in many respects it is an open book, much like when I started at EMBL. As Director of the Graduate Academy at the University of Heidelberg, I will be working with all of the 12 diverse faculties. I look forward to staying in close contact with colleagues at EMBL – I am not going far! – and seeing the lab continuing to develop. EMBL was a very special time in my life, and my advice to all who are here present and future: carpe diem!