Nobel connections
Amidst the excitement of Nobel Week, we go behind the scenes of the Lindau Nobel Laureate Meetings, which every year bring prize winners together with the next generation of scientists.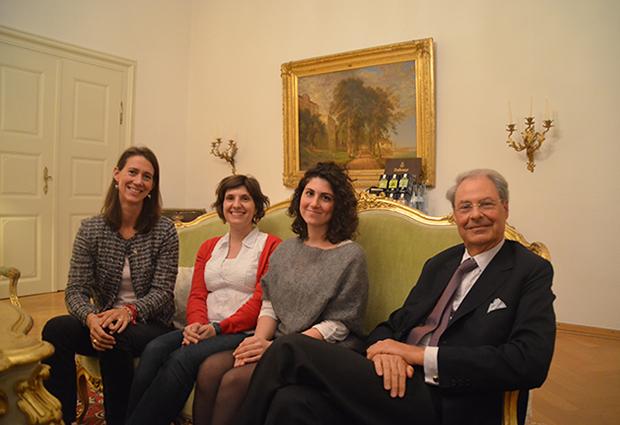 By Alessandra Casano, Adam Gristwood and Ivana Nikić
A baroque palace sat atop an island nature reserve on a beautiful lake seems an unlikely control centre for one of Europe's top international forums for scientific minds. Yet it is here on the Island of Mainau on Lake Constance that Countess Bettina Bernadotte presides over the Council for the Lindau Nobel Laureate Meetings – a unique interchange that brings hundreds of young researchers up close with Nobel Laureates for lectures, discussions, master classes, panel discussions and more every year. In recent years, EMBL Fellows have become regular fixtures at the meeting; where up to 600 young researchers come together with dozens of Laureates, to discuss a rotating theme.
Against the spectacular backdrop of glistening water, rich wildlife and alpine mountains, we met Bettina Bernadotte and Wolfgang Schürer, who is Chair of the Board of the Foundation Lindau Laureate Meetings. "For young scientists, this is a once in a lifetime experience, where they can benefit from this stimulating environment, explore mutual scientific interests and share their personal experiences with friends and colleagues when they return to their home countries," Bernadotte told us during our interview for EMBO Reports. "We adapted the meetings by increasing the number of participants, expanding the number of research fields, and increasing the number of counties from which participants come. And the meeting has evolved from a lecture-based event to include more opportunities for dialogue," she added, reflecting on how the meeting's format has evolved in recent years, before asking us for critical feedback on the meeting.
For young scientists, this is a once in a lifetime experience.
With an emphasis on more women, more dialogue and more passion, we were impressed by the organisers' focus on one-on-one exchanges with the Laureates, the informal and welcoming atmosphere, as well as the strong emphasis on sharing ideas across generations and cultures. "Some laureates may not be in the Lab every day, but they convey their experience that reaches back more than half a century," Schürer said during our interview. "Others are involved in cutting edge research and can directly relate to young researchers."
Participants are only allowed to attend one meeting – and Bernadotte and Schürer joked that we would have to win a Nobel Prize to take part in any future gatherings! But the real benefit, they argue, comes from applying experiences in Lindau to future meetings, collaborations and research projects as part of a global community established through the meetings. For this reason the meetings are truly inspirational and we encourage anyone who gets the opportunity to take part.
Science also travels by boat
By Isabelle Kling
On the 3 July, Philipp Gebhardt, head of EMBL's European Learning Laboratory for the Life Sciences (ELLS), and Anne-Claude Gavin, EMBL group leader and senior scientist, attended the concluding event of the 65th Lindau Nobel Laureates meeting, organised by the Baden-Württemberg State Ministry of Science, Research and the Arts. This prestigious gathering welcomed a record number of 65 Nobel laureates and more than 650 young scientists from about 90 countries. Amongst them were Hervé Turlier, postdoctoral fellow, and Alexander von Appen, PhD student, both from EMBL Heidelberg, who were selected for their scientific excellence.
One focus of the event – a high-profile panel discussion on science education – made it an ideal place to highlight EMBL's training programme, and the work done by ELLS to convey innovative teaching methods to European science teachers. As a research highlight, the EMBL stand featured Gavin's SystemAge project that aims to unveil the molecular mechanisms behind ageing in human stem cells and age-related disorders.
The meeting concluded with the signature of the Mainau Declaration 2015 on Climate Change by 36 Nobel Laureates; it states that "the nations of the world must take the opportunity at the United Nations Climate Change Conference in Paris in December 2015 to take decisive action to limit future global emissions."